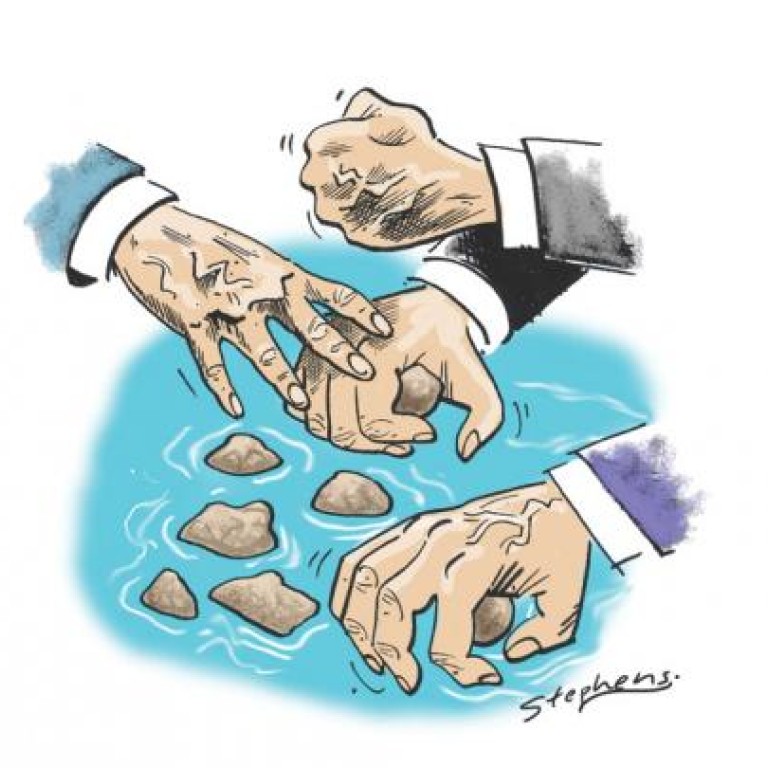 Heated rhetoric over disputed islands serves Asia poorly
Simon Tay says the heated rows involving China, Japan and South Korea over disputed islands are likely to set back ongoing efforts on economic co-operation, and the region will be worse for it
Tensions in Northeast Asia are rising sharply. Small islets - most unable to support human habitation - are the friction points. These are long-standing disputes, with the Senkaku/Diaoyu chain claimed by Japan and China, while the Dokdo/Takeshima islands are contested between South Korea and Japan.
The disputed territories do not relate to trade or investment between China, Japan and South Korea, which collectively account for the largest chunk of the Asian economy.
Nor do they directly result from a resurgent American attention to the region and a rising competition with China. Yet if tensions continue and escalate, there will be implications for the region's economic co-operation and security.
The flare-up occurred around the anniversary of the end of the Pacific war, on which the perspectives of Japan and its neighbours differ sharply. This could calm. However, domestic politics are at play and, with each leader seeking to gain support, nationalistic claims will be hard to discipline.
Tit-for-tat measures have already escalated the Senkaku/Diaoyu dispute. Soon after Chinese activists landed and were arrested, Japanese right-wing nationalists responded by raising the Nippon flag over the islets, which Tokyo holds. This then triggered street incidents across a number of Chinese cities, with consumer boycotts and protesters overturning Japanese-made cars.
Reports that officials stood to one side, rather than seeking to control the protests, do not lend comfort. Recall 2005, when anti-Japanese protests turned into riots and caused widespread damage. It does not help that Japanese cabinet ministers again went to visit the controversial Yasukuni war shrine.
Japanese Prime Minister Yoshihiko Noda frowned upon but could not prevent that visit. Looking ahead to a general election by 2013, the current weak and fractured Democratic Party of Japan government will find it difficult to rein in the far-right nationalists.
For South Korea, President Lee Myung-bak's unprecedented visit to the disputed islands has already strained ties with Japan. Tokyo responded by recalling its ambassador and cancelling a planned visit by its finance minister to Seoul.
Relations among the three Northeast Asian giants have never been close and, while military confrontation can be avoided, other impacts must be anticipated.
In May this year, the governments inked an investment agreement and promised to begin negotiations on a free-trade agreement. It is likely that the current tensions will stall that effort.
Instead of a trilateral relationship, Beijing and Seoul may find more common ground, with historical and territorial issues adding to their close economic interdependence.
When Northeast Asian co-operation faltered in years past, it was the Association of Southeast Asian Nations that led region-building efforts.
Now, however, quite similar disputes over islands in the South China Sea have been stirred between a number of Asean member states and China. The Chinese-Filipino stand-off over the Scarborough Shoal stretched into July, and the Asean ministerial meeting in Phnom Penh held that same month foundered on the issue. Questions about the group's unity have since arisen and Asean must improve if it is to play a central role.
While the United States is not a claimant to any of these islands, there are also implications for the Obama administration's pivot to the region.
Some had expected that Seoul and Tokyo, as American treaty allies, would be brought into a closer relationship. But the present turn of events makes any such triangulation of ties unlikely.
If ties between Japan and South Korea deteriorate, the American presence across Asia may need new pillars of support. For these reasons, Beijing is seen by some to gain the chance to develop its own strategic alliances. While we can debate who gains, the first victim of these tensions is Asia as an entity. As summits and inter-governmental meetings come up in the months ahead, it remains to be seen whether anyone can usefully offer leadership for Asian regionalism.
With global concerns about the euro zone and the anaemic US economy, the hope would be for the region to sustain stability and growth. However, these incidents remind us of the fragilities and many issues that remain to be resolved.
Not least, more in Asia must begin to think regionally, rather than rushing to plant national flags on rocks and fanning enduring and still incendiary differences.
This article appeared in the South China Morning Post print edition as: Losing argument