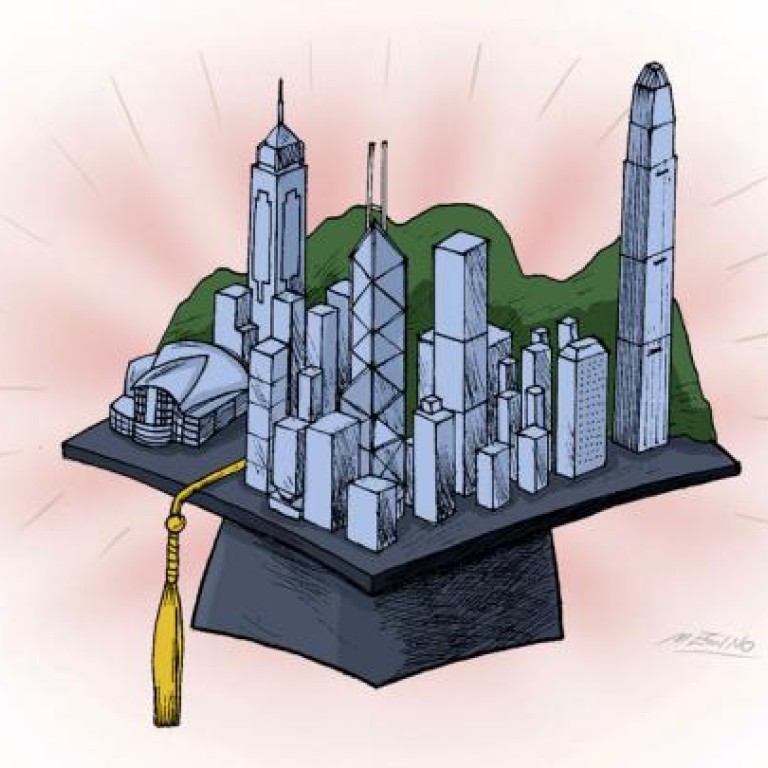 HK can be top draw for academic talent
Joan Stringer charts the rising demand for an international education and says Asia, especially Hong Kong, should build on its strengths to be an even bigger draw for academic talent
As the labour force grows more global, studying abroad to acquire a more rounded international education is becoming a prominent trend. Universities in Britain and the US are popular as they have been leaders in modern university education. Now, the contrasts in economic conditions between the East and West are reshaping the international tertiary education landscape, creating new challenges and opportunities.
In Europe and the US, difficult economic conditions are constraining public investment in higher education. In Britain, in particular, tighter immigration controls are posing challenges to overseas student recruitment. By contrast, rapidly rising Asian countries such as China and India are the fastest growing markets for tertiary education. They now offer more opportunities for educated talent and are more willing to employ highly skilled foreigners.
It is the optimum time for tertiary education in Asia to grow. Due to the push factors in Europe and the US and the pull factors in Asia, many institutions from the West are extending their education services to Asia. Transnational higher education is playing an increasingly important role globally and Asia is becoming the new centre of its development.
With its long history of being an "East meets West" node in Asia and its internationally lauded infrastructure, Hong Kong is ideally situated to take the lead in the development of international tertiary education. The city has also demonstrated a high level of openness in employing skilled foreign talent. International students and their parents also realise the opportunities afforded by the higher education system in Hong Kong. Hong Kong universities have seen increases of around 40-50per cent in the number of foreign applications for the 2012-2013 academic year. The number of mainland Chinese applications is also rising. Local demand for both University Grants Committee and self-financed places is growing as the city develops a knowledge-based economy.
The government is also aware of the opportunity and stated long ago its intention to develop the city into a regional education hub. This vision is being carried forward as part of Chief Executive Leung Chun-ying's agenda.
In spite of the favourable environment and the government's ambition, Hong Kong still has a rather small number of non-Chinese international students, fewer than Taiwan, for example. Why does Hong Kong underperform in being an international education hub? One of the problems is that its tertiary education lacks unique selling points. There are existing areas such as in business studies where it holds its own internationally but perhaps does not stand out from the crowd sufficiently.
There are others, particularly in medical sciences, in which Hong Kong has excelled and made significant breakthroughs, but it lacks overseas promotion of that education potential and expertise. There are still other emerging areas of research where it has an opportunity to take the lead and create a distinct profile.
Hong Kong is also not as active as others in the region in pursuing large-scale collaborations with international tertiary institutions, such as that between the Singapore University of Technology and Design and the Massachusetts Institute of Technology.
Hong Kong needs to develop areas in education in which it will be a recognised leader, to become a regional education hub. Environmental, energy and life sciences, nursing, health care and creative industries are potential areas that should be explored.
With the growing awareness of environmental protection, renewable and alternative energy, tighter environmental impact controls and Asia's pressing need for advancements in waste management, environmental and energy sciences are areas with huge potential for development in Asia. Also, Hong Kong's health service is among the top in Asia. Given an ageing population and the government's vision of turning Hong Kong into a regional medical services hub, nursing and health care warrants further development. The development of the West Kowloon Cultural District also provides opportunities to weave arts and culture into the growth and social fabric of Hong Kong.
These areas can become the unique selling points of Hong Kong's education offering while also meeting regional needs.
Another important step will be to enhance collaboration with tertiary institutions overseas. By bringing the experience of these institutions to complement the local education system, internationally employable talent may be nurtured. Existing networks between overseas institutions and business can also provide valuable local and international internship and graduate placement opportunities that will help students secure and sustain a career in the global job market. Overseas institutions can help promote Hong Kong in their home country and provide well-structured exchange programmes to students in Hong Kong.
Tertiary education can too often be regarded as a cost, not an investment. Its expansion is a challenge for many governments due to the considerable financial commitment required. Opening up the sector to private providers is another means of ensuring its development; they could help meet the international demand for education in Hong Kong without competing for the resources that support local students. Private institutions can and do deliver high quality education, from which Hong Kong and its businesses would greatly benefit.
The recent changes in the global education landscape provide a golden opportunity to bring new international dimensions to Hong Kong's tertiary education. The education sectors in Hong Kong and the West should seize the day and work together to nurture a new generation of global citizens.
This article appeared in the South China Morning Post print edition as: Pull factor