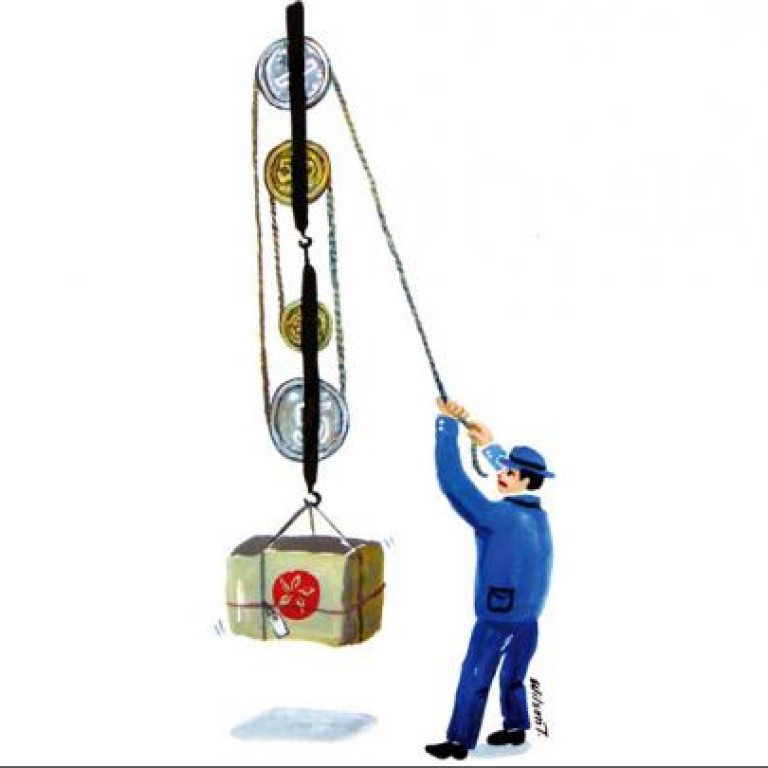 Wrong time to raise minimum wage
C.K. Chow says with employers of SMEs still struggling to cope with paying a minimum wage, there is no sense in adding to their burden - by raising it - in a still-weak global economy
In the past several years, we in Hong Kong were fortunate to be spared the worst effects of the global financial crisis. Our legendary flexibility and adaptability allowed us to continue, even in the face of the worst collapse in global trade since the 1950s, to offer services to our business partners. It also helped us to continue to employ our staff, and to pay them what they deserve.
The coming year will be another difficult one, with uncertainty in Europe and elsewhere undermining confidence, curtailing demand and wreaking havoc with order books, budgetary planning and pricing. We've been through it before and survived, and we will do so again.
Therefore, it is imperative we recognise that times of great risk and uncertainty are not conducive to the introduction of new regulations or other measures that have the effect of driving up the cost of business while undermining our international competitiveness. We need to adopt the right policies, but we also need to get the timing right.
The statutory minimum wage came into effect in May last year. Since then, consumer prices have increased 2 per cent and gross domestic product by 1.2 per cent. Proposals to increase the wage rate from HK$28 an hour to HK$33, or even HK$35, would equate to pay hikes of 17.9 per cent and 25 per cent respectively. This is obviously a non-starter.
While populists may rant against big businesses, it is the hundreds of thousands of small and medium-sized enterprises which provide the jobs that keep Hong Kong strong. Large corporations can afford to absorb higher costs for rent, raw materials or labour much better than SMEs. It is the more vulnerable companies that need the support and protection.
The introduction of the wage floor has sent a financial shock through the payrolls of companies of all sizes, but the hardest hit are our SMEs. Over 90 per cent of our retail establishments employ fewer than 10 people, and in the past 18 months they have had a hard time hiring staff. We see this in the government's statistical data and from comments we receive directly from our members and the community.
In the restaurant and related industries, wages have been rising at double the rate of inflation for more than two years. Yet retail sales growth is slower than inflation, reducing profitability and threatening some of the weaker companies with closure.
Price fixing, whether for commodities or labour, distorts markets. In addition to the stated objective of forestalling excessively low wages, the pay rates for workers earning over HK$28 per hour also have to be increased, to maintain the premium expected for more experienced or more productive staff. This knock-on effect is above and beyond the actual impact on companies predicted by the economic analysis conducted prior to passage of the law.
Further, the wage floor has encouraged workers to move from labour-intensive jobs to those requiring less effort. While this may seem to be a good thing for workers, it leaves vacant positions that need to be filled. As a result, we are experiencing shortages in the availability of workers in the construction sector and other outdoor work, and those located in inconvenient places (such as the airport) in particular. In the end, even though such employers are offering pay well above HK$28 an hour, they still have trouble filling all the jobs available.
We also worry about people dropping out of the labour force, or taking part-time jobs to stay under the threshold for qualifying for public-sector housing. A young couple, both earning HK$28 an hour for full-time work, may not qualify for public-housing assistance. One option for them to take, which may be why growth in our labour force is slowing, is for one person to work less than full time. This can hardly be considered a useful policy outcome.
The Minimum Wage Commission will soon report to the chief executive on the law's impact and whether there should be any adjustment - up or down - in the wage floor. Politically, there is no possibility that the Legislative Council would approve a reduction, and so we must accept that whenever adjustments are made, they will be permanent. We have been fortunate that the introduction of a wage floor last year was less disruptive than expected due to more favourable economic conditions at the time. We cannot assume that we can continue to push the envelope without consequences, especially when markets around the world continue to flounder.
Hong Kong's near-term economic prospects are decidedly gloomy. While we have great advantages in our institutional structures, administrative competence and talented entrepreneurs, we do not have the ability to stimulate demand in other parts of the world.
What we can do is ensure companies that have been successfully operating here, perhaps for generations, are not driven to the wall by a hasty or unwise decision to permanently raise the cost of doing business. Doing so would be a disservice to both employers and, ultimately, employees and society at large.
This article appeared in the South China Morning Post print edition as: A rise too far