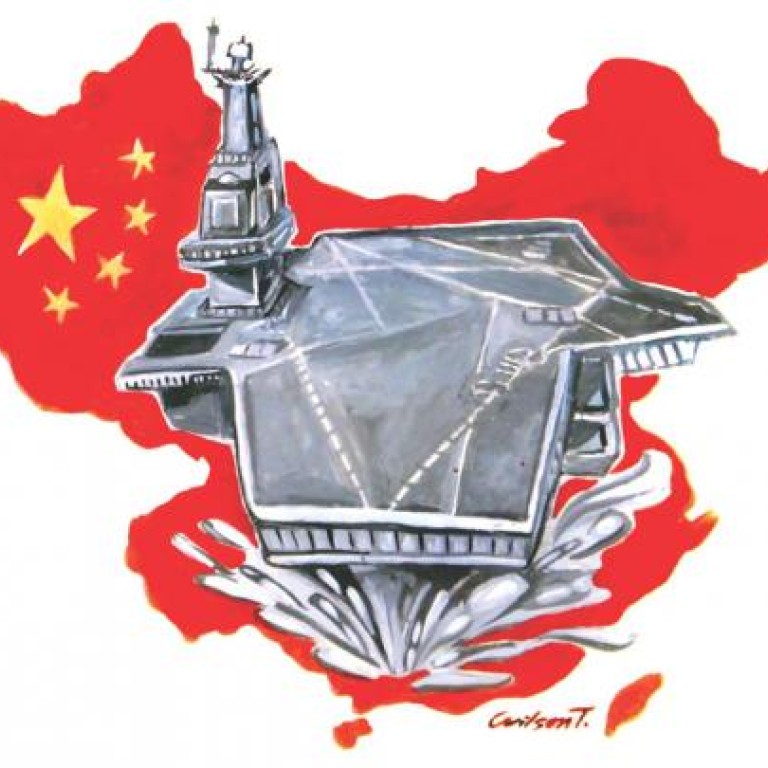 China's aircraft carrier accomplishes its mission - bolster Chinese pride
Trefor Moss says China's first aircraft carrier may not be combat-ready, should regional rivalries escalate, but as a symbol of national pride it has already won the battle on the home front
There's a war on (you must have noticed). It is a war on several fronts: China is fighting Japan to the east, the Philippines and Vietnam to the south, and the United States wherever you choose to look. And it's escalating.
This week, China unveiled the ultimate weapon in this war: the aircraft carrier Liaoning. It is exactly the right weapon for the kind of war that China is fighting - which is a war of words, of feelings, of gestures, and of symbols.
As China and its neighbours squabble over obscure territories such as the Diaoyu and Spratly islands, the Liaoning - which officially entered navy service on Tuesday - fired its opening salvo in this war of sentiment and self-image. Its first mission was not to destroy enemy targets, but to create an impression. It accomplished that mission beautifully, without even raising anchor.
The ship's commissioning was like a graduation ceremony, only it was the Chinese nation as a whole that was graduating, attaining membership of the world's most exclusive military club. There is no symbol of military power more potent than an aircraft carrier, and now China has one, for the first time. Let the trumpets of nationalism sound.
But there's a big drawback. A phoney war is the only sort that the Liaoning is any good for. In a real shooting war, it would be mincemeat.
China's leaders are, of course, well aware of this. When they bought the carrier, a rusty relic of the Soviet war machine, from Ukraine in the 1990s, they initially planned, or so they said, to turn the ship into a floating casino. Instead, they opted for a different sort of gamble, and set about turning the ship once more into a functioning military vessel.
But it was always going to be a ship with severe limitations. The now-renamed Liaoning is like an iPhone without any apps: it's nothing more than a dumb platform. It needs aircraft, and pilots who can fly them (it currently has neither). It needs a dedicated flotilla of support ships that can defend it (same story). It needs crewmen who understand the complexities of carrier operations (not something you can pilfer from the Pentagon mainframe). All these essential working parts will take a long time to develop and integrate into a fully operational machine.
For now, the Liaoning is a lot like the old banger you buy your teenager when he's learning to drive. China's sailors will use it to master all the basic manoeuvres; if they put a few scratches on it and grind a few gears, no one will mind. Several years from now, when they have passed their driving test, Beijing will give them something newer and shinier - indeed, some analysts think that work has already started on the construction of China's first indigenous aircraft carriers.
This is all in the future. For China's neighbours, the arrival of the Liaoning is hardly anything to start panicking about. All the Chinese navy did this week was to play the opening gambit in a very long game: 20 years from now, it still may not have an aircraft carrier that it would feel confident about sending into battle. After all, the last thing you want is for your flag-bearer, your symbol of national power, to be sunk by a lesser opponent - especially, dare I say it, in an avoidable skirmish over some tiny, uninhabited islands.
However, the Liaoning puts China's rivals on notice. Confronting China is only going to get tougher, and the possible repercussions of provoking Beijing more and more serious. Faced with the diminishing returns of resistance to Chinese pressure, it may even occur to some rivals just to let China have those obscure little islands, and be done with it.
But let's not forget that in China's war of pride and possession, the home front is far more important than the scattered territories that are causing all the fuss. The Liaoning may not as yet be carrying any aeroplanes, but it certainly carries the ambitions of a huge cross-section of Chinese society - those people who feel sore about China's previous loss of status, and who now feel energised by its reclamation of power.
This is a ship that makes them feel good about themselves, and about China's place in the world. Best of all, from Beijing's perspective, it makes them feel reassured about the Communist Party's stewardship of the nation. Everyone knows that these are unsettled times in the closed caucus of Chinese government. Times could get a lot tougher, too, as the economy undergoes a wrenching structural shift to a lower-growth model that could fuel resentment among millions of have-nots. Feel-good tokens like the Liaoning are therefore more critical than ever.
In the end, that is the Liaoning's primary objective: not to make other countries feel scared; but to make Chinese people feel proud.
This article appeared in the South China Morning Post print edition as: Mission accomplished