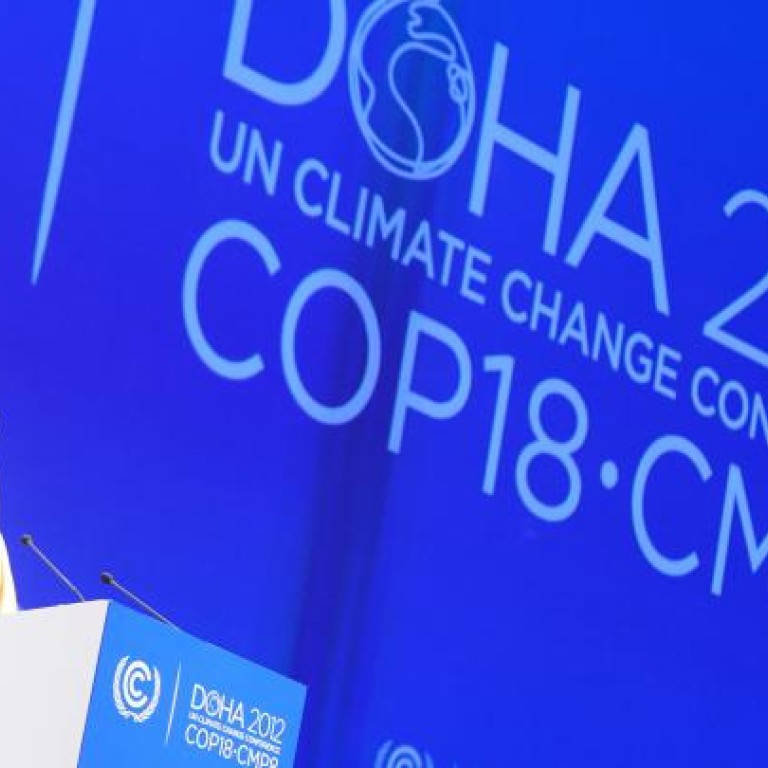 Global climate pact needs real teeth
Vincent Piket says the EU wants to build on green progress at home by working with Asia
The European Union is on its way to becoming a low-carbon economy. It is increasing the use of renewable energy, modernising the transport sector and promoting energy efficiency, and moving towards a resource-efficient economy. But to deal with the global environmental challenges, we need co-operation with Asia, including Hong Kong.
The EU's environmental progress did not happen overnight. It goes back to the 1970s and 1980s, when Europe was hit by two oil crises. They rudely told us we had to cut energy use and be less dependent on imported fuels.
What did Europe do to get where it is now? It involved action at three levels. First, lawmaking and governmental standard setting. Since the 1990s, a sizeable body of environmental law has come into force. Each EU law is passed with an environmental impact assessment. And legislators have continuously raised the bar in a broad spectrum of areas, giving a powerful incentive to industry to develop clean technologies.
Secondly, investment in research and development. Currently the EU invests €3billion (HK$30billion) a year in low carbon energy research. Thirty per cent of the funding originates from the public sector, but the rest comes from EU industry. And such investments will increase.
Thirdly, civil society plays a key role: non-governmental organisations have pushed the agenda. So has the consumer.
Where is Europe going right now? First, the EU is delivering on its 20per cent carbon dioxide reduction commitment under Kyoto. Compared to 1990, our carbon dioxide emissions are already down by 18per cent. In the same period, our gross domestic product grew by 48per cent. This shows that growth can be decoupled from pollution. This is an important message for all economies, including the emerging ones.
We are looking to creating a low-carbon economy by 2050: with 80-95per cent less carbon dioxide than in 1990. Who will realise that? The answer is, primarily the private sector. Of course, the government has to set the standards.
We will continue down this road of standard-setting incentives for the private sector, especially now, when our economy faces problems, because the green economy produces jobs and growth. The EU low-carbon energy industry has created 1.4million jobs, which will double to 3million by 2020. The EU waste sector grew by 20per cent between 2000 and 2008 while the recycling sector grew by 80per cent.
But next to what we do at home, the EU remains convinced we need global action because our climate efforts will lead to nothing if other countries and regions do not act as well. Hence the need for global agreements on biodiversity, on sustainable development, on climate. This is extremely tough, as we have learnt in multilateral climate negotiations, with a new round currently under way in Qatar. I am reminded of the Montreal Protocol, which commemorated its 25th anniversary recently. Under that protocol, the world community agreed to phase out the gases that were destroying the earth's ozone layer.
It has been a great success: the global consumption of ozone-depleting substance has been reduced by 98per cent. As a result, the ozone layer should recover fully by around 2050. In this way, tens of millions of skin cancer cases have been avoided.
Why was the Montreal Protocol so successful? Because it was legally binding, had teeth and gave industry the incentives to develop alternative technologies. It also had provisions to penalise "free riders", the countries or companies that did not participate and might gain an unfair advantage. This is an important lesson for the climate negotiations.
Asia is today the world's largest manufacturer and the EU is a top-two trade partner and top-two source of foreign direct investment for most Asian economies (including mainland China and Hong Kong).
It means Europe and Asia need to work together to promote sustainable growth. Most recently, this was agreed by some 50 Asian and European leaders at the Asia-Europe Meeting in Vientiane.
The EU conducts an environmental dialogue with all major Asian partners, to exchange know-how and best practices. To promote hands-on co-operation, an EU grant programme co-finances 75 projects for sustainable production and consumption, with a budget of €90million. Moreover, the European Investment Bank has signed 51 loans for projects in 11 Asian countries, including China. In China, too, the latest EU-China summit agreed on a bilateral programme for climate action with a €25million grant.
Likewise, I see Hong Kong as an important partner and believe that Hong Kong, as one of the most developed economies in Asia, will move forward fast towards a green economy. The EU countries and companies are keen to work closely with our partners on achieving a common goal.
This article appeared in the South China Morning Post print edition as: Global climate pact needs real bitewhile spurring industry to innovate