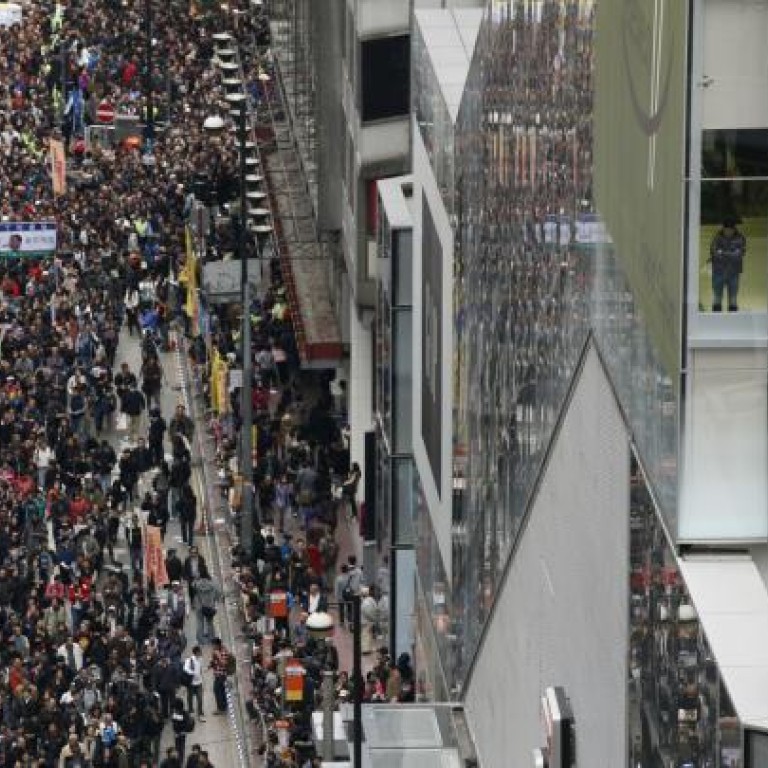 It's not the number of protesters that counts, it's what they are saying
Protests in Hong Kong are seemingly a numbers game, their success gauged against the benchmark anti-government rally on July 1, 2003, that pulled more than 500,000 people on to the streets. That demonstration marked the beginning of the end for then chief executive Tung Chee-hwa's administration, giving the impression that the figure is what it takes to force a resignation. It is every demonstration organiser's dream of drawing a record crowd, but that is not what it should take to get authorities' attention. In the absence of genuine democracy, every voice must be listened to.
The excessive focus on turnout would have us believe otherwise. Days before the New Year's Day protests, the media was rife with predictions about how many people would show up for and against Chief Executive Leung Chun-ying. From beginning to end of the marches, we were bombarded with numbers. As previously, and elsewhere in the world, they followed a predictable pattern: organisers gave an excessively optimistic figure, police a deeply conservative one and those from independent assessors fell somewhere in between.
There are accounts of HK$250 payments to convince people to take part in the pro-government rally. Mutterings abound in some quarters that police are now making a habit of purposefully deflating estimates. If we have to speak in numbers for the main protest on Tuesday, taking the police figure of 27,000 and that of the organisers of 130,000 and meeting in the middle provides what we are looking for. But photos and video give a better picture: there are a lot of people who are not happy about the government's performance.
It is that fact, not which turnout figures are right or wrong, that is important. Who is protesting and what they are upset about is where attention has to be focused. As long as there is no direct say in choosing the chief executive and who governs us, protest is the best way to get our message across. Playing with numbers is just a game; listening to the voices and taking what is said seriously is what is needed.
This article appeared in the South China Morning Post print edition as: Protest is not a numbers game