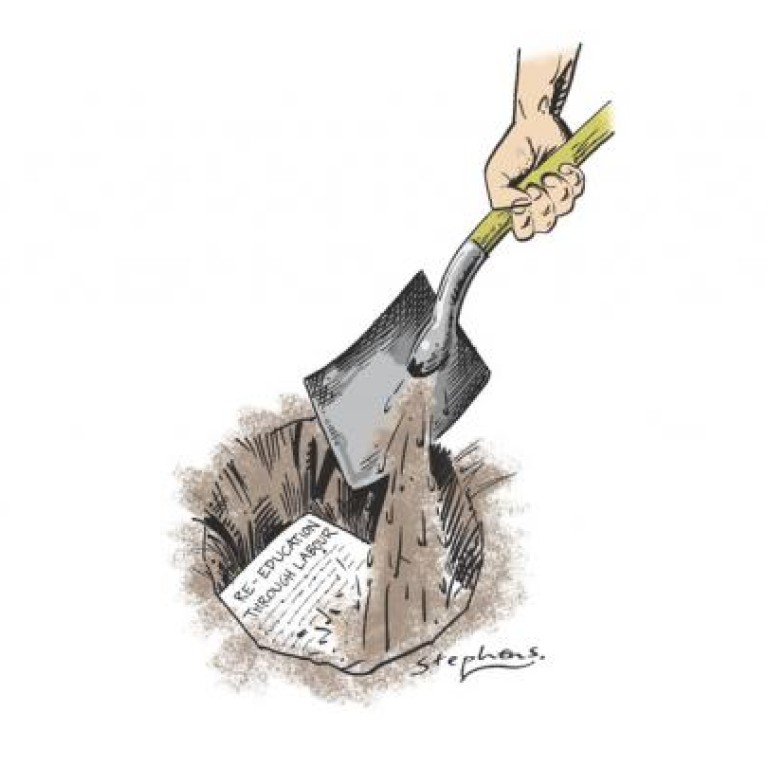 Is this really the end of re-education through labour?
Jerome A. Cohen says whatever form the proposed end of re-education through labour takes, even if it fails to fully comply with China's constitution or its laws, the present situation is likely to be improved
Much ink has been spilled during the past week over the informal announcement that China's police-imposed long-term punishment of "re-education through labour" would, by the end of the year, "cease to be used". The newly appointed head of the Communist Party's all-powerful political-legal commission, Meng Jianzhu , made this announcement at a national judicial conference. Understandably, since nothing less than the constitutional protection of 1.3 billion people against arbitrary imprisonment is at stake, Chinese and foreign commentators have been scrutinising the inscrutable.
What did Meng mean? There are many possibilities. Did he simply mean that, in the exercise of its discretion, the police would at least temporarily suspend sending a couple of hundred thousand defenceless people to labour camps each year? Did he also mean that, in the coming months, the more than 300 existing re-education through labour sites would be emptied of their current occupants.
Or did he mean even less - that the government would only change the name of this notorious punishment but keep it in substance? Ever since its formal establishment in 1957, the police have lobbied tenaciously to retain this instrument of control, which subjects individuals to long-term detention in the name of social "harmony" without bothering to seek their indictment by prosecutors and trial, conviction, sentencing and appellate review by courts.
One thing Meng's statement plainly did not foreshadow is the end of labour camps. Contrary to some media reports, he dealt solely with the "non-criminal" or "administrative" punishment known as "re-education through labour" dispensed by the police alone, not with the criminal punishment to which many offenders are sentenced by courts. Many convicted criminals will continue to be sent to labour camps or conventional prisons.
Until two decades ago, criminal punishment in a labour camp was formally known as "reform through labour", which created confusion with the "non-criminal" punishment of re-education through labour, especially since the two types of offenders were often confined together.
It is possible, of course, to interpret Meng's statement to mean that re-education through labour might soon be abolished, not suspended or perpetuated under another name. Indeed, a decade ago, during a brief period of popular pressure for political-legal reform, some influential Chinese experts flatly predicted that the National People's Congress was about to abolish it. Yet that did not happen, and there was so little agreement about the content of the proposed legislation that no draft was made public. A similar attempt failed in 2010.
Today, the demand for a law to eliminate re-education through labour appears to be stronger. It is based on two claims supported by the constitution and recent legislation. The first is that all official detentions, whether called "administrative" or "criminal", must be authorised not by executive regulation alone but by a formal enactment of the NPC.
The second, more demanding, claim is that all official detentions require the approval of the courts, not merely the police. Proponents also point out that judicial approval of such detention is also required by the International Covenant on Civil and Political Rights, which China signed in 1998 but has not ratified.
It is likely that, despite serious constitutional, legislative and international arguments against any form of administrative detention, the NPC will soon adopt a law authorising some forms of relatively long-term administrative detention, just as it adopted the Security Administration Punishment Law in 2005 to authorise short-term police detention of up to 15 or 20 days for a broad range of minor offences.
Under the broad title of a law for the "correction" of "unlawful' (but not "criminal") conduct, it may make separate provisions for different kinds of "violators". For example, it may reaffirm existing measures for dealing with drug offenders, who are major targets for re-education through labour in "rehabilitation" centres, and prostitutes and their clients in "community correction" programmes. Juveniles and others in need of "education" may be detained at other special sites. The maximum duration of confinement may be reduced to as little as six months but may be 18 months in some cases.
Yet many more difficult issues have to be addressed. The police will not want to surrender their power to confine persistent petitioners, democracy advocates, human rights activists, Falun Gong practitioners, religious worshippers and repeated minor offenders such as petty thieves. The police will certainly not surrender their power to make the decision to impose such administrative punishments, although they may at least nominally share the power with other administrative agencies as they were supposed to, and as some current municipal pilot projects purport to do.
The police will also continue to fight efforts to give the courts the power to approve all detention decisions, and they may even challenge the power of the Ministry of Justice to run various confinement facilities. The police are likely to show more flexibility in accepting certain procedural protections such as hearings, evidentiary standards and participation of lawyers, so long as they control the final decisions.
Whatever the detailed content of the anticipated legislation, even if it failed to comply with constitutional and legislative requirements for court approval of all detentions, the present situation is likely to be improved in law, and to some extent in practice.
We should not underestimate, however, the frequently demonstrated capacity of the Communist Party, the police and other agencies to compensate for constitutional and legislative restrictions by distorted legal interpretations and low- visibility, often illegal, measures. Think oppressive surveillance, "black jails", party disciplinary confinement, brutal beatings and arbitrary detention in mental institutions and even homeless shelters.
Yet, imagine - if China's new leaders were to surprise us by announcing that they will ban all administrative detentions not approved by the courts, they would, in a single stroke, show their own citizens and the world that the party has begun to take the rule of law seriously. Taiwan has done it. How far behind is mainland China?
This article appeared in the South China Morning Post print edition as: Gradual process