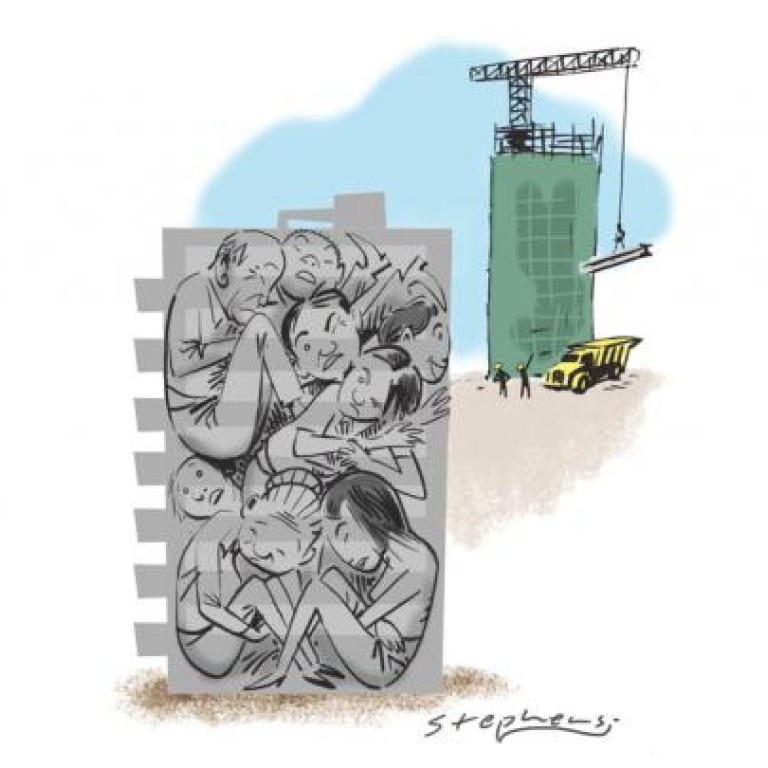 Price isn't the only figure that counts in housing debate
Andy Xie says even if housing prices fall from the current high, it will ease social tension only for now. Stability must be built on a better quality of life, which means more living space for all
Hong Kong is obsessed with property prices. For now, negative reactions to high prices have sufficient emotional intensity to dominate the media and influence the government. Unfortunately, if prices drop substantially in the next two years - a likely scenario - the emotional reaction from property owners could dominate, causing the government to scrap any measures for boosting supply.
History may repeat itself. The reaction against high prices dominated right before the 1997 handover. But, as prices collapsed, sentiment completely shifted and the government switched to restricting supply before any supply-boosting measures previously proposed even had a chance to take effect. That reaction laid the foundation for today's supply squeeze, which is partially contributing to today's high prices.
Property behaves like a financial product in the short term. Its price movement is determined by the credit environment. In the long run, the price is determined by the balance between supply and demand. For example, Hong Kong's high prices today average about one month's salary per square foot, five times as high as the price in other financial centres like London, New York, Singapore and Tokyo. In these places, high prices are limited to areas frequented by financial types. Most local residents have access to affordable housing away from the centre. In Singapore, locals live in government-built housing. In Hong Kong, local people, foreign bankers and investment immigrants are subject to the same prices.
One could equally attribute Hong Kong's high prices to easy credit, which is a consequence of the US Federal Reserve's monetary policy, and to a supply squeeze. When the Fed raises the interest rate to 4-5 per cent, a normal range for the US economy, Hong Kong's property prices may drop by half to shed its component from cheap financing.
But, even then, they would still be too high. High prices are why the per capita living space is so low. Considering that urban residential housing takes up a fraction of land here, the norm of high-priced small flats is a choice.
Hong Kong's laissez-faire economy is a myth, played up by libertarian think tanks like the Heritage Foundation that name Hong Kong the freest or the second-freest economy in the world. The foundation knows little about the world and praises city economies like Hong Kong to embarrass the US government.
Here, land supply, the most important input in a city economy like Hong Kong's, is determined by the government. Hong Kong's big businesses and the government have colluded to maximise their income in fixing supply. The cramped housing conditions and high prices are a consequence of this political dynamic. When a monopoly controls housing, the resulting equilibrium is low supply and high prices.
In addition to cramped housing, high property prices have other consequences. The high costs of education and of goods and services are direct consequences. Even though Hong Kong's per capita income falls within the range of developed economies, its actual living quality is similar to that of developing nations.
High prices have persisted because Hong Kong's per capita income has been boosted by arbitraging China's systemic inefficiencies. Paying up and accepting cramped housing is offset by the benefits of being in Hong Kong. The plutocracy has been taxing people for living in the city. Unfortunately, Hong Kong's premium over mainland China has rapidly diminished since the latter opened up to the world and joined the World Trade Organisation.
Between 1984 and 1997, per capita income rose by 8.7 per cent per annum on the mainland, and by 12 per cent in Hong Kong. But, between 1997 and 2012, the figures were 15.2 per cent for the mainland and 2.6 per cent for Hong Kong.
The Hong Kong premium has turned into a discount in recent years. The mainland's previous manual labour surplus has become a shortage. It increases Hong Kong's living costs that depend on imports from across the border. China's white- collar labour shortage is turning into a massive surplus, as the college system now produces more than six million graduates every year. Hong Kong is a white-collar-based economy. Its wage level is inevitably weighed down by competition from the mainland. This is why Hong Kong's wages have only risen 1.5 per cent per annum in the past decade, even though food and housing prices have shot up. The squeeze on Hong Kong people from rising food and housing prices and stagnant income is creating a tense situation. This current economic situation is not sustainable.
When property prices fall, even by half, it will ease the tension but not resolve the dilemma. The pressure will build up again over time. The only sustainable equilibrium is to target a higher level of property space per resident, possibly twice as much, to lower the living cost and improve quality of life, to offset the pressure on wages.
Hong Kong can increase supply in the short and long term. Mainland China has massive overcapacity in its construction industry. There is no excuse not to import some. If land is an issue, near-shore construction can be carried out - neither technology nor cost is a serious issue.
In the long term, the government's plan to reclaim land from the sea is a good one, though it is not ambitious enough. Hong Kong should aim to increase residential housing space by 100 sq ft per person in a decade. If that is done, Hong Kong could maintain stability. The alternative is the downfall of Hong Kong's plutocracy, not a desirable outcome for anyone who benefits from high property prices.
This article appeared in the South China Morning Post print edition as: The big squeeze