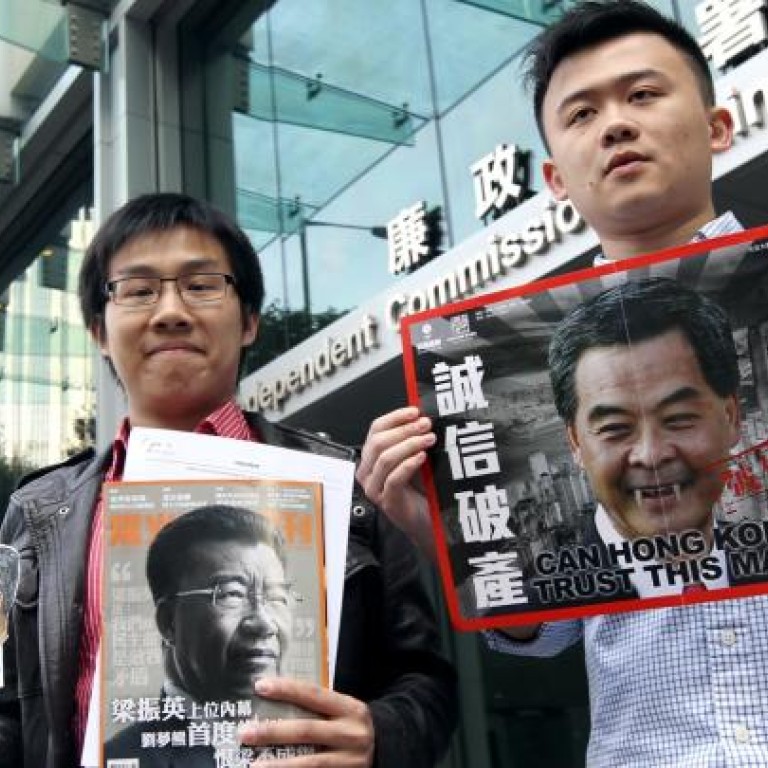 Stop trying to hound Leung out of office
Lau Nai-keung says a sore loser's complaints shouldn't be taken seriously
Hong Kong really is going backwards these days; there seems to be no moral ethics or sense of decency any more. Just look at the scandal brewing after Lew Mon-hung's attack on Chief Executive Leung Chun-ying.
Imagine if, during his election campaign, Barack Obama had told Hillary Rodham Clinton that, should he get elected as US president, he would invite her to be his secretary of state. Would anyone call that a bribe? Common sense would say it isn't. As a matter of fact, how could he assemble his team after the election if he was not forming it during the campaign?
Yet, this is the argument legislators are using and a complaint has now been filed with the Independent Commission Against Corruption following Lew's comments in a magazine article. Lew claimed that Leung lied over unauthorised structures at his home and also failed to honour a promise to appoint him to the Executive Council as a reward for his support during the election campaign.
Lawmakers have threatened to invoke the Powers and Privileges Ordinance to force Leung and Lew to testify.
Is all this really necessary, given the thus far unsubstantiated and uncorroborated allegations? Where will the media, our fourth estate, lead us now? Can you trust the judgment of some so-called legal experts? And will you vote for these lawmaker fools the next time, to make laws and decisions on your behalf? Will the ICAC continue to entertain these frivolous charges and turn itself into a political tool? What is happening to Hong Kong?
The reactions I got (admittedly from a somewhat biased sample) were that Leung made the right decision by not appointing Lew to the Exco. Since Lew gave his magazine interview, it has been revealed that he is on bail after being arrested in a separate ICAC case involving his listed company Pearl Oriental Oil. And reports claimed Lew sent a letter asking Leung to block the probe. He has also been axed from membership of the Chinese People's Political Consultative Conference.
So, really, it's irrelevant whether Leung actually made a promise to Lew about an Exco seat; even if he did, as a responsible chief executive, he should renege on it.
However, I have known Leung since 1984 and it is just not in his character to pledge political favours. Making deals is what politicians in the West do. In that sense, Leung isn't a good politician; recent events have demonstrated this amply.
There is a lesson for us all in the Lew fiasco. In Western-style politics, show me a politician, and I will show you a liar - but that's alright, as long as he does his job for the people who elected him.
Here in Hong Kong, there are so many real issues crying out to be tackled that, even if Leung were a liar - as some of his obsessive opponents want us to believe - we should at least give him some room to perform the job he has been asked to do, after gaining his seat through an acknowledged process.
Right now, it's obvious that Leung and his team are not doing their job properly. But it's easy to say that; the entire administration has been under siege since even before it took office and officials have been busy defending themselves against one charge after another.
If the community continues to be duped into indulging in this meaningless game of unceasingly bullying Leung and his administration, we will all end up losers. Some people will follow in Lew's footsteps and become bad losers, and so will begin another loop in the vicious downward spiral, until we are all suffering in hell.
We have to seriously ask ourselves: is this what we want? If the answer is "no", then it's time to make a U-turn.
This article appeared in the South China Morning Post print edition as: No one benefits from this incessant hounding of Leung