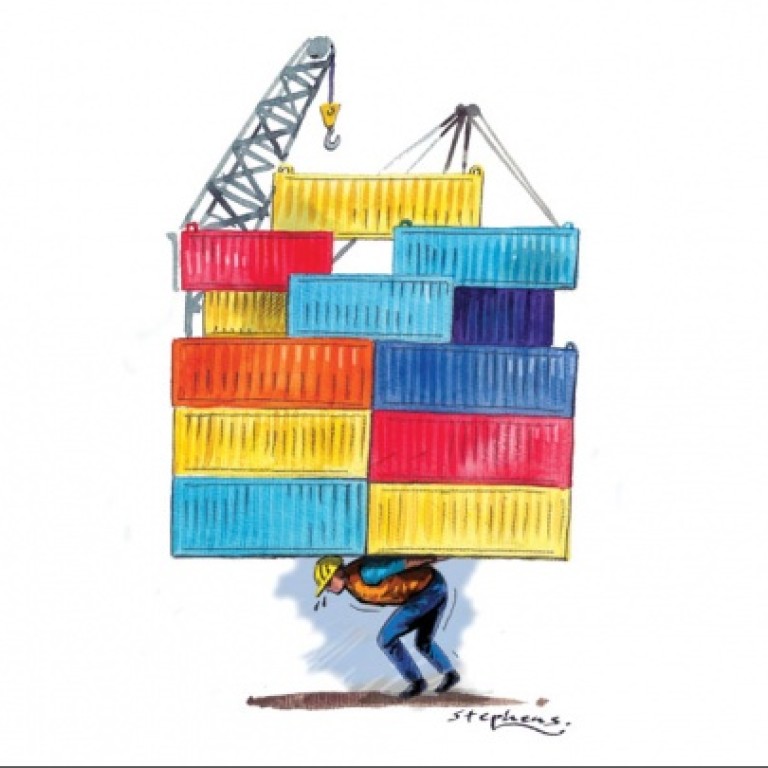 HIT and Hutchison Whampoa have a duty of care to contract workers
Lee Cheuk-yan says taking workers' demands for job dignity and reasonable pay to HIT and Hutchison Whampoa - the ultimate decision-makers - is in line with international practice
The dockworkers' bitter strike has lasted for more than a month. The major obstacle to a swift and effective dispute settlement is the reluctance of Hongkong International Terminals (HIT) to observe international labour standards and to take responsibility for the well-being of dockers working at its ports. Instead of coming to the negotiating table, HIT and its parent company Hutchison Whampoa have run a smear campaign, accusing the union that is organising the strike of political grandstanding.
Only a fool and corporate fat cats would believe that striking dockers, who have put their jobs on the line against the richest man in Asia, are simply incited by a self-seeking politician. If the management at HIT and Hutchison Whampoa dare to look at dockers' appalling work conditions, they would understand why the workers are so determined to press their case.
Striking dockers are paid less now than they were in 1995. Adjusted for inflation, their hourly wage is now some 20 per cent below that of 18 years ago. Stevedores are often asked to work three eight-hour shifts in one go, and they even have to work up to 72 hours continuously during peak seasons. Crane operators work 12-hour shifts, and sometimes 24-hour shifts, in cabins 80 feet above the ground. They are not given proper meal and toilet breaks, and have to eat and urinate in the cranes.
Dockers work in hazardous conditions, and face many potential dangers, such as possible falls from heights, injuries from falling objects, repetitive strain injuries, hearing impairment and respiratory diseases. Work-related injuries and cases of occupational disease are seriously under-reported. Workers claim they are intimidated by their employers and threatened with dismissal if they report cases to the Labour Department.
HIT and Hutchison Whampoa try to distance themselves from any shameful exploitation by claiming that striking dockers are employed by independent contracting companies and do not work directly for HIT. But well-established labour standards are such that while jobs can be outsourced, corporate responsibility cannot.
More often than not, contractual employers do not hold the ultimate decision-making power in determining terms and conditions of work, and are therefore not the appropriate parties to negotiate with. The International Labour Organisation contends that involving the "principal" employers in negotiation is a prerequisite for any meaningful collective bargaining, and this approach is in line with international labour conventions.
The fact that HIT contributes less than 1 per cent to Hutchison Whampoa's overall profit is no excuse for evading corporate responsibility. HIT is part of Hutchison Port Holdings Trust, whose trustee manager is Hutchison Port Holdings Management Pte Limited (HPHM), a wholly owned subsidiary of Hutchison Whampoa. HPHM's board chairman is Hutchison Whampoa's managing director Canning Fok Kin-ning, and its chief executive officer is Gerry Yim Lui-fai, managing director of HIT.
Hutchison Whampoa is hard put to argue it has no bearing on the welfare of workers at HIT's ports. In fact, HIT has taken a leading role in determining subcontracted workers' pay and conditions. Yim held a meeting with HIT's subcontractors in late March, and announced a 5 per cent wage rise effective from July. Strikers' and supporters' calls for the intervention of Hutchison Whampoa's chairman Li Ka-shing, to bring HIT to the negotiating table, are therefore perfectly justified.
Workers' demand for a pay rise of about 20 per cent is not unreasonable. This only represents the compensation for 18 years of inflation that has eroded their spending power. And HIT can easily afford to pay subcontracted workers a decent wage. Last year, the ratio of HPH Trust's pre-tax operating profit to business receipts was 32 per cent. The workers' pay demand amounts to less than 1 per cent of revenue generated from HPH Trust's Hong Kong operations, which stood at HK$5.7 billion last year.
The dock strike has attracted wide community support. Camps have been set up outside the dock gate and Hutchison Whampoa's headquarters, with people bringing food, clothes, shelter and other necessities. A solidarity fund has also raised more than HK$8 million, enabling strikers to continue their fight for dignity.
This strong support reflects the public's fury at corporate excess and the city's widening inequality. Hong Kong's economy is dominated by a handful of conglomerates. People feel exploited in all aspects of their lives. Through supporting the dockers, people can voice their anger at the big corporations and monopolies.
A protracted dispute is the last thing the striking dockworkers want. They may lose their jobs if more and more transshipment cargoes are rerouted to ports in southeast China. The one who certainly will not lose out is Li Ka-shing. His conglomerate also operates in ports across the border, including Shenzhen's Yantian International Container Terminals, one of the main beneficiaries of the current traffic diversion from HIT. This may explain why HIT and Hutchison Whampoa have taken a tough bargaining stance.
This article appeared in the South China Morning Post print edition as: Duty of care