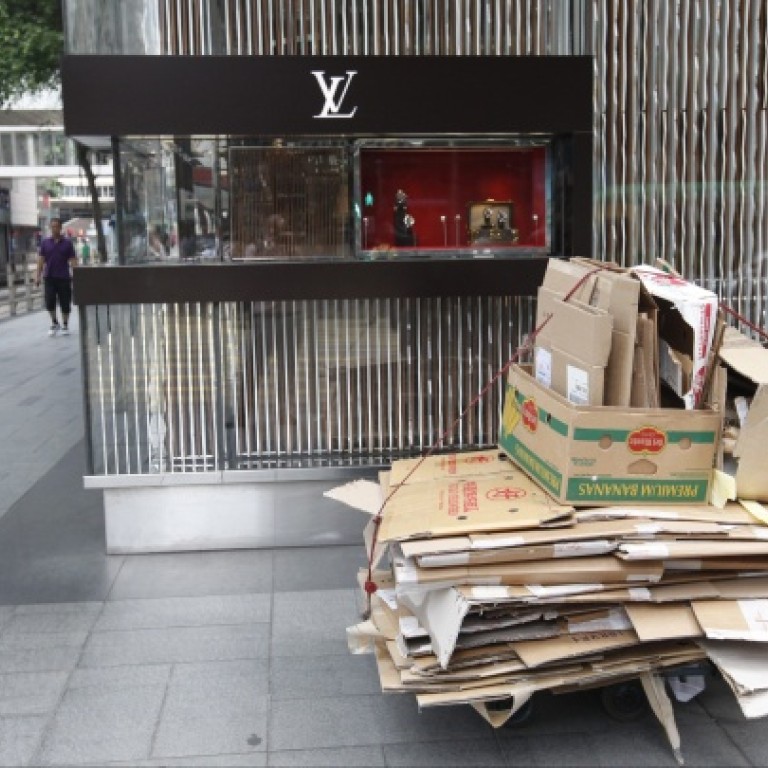 Market that enriches landlords is impoverishing wider economy
Bernard Chan sees a need to rethink many calculations of profit and loss
On a street in Soho, there's an old-style family-owned grocery store. It has wooden barrels of rice on the floor and bottles of soy sauce on the shelves. It is left over from the days before the neighbourhood became a trendy dining area. The owners could make maybe HK$100,000 a month just by renting it out, yet they carry on opening the shop and working every day.
The building where I work has shops on the lower levels. There was a tiny place that sold overseas magazines, but in this case the owner-operator wanted an easier and probably more prosperous life. He rented out the premises, which I heard will become part of a bank. I am told that he gets HK$50,000 a month for the roughly 100-square-foot space.
Free-market economists would say that the magazine store owner did the right thing, and not just by optimising his own returns. By renting his space to the highest bidder, he opens the space up to whoever can use it to create the most economic value.
Others might say that money isn't everything. Maybe the Soho grocery owners get pride and pleasure from their business, and no amount of extra income could replace that. Also, the little shop is important to the older residents. Who needs yet another trendy restaurant?
We have always had a shortage of space in Hong Kong, and it seems worse than ever. Fast growth in financial services and tourism is squeezing smaller businesses out in many neighbourhoods. Landlords squeeze more and more money out of tenants, while everyone else has to pay more and more rent or through rising prices.
Ultimately, this is not sustainable. People get angry, and we will end up with a situation where the side effects of our "free market" threaten social stability. Young entrepreneurs have an especially difficult time, and it is easy to see why they might agree with people in their age group who complain about property hegemony.
A friend of mine who believes Hong Kong needs to regain its old entrepreneurial spirit has come up with a bold idea.
His family owns a 14,000 sq ft floor in a prominent office block in Causeway Bay. He could do the easy thing and rent it to one big tenant. Instead, he has converted it into shared space and facilities which he rents out to carefully selected start-ups and entrepreneurs.
Cocoon, as it is called, is intended to be a community. It offers support and networks of potential partners and investors. It reaches out to business and design schools and organises seminars and other activities. Not all the members are tenants; entrepreneurs who do not need space also join.
One activity is Startup Weekend, when people come together to develop ideas and launch a startup - all over a few days. They also have Pitch Nights, when entrepreneurs compete to sell ideas to judges with investment expertise. Successful new companies have resulted in such fields as software, social media, logistics, packaging and design. It works.
Do the owners of Cocoon pay an economic cost for using their property this way? Are they optimising the property's economic value? If they fill the space (several hundred tenants paying HK$2,000 a month), the rental income is probably roughly the same as they would get from one big tenant. But there is a lot of extra effort and overheads involved. A free-market economist would probably say they were fools.
But they are using the asset to benefit the wider community by encouraging young entrepreneurs to start up new businesses. That, I believe, will benefit our whole economy in the long run, probably more than if the space were occupied by some multinational. Meanwhile, my friend - like the grocery owners in Soho - gets the satisfaction of making a positive difference. You can't put a price on that.
This article appeared in the South China Morning Post print edition as: Market that enriches landlords impoverishes wider economy