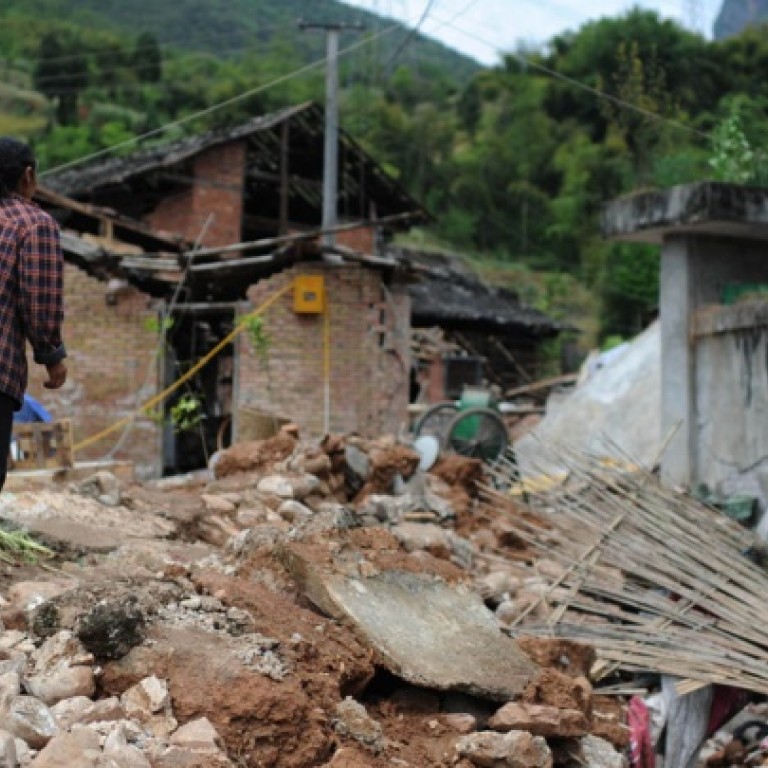 How to make charity dollars count
Howard Liu and Stephen Tsui say experience shows relief efforts and aid are most effective when disaster-hit communities are invited to help plan, carry out and monitor the reconstruction, to ensure quality
Since the Yaan earthquake on April 20, Oxfam staff have often been asked how to best ensure donations are well spent in the community. This is a healthy reminder that keeps pushing us to refine our monitoring systems.
Looking back at our emergency relief and rehabilitation projects following the Wenchuan earthquake five years ago today, we find that we have gained valuable experience in examining the use of funds.
In that time, we have implemented 216 relief and rehabilitation projects in Sichuan, Gansu and Shaanxi , 22 of which will be completed by the end of this year. Total funding for these, as of February, was HK$166 million. Among our 91 project partners, 57 per cent are government departments; 34 per cent are local non-governmental organisations and 9 per cent are academic institutes.
The short-term (or direct) aim of these rehabilitation projects is to make best use of public donations, to help marginalised and impoverished communities recover from the disaster. Longer term, we aim to empower the communities themselves while also establishing a system of checks and balances locally, to promote transparency.
Beyond the villages themselves, we have encouraged our governmental partners to adopt the same approach of empowering communities, in order to enhance their own transparency, accountability and strategies for allocating resources.
Regular visits to projects are an important part of the monitoring progress, but they are never enough on their own; the participation of the local community is equally, if not more, effective. Villagers have a stronger sense of ownership of the project because they know they will benefit directly from the outcome. As a result, they really care about the quality of the project.
For this reason, we support the formation of a project management committee in a village. For example, in a road rebuilding project, one group would be responsible for stock-checking the materials, another would deal with financing, and yet another would monitor quality. Villagers would also come up with a system of maintenance.
We emphasise gender equality and the needs and participation of women. To achieve that, we provide training for women to allow them to join the committee and exercise their right to contribute to the rehabilitation of their community. In so doing, a project also aims to address the issue of gender imbalances.
A sense of ownership is vital for rehabilitation efforts because the villagers know what works best for them. In Xingli, a village in Guangyuan, Sichuan, local participation in project management helped save a significant amount of money on a road building project. The villagers' 3.9-kilometre road cost 600,000 yuan (HK$752,000), or nearly 160,000 yuan per km, much lower than the 300,000 yuan per km quoted by a contracted construction company.
Thus, rehabilitation is actually a process of empowerment in which villagers are active participants instead of passive recipients of external assistance. They help make sure no funds are wasted on efforts that do not benefit communities.
Enhancing transparency is another effective means of ensuring funds are used properly. Oxfam staff directly handle the quotation process, procurement and distribution of relief supplies. In every project, we display publicly in the village the details of the project, such as distribution of items and the budget. Villagers know whether everything is fair and reasonable. And they will monitor it themselves.
Moreover, this is a mutual learning process; often, local governments and communities see the value of such concepts and practices, and begin to apply them in other development projects.
When putting these principles into practice, we have found that small-scale projects offer community members the best chance to participate. Thus our rehabilitation efforts following the May 12 quake have focused on projects in remote villages deprived of resources and aid.
Changes of perspective, attitude and practice are an essential part of relief and rehabilitation. Last month, Oxfam Hong Kong released the Chinese edition of the Sphere Project in Beijing, which aims to promote international standards and practices in disaster response in China. This is a small but important step in the long process of refining and improving disaster response in China.
By demonstrating accountability and the appropriate use of donations, we hope that NGOs like Oxfam can gain more public support and trust, which will generate more funds for communities in need. This way, everyone wins.
This article appeared in the South China Morning Post print edition as: Making every dollar count