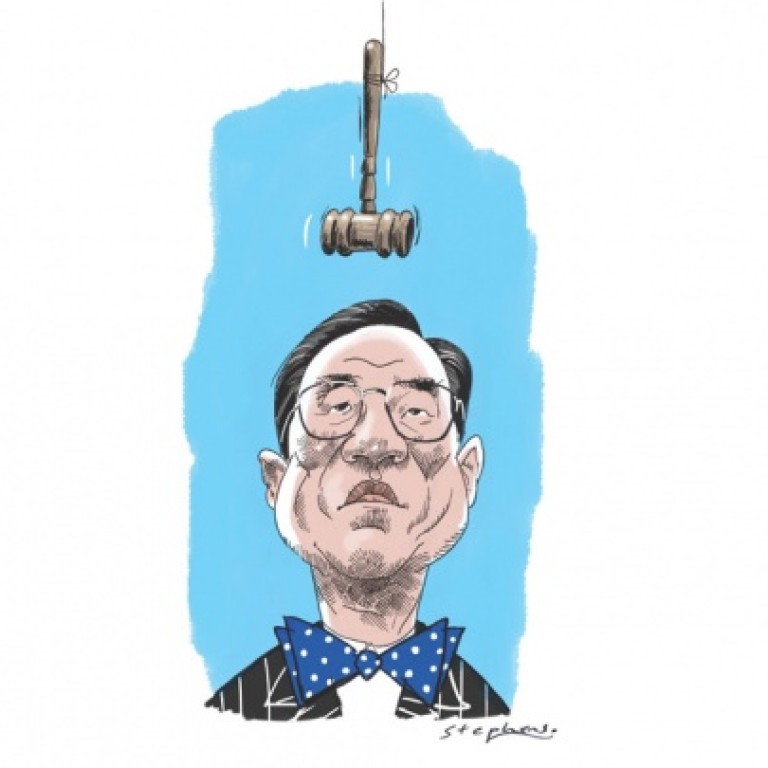 Donald Tsang deserves to know his fate in ICAC's graft probe
Grenville Cross says it is unacceptable that, 15 months after the ICAC began investigating Donald Tsang's alleged improprieties, the former chief executive's fate still isn't known
Justice delayed is justice denied," says a legal maxim. If a criminal case is delayed, a trial may be stayed - if the delay has caused prejudice; while a convicted defendant may receive a reduced sentence because of the trauma he or she has faced. Suspects, therefore, must know their fate within a reasonable time, and not be left in suspense.
Although the former chief executive, Donald Tsang Yam-kuen, was referred to the Independent Commission Against Corruption on February 25 last year, for allegedly improper associations with tycoons and extravagant living, 15 months later the case is still outstanding - and Tsang is entitled to be put out of his misery.
After all, experienced investigators are handling the case and the evidence seems relatively straightforward, which makes the delay all the more surprising. There could of course be more to the allegations than has been reported, but Tsang and the public need to know what is happening. It is, however, no ordinary case, as events have shown.
Firstly, once the investigation started, then secretary for justice Wong Yan-lung, as chief prosecutor, declined to announce his withdrawal from the case, notwithstanding that he was Tsang's legal adviser. His input into the case, until he left office four months later, may never be known. What is known is that his successor, Rimsky Yuen Kwok-keung, did not follow his example and, once allegations of impropriety against the current chief executive, Leung Chun-ying, were lodged with the ICAC in January, he promptly handed responsibility to the director of public prosecutions who had "no connection with the persons involved in the cases".
Secondly, last November, a spokesman for the Prosecutions Division, with dreadful timing, announced that there was no pressing need for Hong Kong to have an independent DPP as the existing system was working well. Although this will have played well with ministers, it jarred with those who felt the system should be depoliticised, particularly as Tsang and other senior officials were all facing possible prosecution. In 2011, at least five government ministers had escaped prosecution, for undisclosed reasons, for having allegedly illegal structures on their properties, and this lamentable precedent has done little to inspire public confidence in the proper disposal of Tsang's case.
Thirdly, although the ICAC's former director of operations, Daniel Li Ming-chak - who was due to retire in April 2012 - was retained until July 31 last year to enable him to complete the Tsang investigation, the case is still outstanding. If Li completed his task before he retired, why has there been a deafening silence since? Independent legal advice has to be obtained, but this cannot begin to explain a delay of this magnitude. The impression of deliberate foot-dragging, or worse, is inescapable.
Fourthly, although Tsang himself indicated in March that the case was still alive, when he said it would be inappropriate of him to join the Chinese People's Political Consultative Conference until matters were settled, he revealed nothing of its actual progress, presumably because he did not know.
Fifthly, after the news broke recently of the alleged misuse of public money by the ICAC's former commissioner, Timothy Tong Hin-ming, some people noted that Tong was a Tsang appointee. Fears were also expressed that the scandal could weaken the ICAC at a time of crisis, with numerous high-profile cases on the boil. Although Tong had properly recused himself from the Tsang investigation, the crisis now engulfing him has inevitably raised questions about the prevailing culture at the top of the ICAC.
After all, the allegations concerning Tong and Tsang are not dissimilar, involving extravagance and a disregard of proprieties, and the inordinate delay in Tsang's case may fuel suspicions that matters are not being appropriately pursued. Something must be done therefore to reassure the public, and soon.
The ICAC commissioner, Simon Peh Yun-lu, reports to the chief executive and Leung must ascertain if Peh is on top of his game. A progress report should be sought and reasons given for the delay. If the cause of the delay lies not with the ICAC but with the department of justice, Leung must ask the justice secretary to expedite the legal advice. For their part, Peh and Yuen should be prepared to bang heads together in their own departments, if that will get things moving. If the chairman of the ICAC's operations review committee, Michael Sze Cho-cheung, can also galvanise things internally, so much the better.
While a sensitive or complicated case must not be rushed or prejudiced, there has been ample time for a full investigation and legal advice. If a decision has been taken on Tsang's case, as seems likely, there can be no basis for withholding it, even if it is controversial.
If Tsang is to be prosecuted, he should be charged, and taken to court. If not, he should be informed, and the reasons made public. Either way, Tsang must be told his fate, as basic justice requires.
This article appeared in the South China Morning Post print edition as: Break the silence