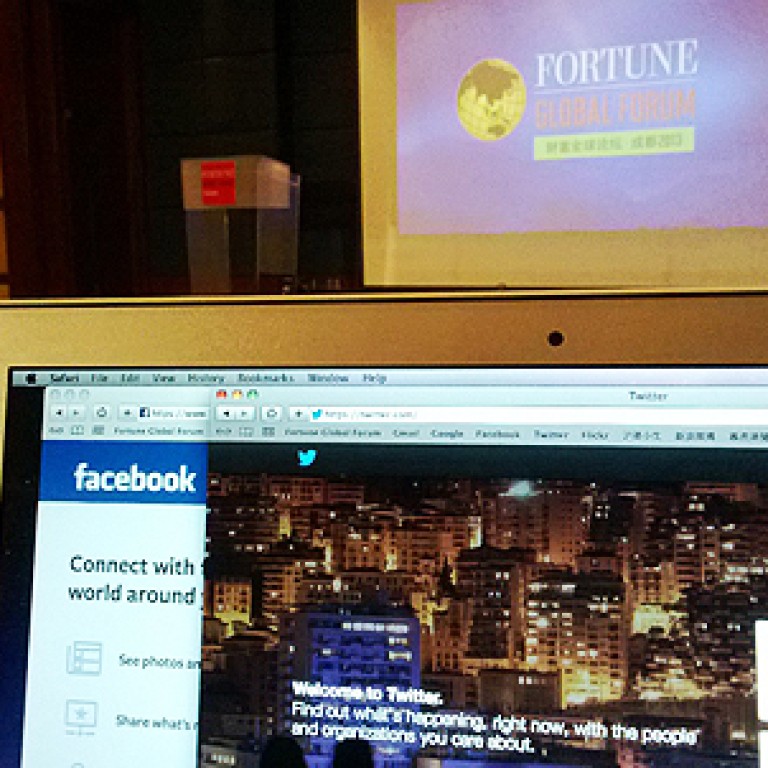 Opinion
Mr. Shangkong
by George Chen
Mr. Shangkong
by George Chen
Facebook and Twitter go live in China - but only for Chengdu business forum
Facebook and Twitter, the world's two largest real-time social media network services, finally went live in China, but only in one small location and for the next few days.
Chengdu, host of the Fortune Global Forum this year, surprised journalists who flew in from all over the world to the mainland's western financial capital when it allowed access to Facebook and Twitter. The sites have been banned on the mainland for many years.
Apparently in an effort to raise the city's exposure on global media outlets, the forum's organiser encourages journalists to share as much as they can about the event on the social sites. The organiser even created an official Twitter hashtag,
#FortuneGlobal
, so others can follow along. The forum, which ends on Saturday, attracts more than 100 chief executives and chairmen from Fortune 500 companies worldwide.
In 2008, Beijing had also allowed the press to access Facebook and Twitter during the Olympic Games, and banned these services when the event ended. This week it was reported that
Nanjing is considering
opening up access to the two websites for the Asian Youth Games in August.
Access to Facebook and Twitter, however, is limited only to the main venue, the Shangri-La Hotel in downtown Chengdu, where all approved forum participants, including the press, can use free Wifi.
"I hope we can also have access to Facebook and Twitter in other places in Chengdu rather than just the Shangri-La Hotel," said a local reporter, who declined to be named due to the sensitivity of the issue. "Otherwise, it's so obvious that this is just about face and promotion."
Access to Facebook and Twitter remains unsuccessful in other locations outside the forum site at the Shangri-La Hotel. Other major hotels such as Holiday Inn do not allow guests to access those social media sites even though some forum participants are staying there.
Security remains high in the area around Shangri-La, and some roads have been closed to public transport.
Chengdu is the latest Chinese city after Hong Kong, Shanghai and Beijing to host the Fortune Global Forum, which is in its 12 year. Half of the Fortune 500 companies already have their offices in Chengdu, which is at the heart of Beijing's long-term "go west" strategy to attract foreign capital to boost economic development in Western cities and provinces. Western areas are relatively more underdeveloped than coastal cities such as Shanghai and Guangzhou.
According to government sources, Chengdu, a major city of 14 million in southwestern China, has prepared for the forum for more than three years, spending big money on improving or even rebuilding its roads and neighbourhoods, in particular, downtown areas near the forum site.
Some Chengdu residents wonder what the big fuss is about.
"It's just a business forum, not even the Olympic Games. I think the government is over-reacting and has spent too much [preparing for the forum]," said a taxi driver who declined to be named.
(George Chen is the Post's financial services editor. Like the Mr. Shangkong column? Visit facebook.com/mrshangkong)