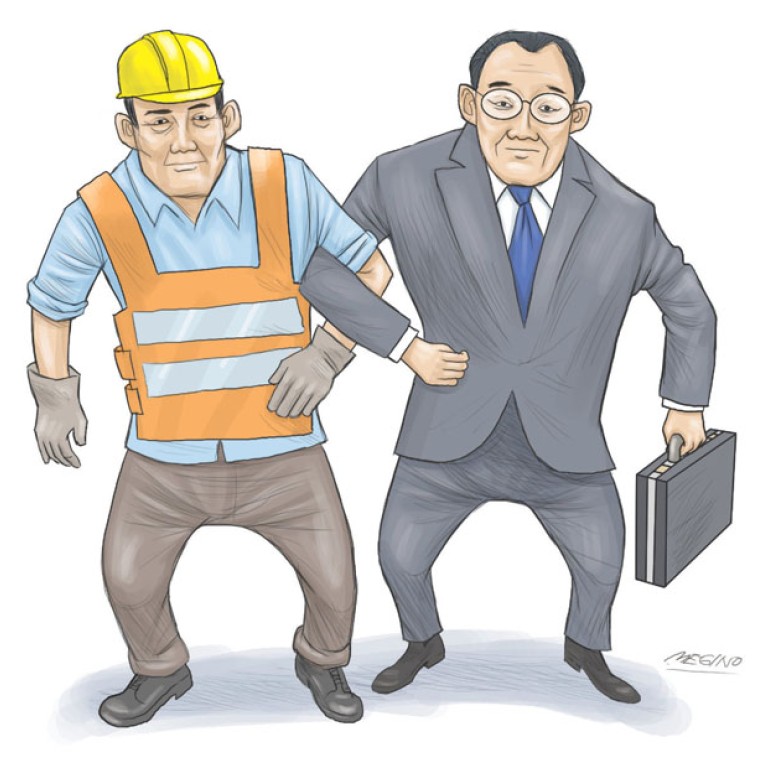 Free trade zone fits into Shanghai's financial ambition
Woo Jun Jie says plans for a free trade zone in Shanghai will give a major boost to the city's ambition to thrive as a global financial centre, because where trade goes, finance follows
Championed by Premier Li Keqiang, plans to establish a free trade zone in Shanghai have now been approved by the State Council. Combining three areas in the Pudong district, it will allow the Chinese government to experiment with economic liberalisation and renminbi convertibility.
More importantly, it will bring Shanghai closer to its goal of becoming a fully fledged international financial centre by 2020. Given the close linkages between trade and finance, Shanghai's development as a financial centre hinges on its success as a port city. The free trade zone is thus one step along the path that Shanghai needs to follow to establish its credentials as a financial centre.
History has shown that trade is the lifeblood of finance. Hong Kong's current success as a leading financial centre was predicated upon its beginnings as an entrepot, engaged in free trade with other Commonwealth nations under Britain's sterling area. It was only with the onset of the second world war that finance became delineated from trade. Nonetheless, Hong Kong's financial services sector continues to be involved in trade settlement and financing activities.
Similarly, Singapore's thriving banking sector first emerged during its time as a British colony, for the sole purpose of serving British trading activities. Its insurance industry was similarly established with its founding as a British trading post. While post-independence Singapore has focused on finance as a growth sector in its own right, trade finance and maritime insurance remain major components of its financial services industry.
Shanghai needs to take a leaf out of the books of its two regional rivals. First and foremost, trade activities need boosting and the free trade zone is obviously a step in the right direction. Integrating Shanghai into the global supply chain and increasing the amount of trade flowing through its ports will naturally create a demand for related financial services like trade financing and maritime insurance. While the free trade zone will attract the expertise and capital base of foreign financial firms and insurers, this demand will also encourage the development of local financial expertise.
More specifically, the free trade zone will stimulate what economists call "agglomeration" or clustering effects. Foreign financial institutions will be attracted to Shanghai while domestic financial institutions will benefit from the increased capital flows. This will spark a virtuous circle. Related industries, such as accountancy and legal services, will also thrive on the increased activity.
This trade-driven accumulation of financial capital will then provide a base on which other financial services such as securities and debt markets can be established. The government's intent to experiment with renminbi convertibility in Shanghai also bodes well for the development of a foreign exchange market.
Furthermore, plans to establish futures warehousing facilities will allow the city to strengthen its market for futures and commodities. In short, the promotion of free trade will spark a chain effect, leading to the development of a financial centre.
Yet, this does not mean the process is entirely organic. The government will have a key role to play throughout the process. In particular, Shanghai needs to strengthen its regulatory and legal framework.
The continued success of Hong Kong and Singapore as international financial centres is based on the robust regulatory infrastructure and a strong rule of law. To foster greater confidence in its financial services sector and attract foreign institutions, Shanghai needs to ensure a strong rule of law is established and enforced within its jurisdictions.
Its financial regulatory agencies will also need to join hands and establish a robust and transparent regulatory infrastructure. Given that financial regulation in both Hong Kong and Singapore is carried out by a single chief regulator (the Hong Kong Monetary Authority and Monetary Authority of Singapore), Beijing should consider establishing a lead agency that co-ordinates all regulatory activities. Foreign financial institutions will find greater assurance within a more stable regulatory environment.
A final point to note is that China's plans to groom Shanghai into a major financial centre will have a significant impact on its regional rivals. Already, there are concerns that Shanghai will pose a threat to Hong Kong's future prospects. However, this may be premature and exaggerated. There remains scope for co-operation, and the burgeoning Asian markets will allow all three centres to thrive and even complement one another.
Hong Kong retains key strengths in its banking sector and loan syndication industry, while Singapore will continue to leverage on its capital markets, asset management industry and proximity to Southeast Asian economies.
There is little doubt Shanghai will siphon off some mainland financing opportunities, but both Hong Kong and Singapore can still rely on their existing comparative advantages and carve out individual niches in regional markets.
Rather than seeing each other as competitors, Shanghai, Hong Kong and Singapore should work with each other by developing complementary financial sector expertise and capabilities. This will require greater inter-government and inter-agency co-operation and dialogue.
This article appeared in the South China Morning Post print edition as: Chain reaction