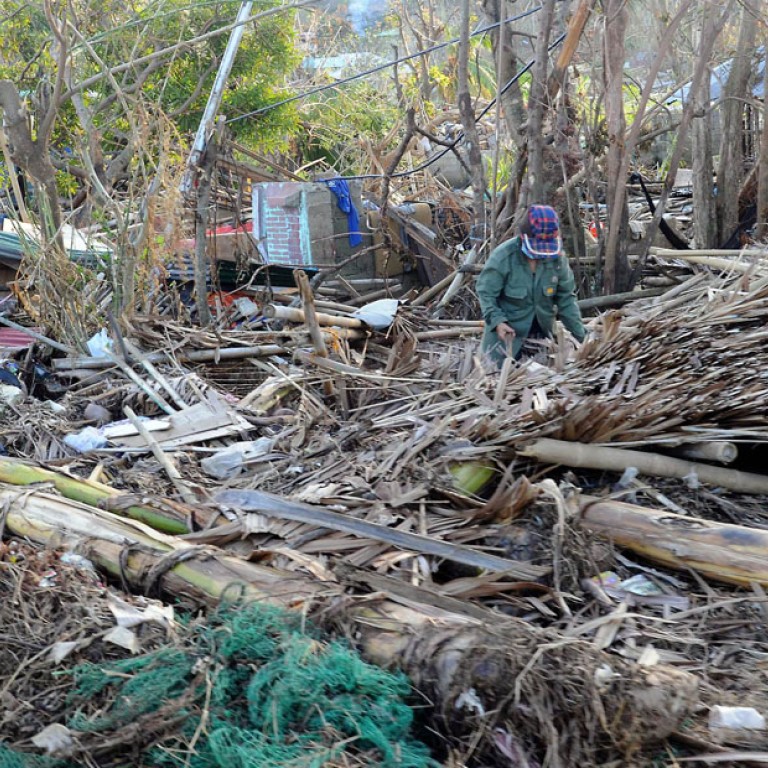 For now, let's tend first to the needs of storm-shattered Philippines
Curtis Chin says politics - and recriminations - should be set aside in this hour of need
Like so many others, I have seen the media reports of death and destruction that emerged from the Philippines in the wake of Super Typhoon Haiyan. The initial estimates of the damage were horrendous, but some figures, including the number of estimated fatalities, have mercifully gone down.
The latest figures counted about 4,000 dead and over 10 million people affected by the storm known in the Philippines as Yolanda.
No uncertainty exists, however, about the intensity of the typhoon and its deadly storm surge, which wreaked tsunami-like havoc on the city of Tacloban and numerous other communities. Economic losses from Haiyan could total US$15 billion, or 6 per cent of the gross domestic product of this nation of some 100 million people.
Having spent nearly four years in the Philippines, I see the still unfolding tragedy as much more than a distant news story. Like many others with ties to the nation, I have reached out to learn how friends and their families fared, and watched from afar the tales of life, and death, that made the TV news.
Like others, I also took to social media, as other forms of communication proved unreliable. On the pioneering Philippine social network site Rappler, I wrote: "I have faith in the Philippines."
And, indeed, even as the news seemed to worsen, there also emerged tales of great fortitude, bravery and recovery, and examples of the strength of the Filipino extended family, as well as of that indomitable Filipino faith and spirit.
As with the Indian Ocean tsunami of 2004 that killed tens of thousands, or in my own shattered city of New York after the World Trade Centre fell to the terrorist attacks on September 11, 2001, this tragedy will bring together people, and nations, in common cause to help those most in need.
The US, Europe, Japan, Korea and many others have responded. And even in Hong Kong, citizens have shown compassion with fundraisers and outreach while their own government announced it had "no plan" to delay possible economic sanctions against the Philippines over its poor handling of a August 2010 Manila bus hostage crisis.
There is no question that every life lost is a tragedy, whether in the hostage crisis of three years ago that left eight Hong Kong people dead or the storm that killed thousands.
It is time, though, to set aside talk of punishing the Philippines for its bungled rescue attempt that ended the hostage crisis. It is also time to set aside criticism of China for its initial pledge of US$100,000 in humanitarian support - a relatively small amount that set off a storm of derision and debate on the internet. China - a nation with the world's second-largest economy and ongoing territorial disputes with the Philippines - has since upped its contribution to US$1.6 million.
Every contribution, regardless of intent or amount, can make a difference. Providing relief to the injured and homeless must be the near-term focus. Rebuilding and reconstruction will follow - as will, no doubt, the accusations and recriminations, as questions are asked about corruption and past policy decisions that affected a nation's disaster preparedness.
But now is not a time for politics.
In New York, in the aftermath of September 11, then mayor Rudy Giuliani declared, "The city is going to survive, we are going to get through it. It's going to be [a] very, very difficult time. I don't think we yet know the pain that we're going to feel when we find out who we lost, but the thing we have to focus on now is getting this city through this, and surviving and being stronger for it."
If we replace the word "city" with the Philippines, the sentiment and call to action is just as relevant today in Haiyan's aftermath. The Philippines will survive, the Filipino people will get through this difficult time, and the Philippines will be the stronger for it.
As the tragedy of September 11 played out a dozen years ago, then US president George W. Bush asked for "prayers for all those who grieve, for the children whose worlds have been shattered and for all whose sense of safety and security has been threatened". He prayed then that people would be "comforted by a power greater than any of us, spoken through the ages in Psalm 23, 'Even though I walk through the valley of the shadow of death, I fear no evil, for You are with me'."
People of many faiths have lost their lives to Haiyan. Asia knows well that nature's wrath makes no distinction as to religion, ethnicity or gender.
Countries will balance their political and humanitarian imperatives and offer what they can. Individuals, however, should be able to set politics aside. Just as my own home city of New York was rebuilt with the support of the world after September 11, I know that so, too, will the Philippines. And my hope is that Filipinos will do so with the people of Hong Kong at their side.
This article appeared in the South China Morning Post print edition as: For now, let's find common cause to help the Philippines rebuild shattered lives