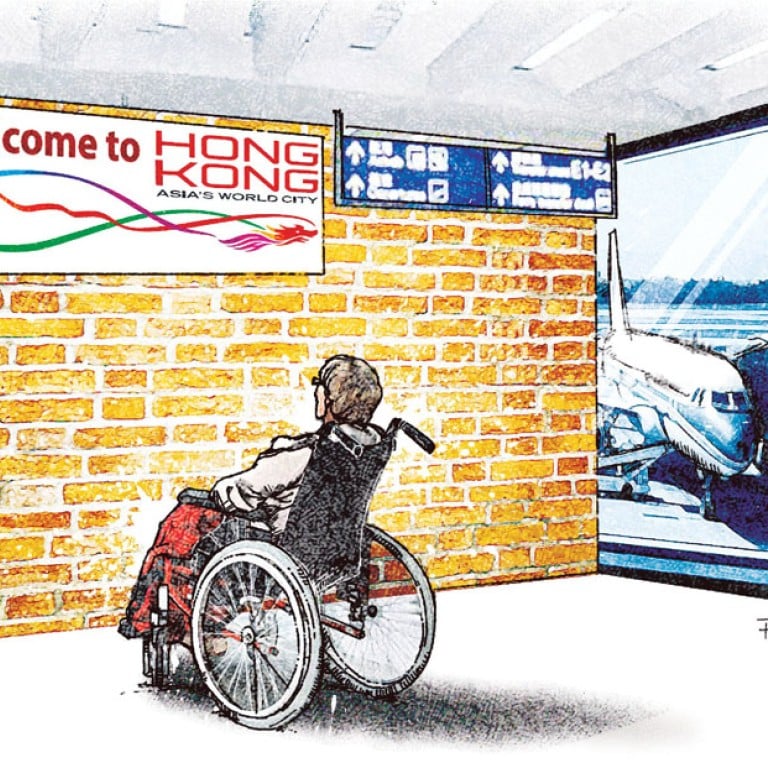 Hong Kong has a long way to go on disabled rights and attitudes
Paul Letters says his personal experiences prove Hong Kong has a long way to go to catch up with the developed world on disabled rights, and a little awareness and understanding would surely help
Hong Kong is one of the most advanced places in the world, but not when it comes to disability. For example, from Central to Causeway Bay, skyscrapers packed with medical clinics lack entrances with ramps. This is so absurd it's almost amusing.
A world leader in disability rights, Britain has made it a legal requirement for public buildings to provide disabled parking and toilets since 1970. Here, even schools lack disabled parking and signage (so if there is a disabled entrance, you'd never know). Places that do have disabled toilets use them, at best, as smoking rooms and often as full-to-bursting store rooms; I've waited for toilets to be decluttered everywhere, from highly regarded restaurants such as Pacific Place's Domani to Hong Kong Stadium.
For work, I was once sent to an all-day conference in a building which greeted me and my wheelchair with a flight of steps and no disabled side-entrance. I'm a reluctant but regular recipient of the "sedan chair treatment" - where, due to a lack of elevators or stair lifts, teams of obliging security personnel carry me up a flight of steps, as they did adeptly at the recent Hong Kong Wine Festival. At this conference, there was no lift - and our room was on the fourth floor. So I turned around and headed home (from Central to Sai Kung). I'm not ashamed to admit I was tearful by the time I reached home.
Any flight of stairs without a wheelchair symbol and an arrow indicating a wheelchair entrance around the corner makes the statement "No Disabled People" - as plainly as some institutions in bygone Hong Kong had signs declaring "No Chinese".
This brings me to our recent family outing, one which was supposed to make up for lost time. We had tried to visit Ocean Park once before: we weren't going to let steep slopes stop us or my wheelchair. I say "us" but my disability restricts me to sitting pretty, so, two-year-old in tow, my wife did all the heaving up Ocean Park's hillside - until the impossibly steep slopes won.
But, with my new mobility scooter, what wasn't possible now is - or should be. My "Luggie" - so-called because it's designed to collapse into a small suitcase - is slimline and acutely manoeuvrable. So, on occasions where steps are avoidable (which, for example, discounts most shops throughout Hong Kong), it's possible to negotiate narrower pathways through offices and supermarkets than my mechanical wheelchair can manage.
Before I was born, leading developed nations introduced legal provision for the use of "invalid carriages" (now, mobility scooters) on footpaths and pavements. More than 40 years later, word has not reached parts of Hong Kong.
The most persistent of the five Ocean Park staff to stop and detain me for questioning justified this because "certain electric vehicles are not allowed entry - Segways, for example". I had to explain that people in wheelchairs can't generally use these two-wheeled electric scooters.
My family and I have been in situations before where overly officious staff have made life harder than it needs to be.
When arriving in a mechanical wheelchair at Chek Lap Kok, if you get the wrong check-in assistant, you can find yourself parked facing a wall for half an hour while you're forced to wait for a porter to shove you through the airport (Of course, there's a lack of official help until you reach check-in - but from there, shorn of luggage, we don't need help). I say "forced" because, whereas many airline staff are sensitive and helpful, some have told us that we are not allowed to wander around the airport without a porter escort. In that situation, we wait until the check-in staff are distracted by their next passengers and then make a run (or "wheel") for it to passport control - where security staff happily process us, without the need for a porter.
And so, at Ocean Park, we made a break for the aquarium - my crying wife walked as briskly as she could while carrying our son, and I maxed out at 6 km/h. Four out of the five nagging staff lost interest, but Ocean Park's pink-jacketed "Terminator" wouldn't give up.
I offered proof of my disability, issued by the Social Welfare Department, but the Terminator's ability to "give a damn" had never been installed. Instead, he assured us that "it will be less hassle for you to borrow one of our self-propelling wheelchairs". Less hassle? I've never punched anyone in my life, but I shaped up to.
I'm glad I didn't - not just because I have the physical power of a rain-drenched moth, but I can't imagine it would have done much to advance disabled rights. At least our four-year-old handled it with mature understatement: "He's a very bossy man".
Ocean Park had charged me full adult entry of HK$320 to harass and then quarantine me (my family were allowed to visit the animals) until a manager eventually appeared and gave my mobility scooter the green light. I found it hard to take an apology seriously when it came from someone in a luminescent pink and yellow jacket.
At least after the event, Ocean Park didn't ignore the issue. To be in a wheelchair is to watch too many drivers of taxis with their "for hire" light on speed up as they pass by. But who am I to judge that they should be lifting my chair into their boot? Perhaps, in some cases, their spines are weaker than mine?
We've not tried to take my Luggie abroad yet, but it wouldn't surprise me if Chek Lap Kok turns out to be the one airport in the developed world which forbids mobility scooters, however neatly they fold up. And it's so much fun getting from the car park to the check-in desk in a mechanical wheelchair, with a small child and luggage.
In our old routine, my wife would push me, with a rucksack across my wheelchair, five metres forward and then go back to retrieve our suitcase and pull it five metres beyond where I'd be parked. All the while, our son toddled along on his own.
Ocean Park's corporate social responsibility programme does good work for the disabled. But Hong Kong needs more than corporate policies. We need progressive laws to enforce and we need individuals to be trained how to care.
Far from all the staff at Ocean Park or the airport are unenlightened, and people can make such a positive difference. The airport security guard who gave me his personal number and now pre-arranges help for us each time we travel is one such individual. In Hong Kong, we lack both a legal framework and a culture of awareness of disabled rights - but where there's humanity, there's hope.
This article appeared in the South China Morning Post print edition as: Wall of ignorance