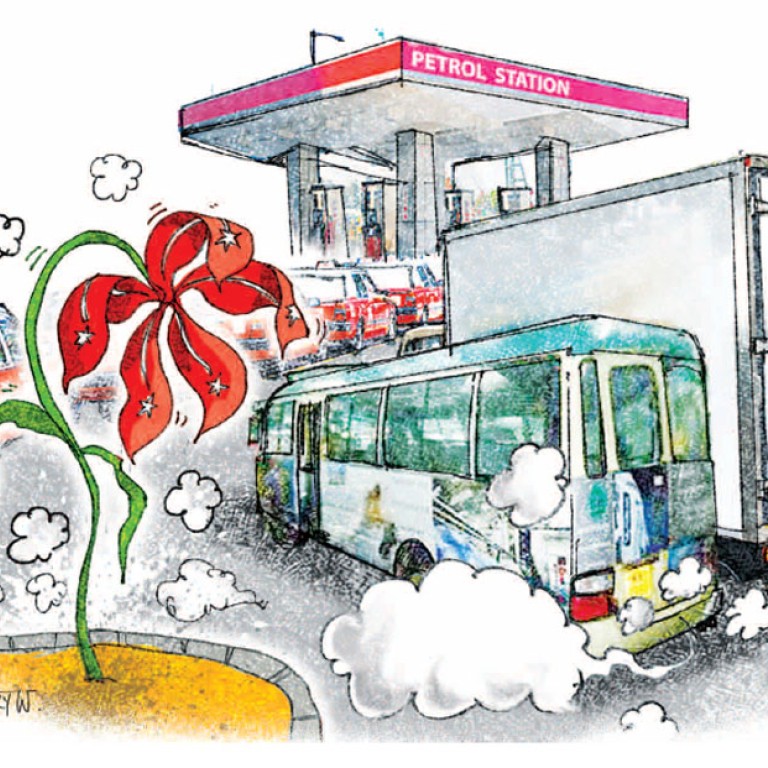 Air pollution must top Leung's policy address agenda
Edwin Lau says a detailed plan to curb the local emissions that blight our health would, above all else, demonstrate the chief executive's commitment to the people in his policy address
Hong Kong is famous for its efficient public transport systems, which carry millions of people from home to work every day. At the same time, it is equally "famous" for its polluted air, to which public transport, in the form of buses and taxis, contributes. Chief Executive Leung Chun-ying needs to pay serious attention to this problem as he prepares his policy address.
Local sources of emissions - such as vehicles and power plants - affect Hong Kong's air quality. So do regional sources from the mainland due to the prevailing winds in winter. Even so, government officials are often too quick to blame the weather conditions, instead of their ineffective policies.
Air quality in over 100 mainland cities recently reached such a dire state that flights were suspended, some highways were closed, respiratory illnesses surged, and face masks sold out. Some mainlanders said they'd prefer slower economic growth in return for better health for their children.
Still, particles can travel far and wide to affect us. So if the Hong Kong government is serious about improving our air quality - which was worse in 2013 than in the previous year - to safeguard public health, it needs to engage business owners who have invested in factories, power plants and the like across the border, to help the mainland reduce pollution too.
Under "one country, two systems", our government can only encourage Hong Kong business owners to reduce pollution by providing incentives such as free environmental audits to identify their emissions inventory or giving recognition to those who can demonstrate good results.
The World Health Organisation announced in mid-2012 that diesel fumes had been elevated from a probable to a known carcinogen. This is a serious health warning, similar to "Smoking can kill". Our chief executive, as his utmost priority, needs to review air pollution control policies to bring down local emissions to the safe level recommended by the WHO. Health is the most important asset of every citizen and society as a whole.
In crowded urban areas, buses and trucks are driven from dawn to late at night, and they are powered by diesel engines with different emission standards, from the worst polluting pre-Euro standard to the cleaner Euro VI. The recently approved HK$11.7 billion subsidy scheme to phase out old diesel vehicles is one good step among many and our government should encourage vehicle owners to apply.
Similar to energy issues, we should consider policies from the demand and supply side, with a holistic plan to tackle air pollution problems effectively.
On the demand side, we should focus on transport planning and control. Low- emission zones and a vehicle labelling system are necessary to prevent old polluting vehicles from entering designated areas at certain times of the day. A labelling scheme is relatively easy to implement. The Transport Department could use two colours for vehicle licences, to differentiate zero-emission vehicles with engines of Euro IV standards or better from vehicles that meet the Euro III or lower standards.
Further, rationalising bus routes is a political exercise for Leung and Environment Minister Wong Kam-sing; they must convince district councillors of the health benefits to their voters if unnecessary bus routes are cut.
On the supply side, we should explore options for cleaner fuels and more efficient engines. Currently, taxis and around half the minibus fleet are powered by LPG. However, the government does not control the price of LPG at stations that provide different types of fuel. So most LPG vehicles instead queue up to refill at LPG-only stations, which sell the fuel at a lower price due to government controls.
If both types of station were subject to the same price controls, it may help convince owners of the remaining half of the minibus fleet to change to LPG models. This would create a more even distribution of LPG vehicles in all districts, alleviating traffic congestion and reducing air pollution.
Biodiesel is another greener fuel we should consider. Both local and overseas institutions have confirmed that it emits fewer pollutants, including particulate, smoke and hydrocarbons, than conventional diesel.
The government should mandate that all refilling stations provide diesel containing 5 per cent of biodiesel (B-5) as a start, as car dealers have already approved B-5 for vehicles. Also, why aren't buses using B-5 under the franchise agreement with the government?
And why has the mainland already adopted electric buses to reduce air pollution while Hong Kong's plan is still at the pilot stage?
Air pollution costs precious lives. If Leung wants to be greeted by handshakes instead of a barrage of eggs, he should show some commitment by making our air safer to breathe within his tenure.
This article appeared in the South China Morning Post print edition as: Emission mission