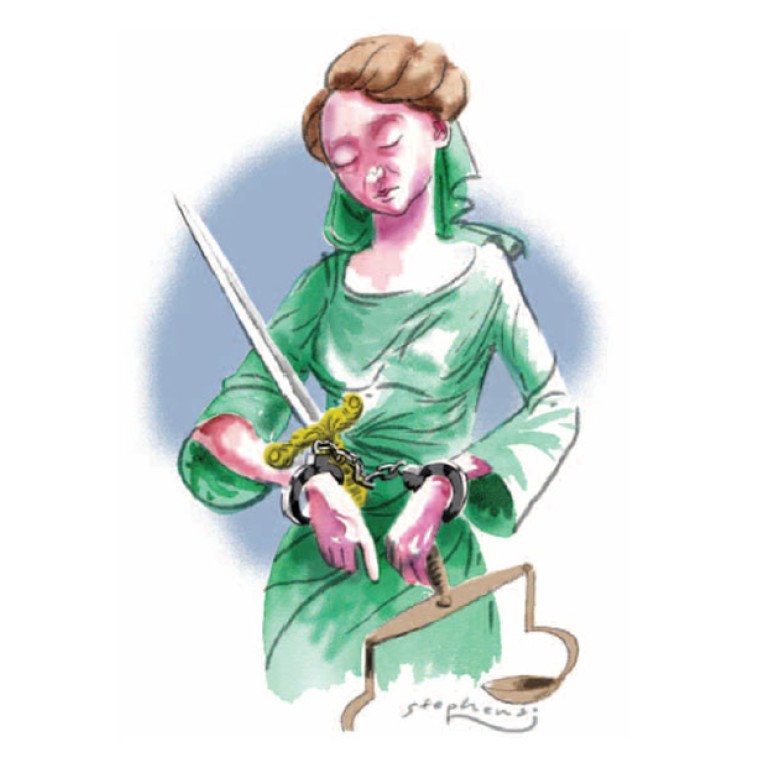 Xu Zhiyong's trial makes a mockery of Beijing's pledge to enforce rule of law
Jerome A. Cohen says every step of the prosecution and jailing of rights advocate Xu Zhiyong belies the promise by China's president and judicial leaders to ensure fair court hearings
Whenever asked about China's latest criminal prosecution of a human rights advocate, the foreign ministry says it is being handled "in accordance with law". This sounds assuring, but what does it mean? Last week's trial of Xu Zhiyong , which the ministry termed "a common criminal case", provides an occasion for inquiry.
Apparently, the ministry was referring to the fact that Xu was being charged with a mundane offence under the Criminal Law - "gathering a crowd to disrupt order in a public place". The words of this offence are general, even vague. They require definition and application by police, prosecutors and, ultimately, courts. Otherwise, Chinese lack adequate warning of what conduct is prohibited, and the government can easily deprive them of the freedoms of speech, religion and assembly guaranteed by the constitution.
The administration of criminal justice inevitably involves the exercise of discretion. What factors are allowed to influence the exercise of that discretion in China? What procedures must be followed in applying the law?
Xu's ostensibly "open" trial was veiled in secrecy. Yet the decision to prosecute him was plainly an act of discretion based on his insistence on his innocence. By contrast, Beijing's First Intermediate People's Court announced that his co-defendant, Wang Gongquan , the millionaire supporter of Xu's New Citizens Movement, had been released from custody, having confessed to the charges. This illustrated the traditional Chinese Communist Party maxim of "leniency for those who confess, severity for those who resist", a practice shared with law enforcement even in liberal democracies but boldly enshrined in theory in China.
Although Wang was released under a provision that restricts his freedom for up to a year pending a determination whether to put him on trial, the authorities often use that provision to quietly drop charges.
Indeed, Xu himself received such a release in 2009, after a month's detention for the alleged tax violations of his previous public interest organisation, the Open Constitution Initiative. At that time, apparently chastised by his first experience in criminal detention, Xu implied that he might moderate his persistent challenges to political repression.
Yet any doubts about his continuing democratic resolve were soon removed by the increasingly courageous activities of his impressive New Citizens Movement, whose organised but peaceful public protests led to his current prosecution.
Was Xu's trial "in accordance with law"? Certainly not. In many respects, it violated the "law" - but not the practice - of China. Indeed, it made a mockery of the recent speeches by President Xi Jinping and leaders of the Supreme People's Court emphasising the need to prevent further wrongful convictions by requiring verification of evidence in open, fair court hearings.
Unlike the "show trial" of Bo Xilai , this trial, in a 17-seat courtroom with only two for Xu's family and none for his supporters or foreign media, was held in a virtual domestic news blackout.
Moreover, despite the fact that the defendant and his counsel disputed the prosecution's version of the facts, the court refused to summon prosecution witnesses so the defence and judges could question them. It contented itself with having the pre-trial statements of prosecution witnesses read into the record, denying the defence any meaningful opportunity to demonstrate their falsity or inaccuracy.
Even the best lawyer cannot cross-examine a piece of paper and, as Bo demonstrated, one need not be a lawyer to take advantage of the right to cross-examine prosecution witnesses authorised by law, but seldom granted in practice.
Even more preposterous was the rejection of the defendant's request to summon his own witnesses. To make certain that no one could support the defendant's case, the court also insisted that Xu's colleagues - being prosecuted for some of the same offences - had to be tried separately rather than jointly with him, as the Criminal Procedure Law requires.
To protest at the succession of judicial rulings that denied him the protections of Chinese law, Xu and his counsel remained silent during the trial's consideration of evidence. But he did seek to exercise a defendant's statutory right to make a closing statement.
Unfortunately, when the opening passages of his speech made clear that he was challenging not only the injustice of his trial but also the legality of all the detentions and prosecutions that are destroying the New Citizens Movement and generally repressing freedoms of expression in violation of the constitution, the court cut him off and ended the hearing.
His closing statement argued that he was not guilty because the government's application of the criminal law to suppress peaceful public demonstrations deprived him of his constitutional rights. A conviction that violates the constitution cannot be "in accordance with law".
Yet, China denies its citizens any effective means of enforcing their constitutional rights. The Communist Party does not permit the courts to consider constitutional challenges to government action, and the party has long prohibited the National People's Congress Standing Committee, which has exclusive jurisdiction over constitutional interpretations, from fulfilling this responsibility.
Xu knows this situation well. In 2003, after the scandalous death of university graduate Sun Zhigang in police detention, Xu was one of three young scholars who startled legal circles by submitting a "proposal" to the Standing Committee challenging the constitutionality of the notorious "custody and repatriation" regulation that had authorised such confinement without requiring the approval of a judge or even a prosecutor. The government annulled the regulation, making a rare concession to domestic human rights pressures.
To maintain his protest against the court's rulings, Xu could have refused to appeal against his conviction and four-year sentence. He is surely aware that, in such a politically manipulated case, the chances of impartial appellate review are dim. Yet his decision to appeal is correct.
Xi and the new leaders of the Supreme People's Court may belatedly realise that Xu's prosecution repudiates everything they have been preaching in the past year about the need "to let every citizen feel fairness and justice in every case", and the appellate court could then decide that the statute should not be interpreted to forbid peaceful protests.
In any event, Xu's supporters may wish to follow his 2003 example by submitting a proposal to the Standing Committee, challenging the constitutionality of the Criminal Law's "gathering a crowd" prohibition as applied to his case.
In the interim, Chinese and foreign journalists, legal experts and diplomats should ask Xi and judicial leaders whether Xu's case illustrates the new type of justice "in accordance with law" they have been advocating. Or is it just another wrongful conviction?
This article appeared in the South China Morning Post print edition as: Contrary to law