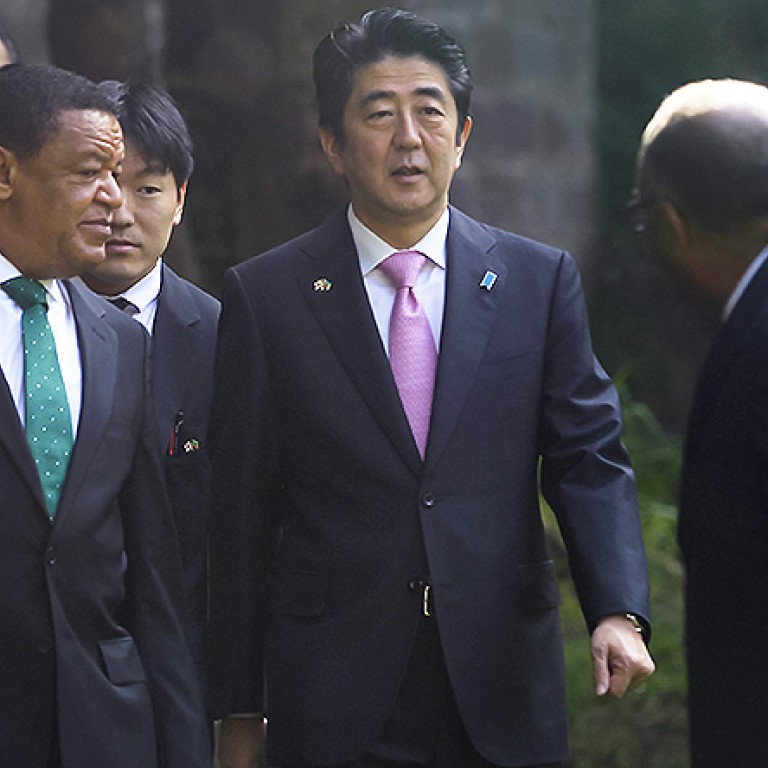 For an upside of Sino-Japanese rivalry, look to developing Africa
Kai Xue says through investment and aid, both governments seek to win support and build goodwill
Japanese Prime Minister Shinzo Abe recently passed through Africa on a multi-country tour, an opportunity for Japan to propose its economic development package to Africa. Given the US$200-billion-a-year trade between China and Africa, comparisons were natural, but they were made even livelier by the competitive words of the Japanese delegation.
Abe's spokesman pitched Japan as offering a people-to-people approach featuring transfers of technical skills, against the Chinese engagement, which was about venal leaders living in "beautiful houses" built by Chinese aid.
Chinese foreign minister Wang Yi had days earlier remarked during his own African tour that Japan was driven by self-serving interests in lobbying African support for a permanent seat on the UN Security Council.
The acrimony created by the two state tours, amid a low point in Sino-Japanese relations, obscured just how complementary China and Japan are in uniting economic development in Africa.
Chinese and Japanese operating plans are similar both in aims and execution. A main feature of Japanese aid is providing concessionary loans to build infrastructure like bridges. The Japanese delegation also emphasised training programmes for doctors and teachers.
This is similar to Chinese aid and government-sponsored investment. China also builds public infrastructure like bridges, stadiums and government offices, as well as beautiful presidential residences as gifts or funded by low-cost loans, mainly from the Export-Import Bank of China or China Development Bank. Rounding this out are scholarships and training, with an estimated 12,000 African students in China on government scholarships, a much greater number than offered by traditional donors.
Added to this, the commercial and political motivation behind the Chinese and Japanese programmes runs parallel: both want to win support for political causes, and both strategies seek to build goodwill for mineral and energy investments.
Given such similarities, criticism of the other's plan is akin to condemning one's own programmes.
Even more remarkable is how well the two parties' projects complement each other, owing to both nations' focus on physical infrastructure that fits well into African governments' development plans. Over the past decade, there has been a road-building spree across the continent, supported by a tidal wave of Chinese contractors and financing from Chinese banks and Japanese foreign aid, among other sources.
And piece by piece, a project envisioned 125 years ago is nearing fruition. New roads have been built, and those in bad condition repaired, across Sudan, Ethiopia, Kenya and Tanzania. When the final two projects are complete - one in the far north of Kenya, the other in central Tanzania - the pan-African highway will be a reality.
This continuous paved road stretching from Cape Town to Cairo was first envisioned by the British empire. It has long been a work in progress. Indeed, an issue of from 100 years ago reported that "today the Cape-to-Cairo road is nearly half built, and its [completion] is merely a matter of time". But the end of British colonial rule meant that the gaps would not be filled in before this era of implementation by African governments.
The Kenyan project is being funded mainly by the African Development Bank with contributions from the Export-Import Bank of China, and carried out mostly by Chinese contractors. The Tanzanian project is being funded by the African Development Bank and the Japan International Co-operation Agency. With an added layer of co-operation, Chinese firms have been contracted to undertake this Japanese project.
It is an interesting twist to see the last pieces of this pan-African dream being put in place by Chinese contractors, financed in part by China and, in unintended synergy, in part by Japan.
As uneasy as geopolitical rivalry is, the results here are nothing like a cold-war proxy conflict. It has instead produced healthy competition and the result is a more robust marketplace.
China's engagement has also spurred others, like the US and European Union, to give Africa renewed attention. That sense of needing to catch up has led to more funding for African development.
While individual programmes may be launched by donors to further their own diplomatic self-interest, the overall thrust of these efforts is a convergence of new economic links. By not favouring any one source, Africa can make use of every opportunity to fit a specific purpose.
In keeping with that spirit, African overlanders should head for the nearest Toyota Land Cruiser dealership after Chinese contractors have handed over their projects.
This article appeared in the South China Morning Post print edition as: African development a showcase for the upside of Sino-Japanese rivalry