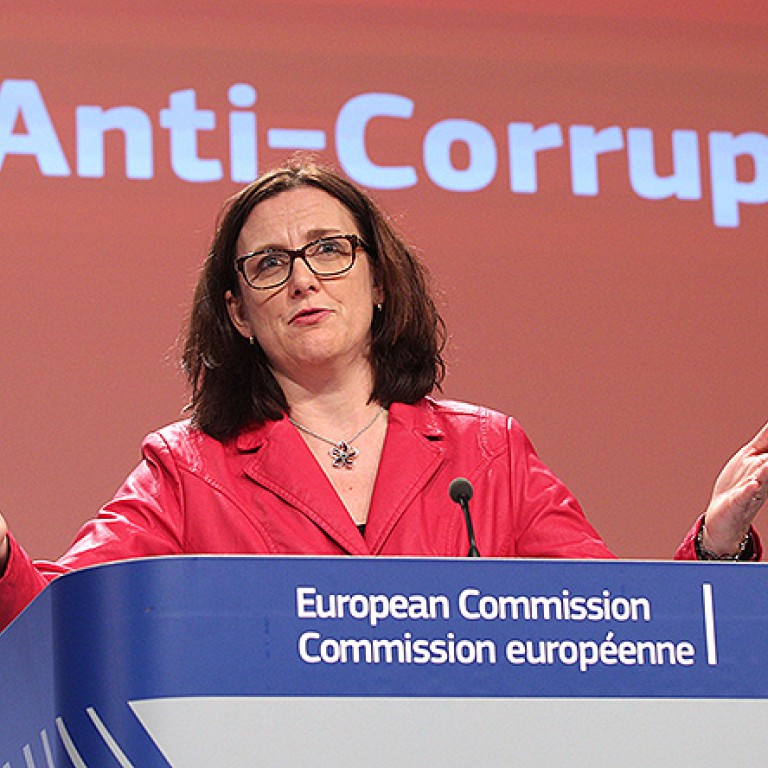 Favouritism and a strong state provide fertile ground for corruption
Mariangela Pira says this is as true of China as it is in Europe, where the problem is reportedly rife
The European Union report of "breathtaking" corruption across Europe makes clear that it is a drain on the economy, costing the EU a shocking €120 billion (HK$1.2 trillion) annually.
Comparisons of the amount of corruption in Europe and China are not easy, given the difficulties associated with measuring the size and scope of the problem. Nevertheless, a few things seem clear.
First, Transparency International ranks countries according to their perceived levels of corruption. Its corruption perception index ranks Spain, Greece, Croatia, Romania and Italy as having serious problems; China ranks the same as Greece, at 80 of 177 territories.
The difficulty in measuring corruption was one reason why, in Italy, turmoil ensued after the EU report was published. It refers explicitly to the Italian Court of Auditors 2012 report, and says it estimates that corruption costs Italy €60 billion.
Yet, the auditors' report actually says that, if the figure of €60 billion is correct, as estimated by the Italian Department of Public Function, then "corruption in Italy would be 50 per cent of the whole of Europe and, for us, this is quite exaggerated".
Second, in European countries like Spain, Greece and Italy, corruption has undermined the merit-based system.
Today, certainly in Italy, there are corrupt people pursuing their interests but the problem is that they are also incompetent. The system allows incompetence to thrive, which can hinder economic growth.
Contrast that with the situation in China, now and in the past. Imperial China relied strongly on a meritocratic civil service examination system, which meant the best candidates were selected as administrative officers.
That system is alive today within the Communist Party. That means corruption was and still is seen as a "fringe benefit" for those who reach the top posts largely through merit and skill. So, in general, China's administrative system is working quite well.
Third, compared with the recent past, the situation has improved significantly in China. Twenty or 30 years ago, it was often necessary to bribe someone even to buy a bicycle. Police would suddenly appear at your office, demanding duties and imposts made up on the spot, on the basis of regulations they had drawn up. Now such demands are much rarer.
But, as long as officials are entrusted with great power but are paid a low income, corruption will exist - in China as in Europe.
As far as Europe is concerned, the EU's report is correct - the situation is getting worse. European governments must understand that if they don't fight corruption and nepotism in an effective way, there is a very real danger that the European Union will collapse, making way for populist forces that will destroy the system.
One of the most important factors highlighted by the commission was public procurement, which accounts for about a fifth of the EU's total output and is particularly vulnerable to corruption. Also, corruption levels are greater at the local level, conflicts of interest are still unresolved and the quality of corruption investigation varies widely across the EU.
Europe and China are not easily comparable systems when it comes to corruption as they have different cultural backgrounds and different political, economic and legal structures. However, they do have one similarity and one difference that are worth pointing out.
Both have a tendency to operate using models based on patronage, nepotism and family. This trend, combined with the crucial role of the state and bureaucracy in economic activity, provides fertile ground for corrupt behaviour.
In this sense, the Italian system is perhaps the Western model most akin to that of China.
The difference is that in European countries, corruption is primarily a criminal matter, under the court's jurisdiction, while in China things are more opaque, given its lack of an independent judiciary or watchdog. That makes fighting corruption seemingly impossible.
Yet, anti-corruption campaigns take place on several levels, and the judiciary is not necessarily a mainstay. The most important factor concerns discipline inside the Communist Party and political propaganda. So, even if the courts remain largely ineffective in the fight, it's still possible for President Xi Jinping to get results.
For example, several companies selling luxury goods, such as watches and pens, reported a 30 per cent decline in orders in 2013. It is hard to determine the exact cause of such trends, because the Chinese luxury market has seen a slowdown in general, but it can be said with some certainty that the government's anti-corruption campaign most probably played a big part.
This article appeared in the South China Morning Post print edition as: Culture of favouritism and a strong state provide fertile ground for corruption