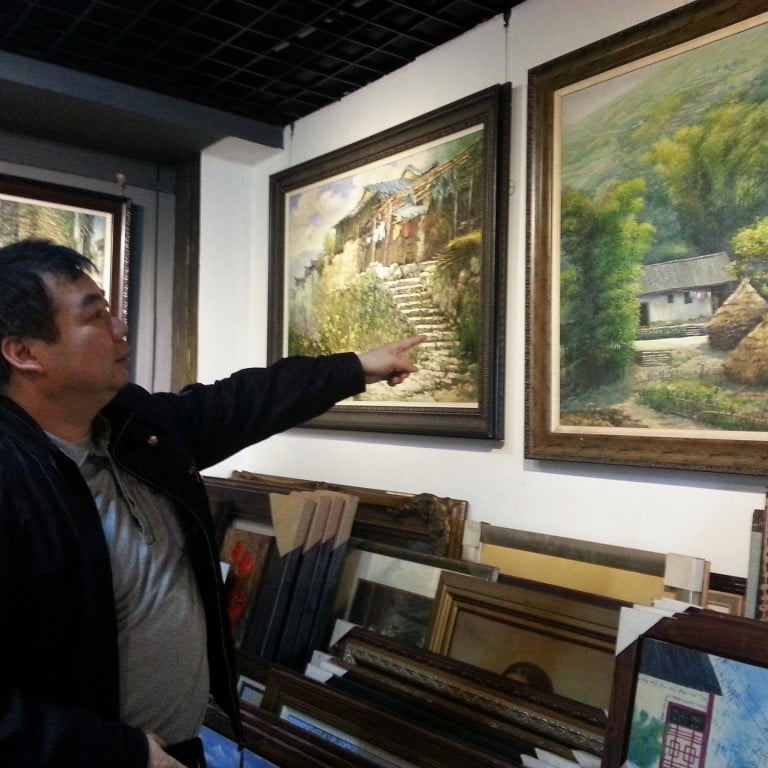 Dafen, village of fake masterpieces, sees fortunes revived thanks to local newly rich
Tiny Dafen, which once produced 60 per cent of the world's reproduction oil paintings, has been handed a lifeline by China's new money
Overseas buyers of copied Western oil paintings will be disappointed to learn that dirt-cheap Van Gogh and Monet knock-offs no longer line studio walls of Shenzhen's famed village of Dafen, the former world capital of mass-produced works of art and imitation masterpieces.
Dafen, home to more than 1,200 galleries crammed into less than half a square kilometre in a few tightly packed suburban blocks in the city's northeast, has undergone an artistic revolution.
Six years ago, one could barely move amid replicas of Van Gogh's Da Vinci's and Monet's series, while streams of overseas traders combed the village to source and export an estimated 60 per cent of the world's replica oil paintings.
Today, in their place, are works with a distinctly local flavour, done in various styles of oils, washes and inks, and even original works of rising Chinese artists. Also distinctly local are the buyers too, among them property owners with a developing eye for art, and hotel owners needing to decorate some walls.
"Before the 2008 global financial crisis, more than 90 per cent of Dafen's reproduced paintings were sold for export, mostly to Europe and North America. Now exports of oil paintings have dropped to less than a third of the total," said Huang Tong, head of the Huang Jiang Oil Painting Company which owns dozens of galleries in Dafen.
"Export markets are no longer profitable. A replica of a simple landscape oil painting sold for 70 or 80 yuan in 2007. Now American clients still only want to pay us 70 or 80 yuan [HK$101]. But, in the meantime, our costs have soared. We only paid painters 20 yuan for such a work in 2007. Now we must pay at least 150 yuan. And our rents are skyrocketing.
"Every gallery in Dafen has had to adjust. Now the expanding domestic market is our priority," Huang said.
Dafen was set up as an artists' colony in 1989 by a Hong Kong artist and dealer lured by the low rents and proximity to the city. Other galleries opened in the 1990s, churning out high-quality fakes for export. The cheap housing attracted thousands of painters and apprentices.
In the following decade, Dafen became famous for its efficient reproduction assembly lines that made copycat masterpieces. They took orders from Western traders, and artists would earn between 100 and 200 yuan from the dealers for each work. Their co-workers - low-skilled migrant labourers - made about 20 yuan working on two paintings at once. Workers painted the same motif many times, churning out several copies a day.
Between 2006 and early 2008, the factories exported art worth 1.2 billion yuan a year, according to the Art Industry Association of Dafen. About 60 per cent of the world's cheap oil paintings were sourced from the tiny village.
But then, as with other exports from Guangdong, Dafen's thriving business lost steam during the 2008 crisis.
"The drop in demand forced many galleries to close. Artists cut their prices by 30 per cent and there are still few buyers even today," said Zhang Yazhe, owner of the Non-Formula Art Gallery in the village.
Instead, the booming mainland property market rescued Dafen. "While the export market has gone, local demand is even bigger," Zhang said. "Now, local home owners and hotels are our biggest customers. The more houses and hotels are built across the country, the more walls there are in need of our paintings."
China's growing middle class and newly rich are the icing on the cake for Dafen.
"Dafen's business will stay buoyant as long as the property market rises or even remains stable," Huang said. "I'm a little worried about the recent crackdown on the sex trade in hotels across the country, as well as the trend to curb officials' lavish lifestyles. It may impact orders in Dafen."
This article appeared in the South China Morning Post print edition as: Still on the Monet in the village of fakes