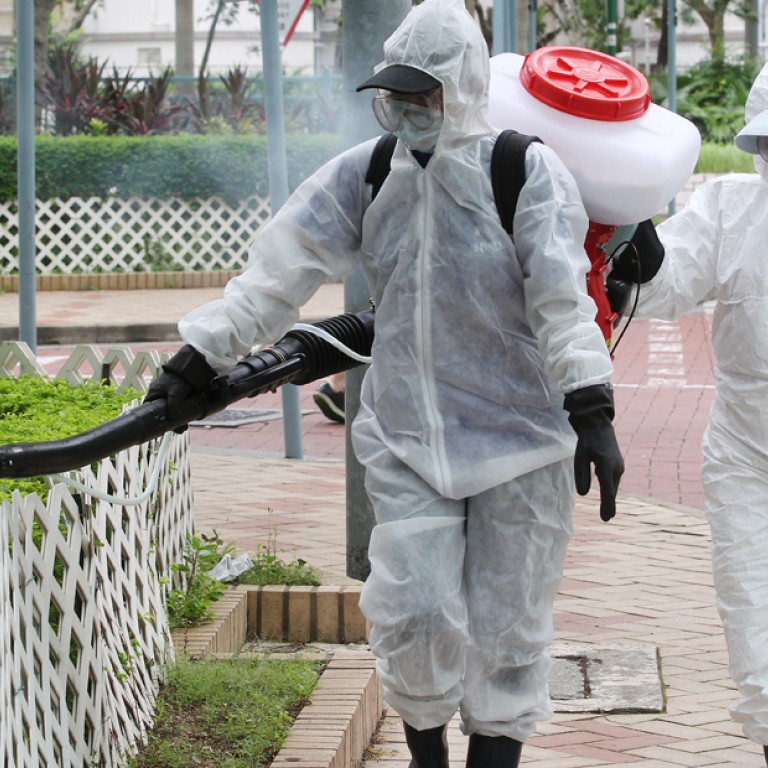 How small bites take a big chunk out of healthy economies and households
Poonam Singh, Shin Young-soo and Stephen Groff say a united front is vital to tackle disease threat
Small bite - big threat." The theme of World Health Day is a timely reminder of the enormous harm caused by tiny creatures such as mosquitoes, ticks, fleas, mites, sandflies and freshwater snails.
These animals, called "vectors", help spread a range of parasitic, viral and bacterial diseases that affect people of all ages and across all socio-economic backgrounds.
Certain diseases - such as malaria and dengue, both transmitted by mosquitoes - are well-publicised. Others are relatively neglected even though they cause so much damage.
Vector-borne diseases are reported in the World Health Organisation's Southeast Asia and Western Pacific regions and across the world. Some are locally transmitted. Others are imported from affected countries. Many, especially dengue, are linked to issues such as urbanisation, the rapid transportation of people and goods in a global economy, or even environmental change. It is truly a complex picture.
All vector-borne diseases take a human toll. But they also have significant development impact.
Take dengue, for example. The Asia-Pacific region reports nearly 75 per cent of the estimated global dengue burden of more than 100 million infections every year. While dengue mortality is not high, the costs of this debilitating disease include the productivity lost when people are ill as well as the financial burden of accessing health services for severe cases. These costs have large and growing negative impacts on economies and households. Diseases such as dengue can also affect revenue from tourism and foreign direct investment.
Lymphatic filariasis, commonly known as elephantiasis, remains a neglected tropical disease, although it is endemic in 22 countries of the Western Pacific region. Some 60 million infected people live in the Southeast Asia region, which harbours 63 per cent of the world's population at risk of this disfiguring parasitic disease.
Not surprisingly, many vector-borne diseases often have the most devastating effects on the most marginalised - including the poorest of the poor who often live in settings where vectors are more common.
But - and it's important to remember - most vector-borne diseases are preventable, if exposure to the vector can be minimised. For example, if you don't get bitten by mosquitoes, you are not at risk of contracting malaria or dengue. Self-protection is important. Using insect repellents, window screens or bed nets treated with insecticides can lower exposure to biting as can making sure there's no standing water in or around the home.
Community and public-sector action are also important. Entire communities can come together to take relatively simple measures such as introducing guppy fish into water storage containers to control breeding of mosquito larvae.
Our message for governments and donor agencies is to strengthen efforts and programmes to tackle vector-borne diseases, including support for community mobilisation and launch new initiatives for diseases that have been neglected.
We know how to tackle these diseases. The WHO has global strategies and regional action plans for malaria, dengue and neglected tropical diseases. A dengue vaccine is in the pipeline. The Asian Development Bank is a key partner in efforts by the WHO and governments to tackle malaria, dengue and other vector-borne and neglected diseases.
A number of countries and areas - such as China, South Korea and the Solomon Islands - have already eliminated lymphatic filariasis. This is a wonderful achievement.
Between 2000 and 2011, malaria cases in the WHO Western Pacific region dropped by 46 per cent. In the same period, deaths from malaria dropped by 73 per cent. Similarly, in the WHO Southeast Asia region, the number of confirmed malaria cases decreased from almost 3 million to 2 million, and the number of malaria-related deaths dropped from 5,500 to 1,200.
But many challenges remain. Anti-malarial drug resistance and insecticide resistance remain a major concern. Dengue and chikungunya are on the rise throughout Asia-Pacific. Reaching marginalised communities and ensuring universal access to prevention and treatment for vector-borne diseases are a formidable task. And countries that have achieved success in controlling or eliminating these diseases remain at risk from "imported" cases - such as in China, where malaria has increasingly been diagnosed in labourers who were infected while working in Africa and then bring the infection home with them.
With malaria, we have seen that with commitment and significant investment, a disease can be brought under control - and we can move towards elimination. Partnerships with governments, non-health sectors, development partners, industry and NGOs are vital. Partnerships with communities and individuals are equally important.
Together, we can take a big bite out of the burden of vector-borne disease - and reduce the threat to economies, households and individuals in the years ahead.
This article appeared in the South China Morning Post print edition as: Small bites can take a big chunk outof healthy economies and households