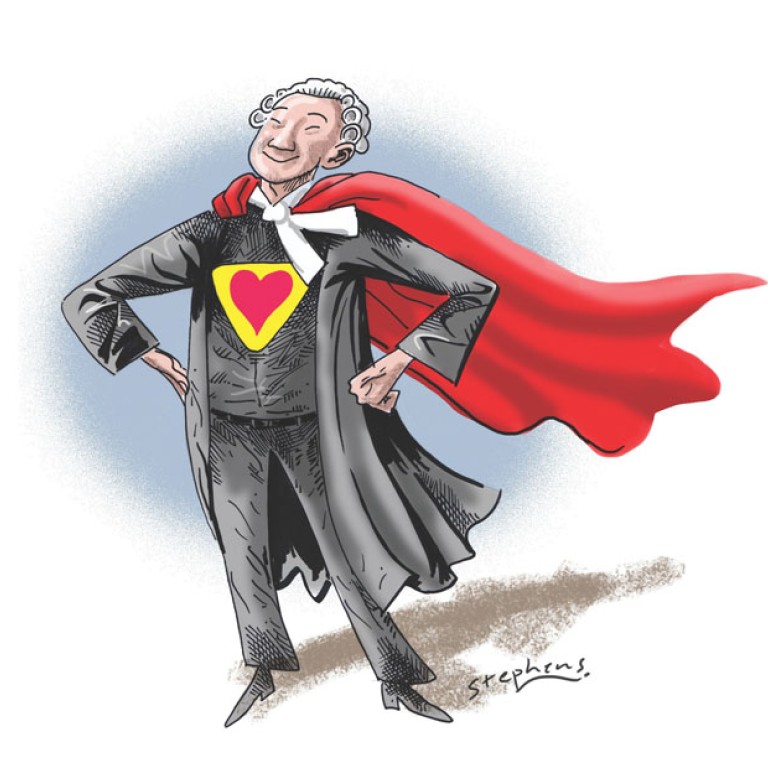 Pro bono legal work can help advance social justice in Hong Kong
Edwin Rekosh and Tze-wei Ng say a more active pro bono culture in Hong Kong will serve the disadvantaged by improving their access to legal justice and will bring us in line with a wider trend
Hong Kong is well recognised as a global financial capital and is blessed with one of the world's most mature legal systems. However, a quick survey of law firms here will show that the amount of pro bono work carried out lags behind peer cities like New York, London and Singapore. Why is this, especially when, despite its glistening image, Hong Kong has one of the most severe wealth gaps among developed regions?
Pro bono derives from the Latin phrase, , or "for the public good". When it applies to lawyers, it means voluntary and free legal service by lawyers for the public good.
It is no replacement for legal aid, which is state-funded; but it can help identify and fill the gaps in legal needs. It also addresses a broader spectrum of needs than those covered by legal aid: it can serve a broader social purpose by supporting the work of non-governmental organisations, thus helping them better serve the disadvantaged in society.
There are various reasons why the culture of pro bono hasn't taken root in Hong Kong: the long working hours of a lawyer practising in Hong Kong, the culture of giving money rather than time, and the strict professional rules on liability insurance coverage, which deter lawyers from taking up pro bono cases unless they have their firm's support, and so on.
It is also hard to set up law school clinics in Hong Kong - which would enable law students to do and learn from pro bono work - due to similarly strict rules on the structure of a legal service provider.
However, Hong Kong is home to more than 7,000 registered charities, and has seen a doubling of social enterprises since 2007. All these NGOs contribute to making Hong Kong more diverse and fair, and pro bono assistance could help make their work more effective.
In terms of equal access to legal representation, despite Hong Kong's relatively generous legal aid system and the operations of various free legal advice schemes, the fact remains that the number of civil court hearings involving unrepresented litigants has been on the rise in general, now hovering around one-third in the Court of Final Instance, and more than half in the District Court.
At the root of pro bono is also lawyers' and law firms' sense of social responsibility. We are the gatekeepers of the law, and we understand the legal reasoning, procedures and court systems far better than the average citizen. With this expertise, we are in a unique position to help address inequalities in society, particularly unequal access to legal services, and hence unequal access to justice.
The good news is that in the past couple of years, law firms in Hong Kong have become increasingly aware of the need to do more pro bono work, and the growing list of recipients of the Law Society Pro Bono and Community Service Award reflects this positive trend.
The growing desire to engage in pro bono work in Hong Kong is also in line with what's happening around Asia, the continent with the world's fastest-growing economies: from the more mature pro bono legal community of Australia, to the government-backed growth of pro bono in Singapore, to the rapid and diversified organic development of the practice in mainland China and India.
The legal community in Hong Kong, mainland China and other parts of Asia is coming together to discuss the unmet legal needs in the region and how pro bono can help. Developing a pro bono culture will require significant efforts and a change of mindset from various stakeholders: law firms, bar associations, lawyers, law schools, and also the beneficiary NGOs and the legal marketplace.
For example, law firms can create better incentives for lawyers by treating pro bono as paid work and a factor in career promotion. Bar associations can help promote pro bono by relaxing rules on insurance coverage, and permitting law schools and NGOs to offer legal advice subject to strict regulation. The legal marketplace can help give recognition to firms that dedicate themselves to pro bono work.
At the end of the day, for lawyers, pro bono is not just extra work they take on; it is also fun and fulfilling. With a little bit of time and creativity, busy commercial lawyers can also make powerful contributions to building a fairer and more just society.
This article appeared in the South China Morning Post print edition as: Greater good