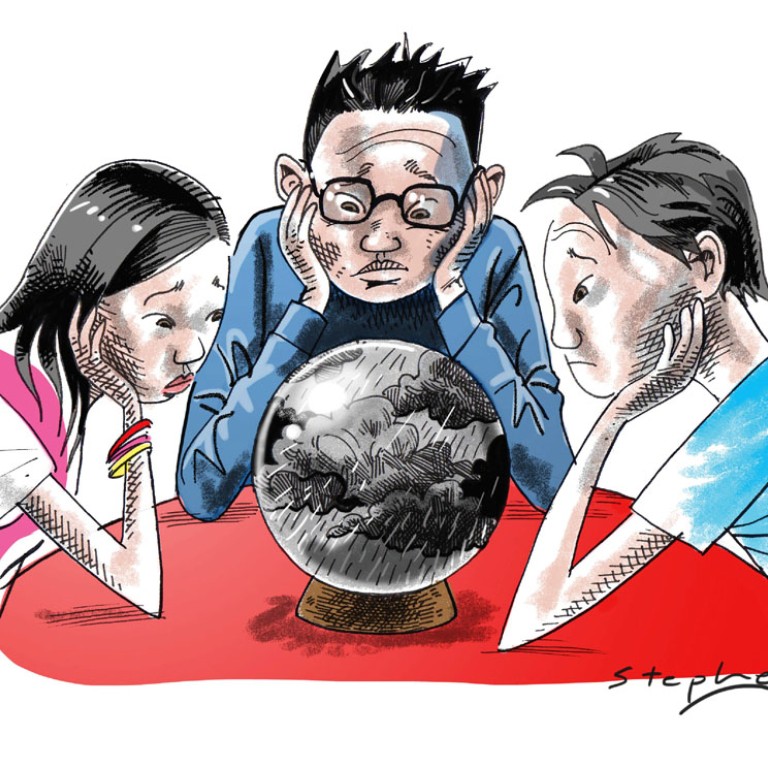 Lack of opportunities in Hong Kong creating a generation without hope
Janet Pau calls for a rethink of Hong Kong's job creation strategy to address young people's frustration with social and personal stagnation - the real driving force behind the Occupy protests
Many of Hong Kong's young generation have been cleared off the streets in the Occupy Central movement. The future path they face is uncertain.
Critics of the movement have questioned why students and young graduates are more passionate about protesting than studying hard, finding a decent job and getting on with their lives.
But the majority of this young generation, born in the 1980s and 1990s, do not see this formula, endorsed by their parents' generation, as a ticket to a brighter future. What they do see is the widening wealth gap and a lack of future opportunities for themselves and others around them.
Hong Kong is no longer the fast-growing economic miracle it was in the 1980s, when it tripled its per capita gross domestic product in just over a decade, to US$18,000 in 1992. With a GDP per capita of over US$38,000 today, on a par with other advanced economies, it now faces the challenges of a high-income society that is experiencing slower growth, ageing demographics and unaffordable living costs, where the median home price is 15 times the median annual household income.
Hong Kong has almost full employment, with a jobless rate of just above 3 per cent. This means that those looking for work are generally able to find it and that the economy faces a labour shortage. But the unemployment rate of those aged below 25 is far higher, at almost 8 per cent.
Beneath the surface of a tight labour market are three key issues of concern. First, Hong Kong's industry structure is weighted towards finance, property, professional and trade-related service industries, which demand high-end labour. Yet skill gaps exist, as employers bemoan the difficulty in hiring enough workers with the right skills and training, even within the university-educated talent pool.
Chief among core skills that employers say many graduates lack are language, client management, communication and critical thinking skills. At the same time, local graduates face increased competition from qualified talent from elsewhere.
Second, perhaps paradoxically, many of the local graduates are overqualified for the jobs that are on offer but that are actually undesirable to them. Tertiary graduates are now about as likely to get jobs as those without post-secondary education. Those graduates who end up in jobs for which they are overqualified often see smaller wage increases than those working in industries with labour shortages but that require less education, such as construction, retail services and machine operation.
Third, technology is transforming the job market by eliminating white-collar service jobs that employ workers whose skills are undifferentiated and easily replaceable. This permanent shift due to technological change is a global phenomenon that has the potential to cause major disruption in the future job market.
An increasing share of work that was being done by receptionists, secretaries and even programmers can now be done by technological devices, or by fewer people than before due to technology-enabled efficiency gains. Hong Kong's service-based economy generates many of these disappearing jobs, many of which are precisely the jobs that young people seek when they enter the workforce.
Hong Kong is at a crossroads with two divergent futures. It must find ways to address the job creation challenge, to increase real incomes and opportunities for upward mobility for the next generation. Otherwise, the government will face ever-increasing pressure to redistribute wealth and carry a greater social welfare burden.
Conversations on how to move Hong Kong forward should include constructive ways to diversify the economy away from sectors that disproportionately benefit vested interest groups and upgrade skill levels so that more people can participate productively in the labour market.
Government and existing businesses should ramp up and expedite funding for business creation, especially entrepreneurial companies that create a sizeable quantity of jobs and that generate broader value for society.
At the same time, universities and major businesses should pool resources to sharpen young graduates' competitiveness in high value-added white-collar positions. Young people should also be encouraged to pursue post-secondary vocational programmes that prepare them for decent blue-collar jobs that support key industries, such as aviation, shipping and logistics, as well as newly emerging ones like green construction. This will require a mindset change of many parents.
The first generation in Hong Kong whose future living standard may be worse than that of their parents is coming of age. Although these young people have already lowered their expectations about owning a home or starting a business, they feel hopeless about securing a productive future for themselves and sharing in the elusive-sounding "prosperity" that politicians and businesses say Hong Kong possesses.
The longer-term challenge of human capital competitiveness and job creation must be addressed, to give young people reasons for having hope in a better future.
This article appeared in the South China Morning Post print edition as: Generation hope-less