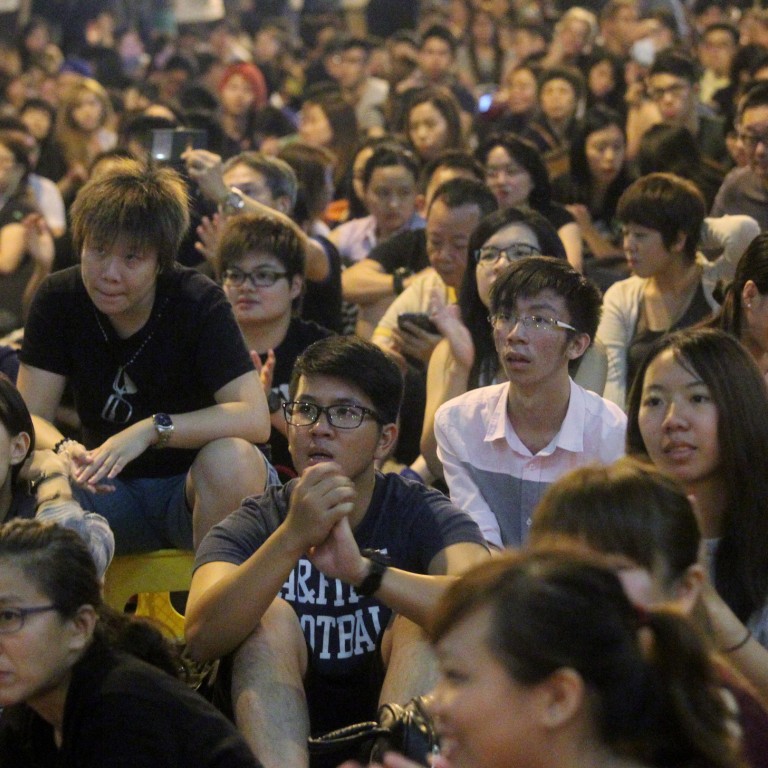 Amid stress of Occupy protests, Hong Kong's youth need better support
Sky Siu says recent surveys draw attention to the stress and emotional distress that Hong Kong youth face, not least because of Occupy protests
According to the United Nations, each year, 20 per cent of the world's youth population experiences a mental health condition. With 1.2 billion young people aged 15 to 24 worldwide, that means some 240 million are experiencing conditions such as anxiety, depression, bipolar disorder and schizophrenia.
In Hong Kong, in the past year, the media and research have highlighted alarming facts about mental health among the younger generation. A regional poll by Junior Chamber International found that Hong Kong people under 40 were the third most unhappy in Asia among the 10 places surveyed. A article recently reported an increase in psychosis as a result of the high stress brought about by the month-long Occupy protests.
The youth-led protests have resulted in significant emotional distress among young people. All have been affected, directly or indirectly. Some friendships and family relationships have been tested as a result of differing viewpoints and perspectives; this tension has gone beyond school support systems and into cyberspace.
Such emotional distress creates tremendous demand for more psycho-social and emotional support, and is indicative of a generation of young people who may not be equipped with the necessary skills and resources to cope with highly stressful situations. It also reveals gaps which must be addressed to nurture a healthy and robust generation of future leaders and citizens.
Neglecting emotional and psychological needs could lead to further personal and emotional crises and an even wider social divide. Daunting situations, especially involving family, relationship and academic stress, are the top reasons for youth suicide in Hong Kong.
Mental health services are by no means lacking in this city but holistic and long-term help is often not given priority by the government and providers, especially when it comes to young people.
KELY Support Group was founded more than 20 years ago based on a simple communication channel: a telephone hotline service for youth, established in one person's living room. It adopted a unique peer-support approach, to help young people reach their potential. Youth mental health has always been an integral part of our work.
As youth services practitioners, we need to engage with and understand our young people, to best support their development. We must seek to be accessible and relevant, and include all young people in Hong Kong, including local Chinese, ethnic minorities and non-Chinese-speaking communities. As a society, we need to strengthen our relationship with young people and create more opportunities for dialogue, meeting their psycho-social and emotional needs through youth-friendly methods.
Now, more than ever, Hong Kong's young people need our support to make informed choices. We must continue to look for ways to enhance the existing social infrastructure to support young people, both physically and emotionally.
We need to speak to them on their level, to relate to them and be available to prevent any from falling through the gaps. This is our investment in Hong Kong's future.
This article appeared in the South China Morning Post print edition as: On the edge