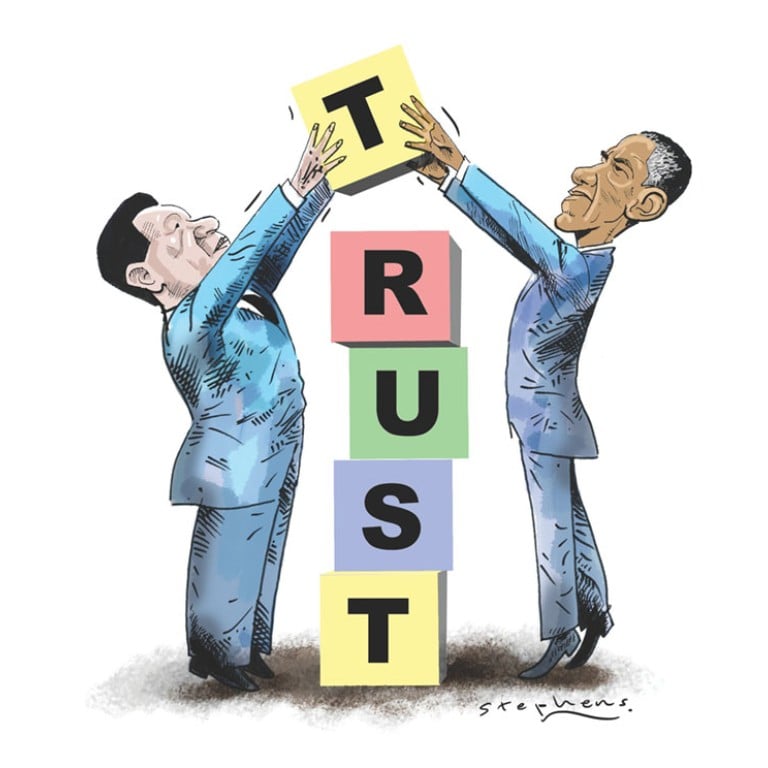 Apec rivalry is only a part of broader Sino-US relationship
Andrew Leung says the economic tussle on display at the Apec summit between the US and China is only one aspect of their relationship, as global growth requires their willing cooperation
Amid crises over Ukraine and the Middle East, the world can be forgiven for failing to appreciate the full significance of China's plan to create a Free Trade Area of the Asia-Pacific. This was endorsed in Beijing by all 21 economies represented in the Asia-Pacific Economic Cooperation forum.
Against the background of the Asean-China Free Trade Area, America's pivot to Asia and Trans-Pacific Partnership, and Russia's recent energy tilt towards China, the broad-based support for the Apec initiative underlines the promise of what is likely to be a new Asia-Pacific Century.
Trade agreements do not by themselves create economic realities. So what are the underlining economic fundamentals likely to make the Asia-Pacific region the promised land?
The region accounts for 40 per cent of the world's population and 55 per cent of global gross domestic product. China is the hub of a global supply and value chain and the destination of choice to capture a rapidly rising critical mass of middle-class consumers. It's no wonder that the vast majority of Asia-Pacific nations depend on China for job creation and economic well-being. Likewise, Asia-Pacific growth driven by China will offer plenty of opportunities for US businesses and ingenuity.
There is increasingly less doubt that China will overtake the US as the world's largest economy in nominal terms within a decade or so, if not sooner. The usual caveats are that China will remain a poor country in per capita terms for many decades and that it lacks innovation.
While these caveats are valid, they do not alter the fact that overall economic weight matters much more than per capita measurements. Think Monaco and Macau, along with other smaller states or entities which rank richer than the US in per capita terms.
As for innovation, China may not be notable but the picture is beginning to change; take, for example, Alibaba's success and China's recent announcement of a plan to launch a hack-proof quantum telecommunications network by 2016. Where China still lacks innovative skills and brands, it is increasingly prone to acquiring them outright. At the same time, any such deficiencies would offer endless opportunities for strategic partnership with US businesses.
Much of the region's future economic growth is likely to be driven by urbanisation and the rise of the middle class. In this regard, China is again leading the pack.
According to a McKinsey Global Institute report, China is building 221 new cities, each with a population of over one million people, compared with only 35 such cities in the whole of Europe. This is expected to add 350 million people to China's urban population by 2025.
For Southeast Asia specifically, a new McKinsey report points out that the region can address productivity challenges by capturing three global megatrends:
Capitalising on Asean Economic Community integration and building a more competitive manufacturing sector as China's labour costs continue to rise;

Creating cities with a high quality of life, given that more than 90 million people will be moving to cities in Southeast Asia by 2030, doubling the consumer class to 163 million households. This will demand some US$7 trillion in investment in infrastructure, housing and commercial space; and

Deploying technology, as five related technologies - the mobile internet, big data, the "internet of things", the automation of knowledge work, and cloud technology - are likely to drive major productivity gains.
Along with the US, China is likely to be a key driver of growth. China is at the heart of its free trade pact with the Association of Southeast Asian Nations. It is also a leader in mobile technology for e-commerce, and has won the region's support in setting up an Asian Infrastructural Investment Bank.
The investment bank is opposed by the US, which perceives it as a move to undercut the influence of the World Bank and Asian Development Bank. Nevertheless, it is indisputable that the vast regional demand for infrastructural funds cannot be met within the current budgets of the World Bank and ADB.
The squabble between China and the US over the new bank unmasks their unspoken rivalry for influence in the Asia-Pacific. Apart from geopolitics, there is no logic to exclude China in America's Trans-Pacific Partnership. Similarly, China's proposed Regional Comprehensive Economic Partnership, which embraces Asean countries with their trading partners, and the Asia-Pacific free trade area, are seen as ploys to counteract Washington's trade initiatives excluding China.
These economic tussles are benign in comparison with other more risky rivalry over the waters of the East and South China seas.
America's Asia's pivot is underpinned by a declared move of 60 per cent of the United States' global military assets to the region, supported by reinforced military alliances in China's neighbourhood. This has emboldened China's rival territorial claimants to assert their claims more robustly, which has in turn redoubled China's assertive response.
These rival claims have existed for many decades without similar confrontations. Until recent years, China had managed a relatively harmonious relationship with its Asian neighbours.
Neither China nor the US wishes to contemplate war with each other, but the risks of both being drawn into unintended consequences are rising with increasing levels of mutual mistrust.
There was a great deal of hand-shaking and glass-toasting at the Apec summit in Beijing. But for the two great powers, what is at stake is not just economics. Nor is cooperation the overriding agenda.
Fortunately, both leaders have managed to yield some fruits of mutual understanding, including a military accord to avoid unintended military clashes off China's coast, a deal to cut or cap carbon emissions, tariff reduction on IT products, and visa liberalisation for Chinese visitors. These trust-building steps, albeit small, should augur well for a more fruitful relationship in future.
Perhaps the serendipitous concurrence of the centenary of the first world war is an apt reminder that the 21st century could mean war of assured mutual destruction but that, with more accommodation, if not full cooperation, a prosperous Asia-Pacific Century for the benefit of all may yet unfold.
This article appeared in the South China Morning Post print edition as: Mutual benefit