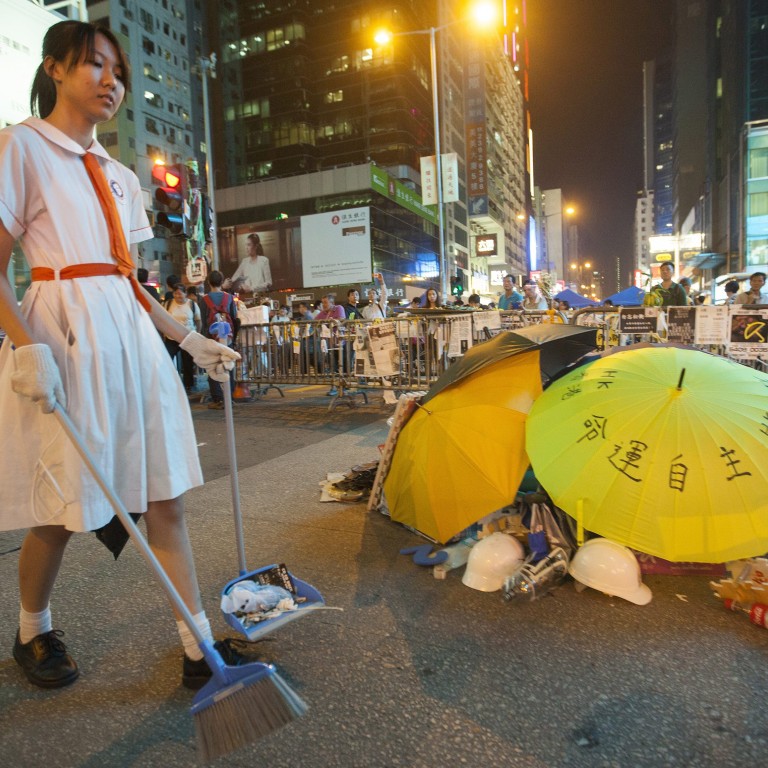 Above all, young Hongkongers want our social injustices addressed
Celeste Yuen says young people in Hong Kong clearly care about social injustice, and society must address their concerns for a better future
The Occupy movement has made media headlines around the world and ignited heated public debate. Young people are often devalued as merely being in a difficult period of transition to adulthood. Yet by knowing the attitudes of our young people towards social justice, we can better understand their changing political preferences and behaviour; such attitudes underpin the rationale for the student movement to fight for democracy.
A common perception is that youth activism is related to a lack of opportunities for upward social mobility. Consequently, the government is urged to improve their chances through a secure economic future and policies to help them onto the property ladder. Such measures may ease social discontent, but I believe the situation shows something much deeper: more important are the aspirations and voices that underpin the student protest movement.
Of interest are the perceptions of young people with regard to the fairness of society and legitimacy of the justice system, both of which have a significant impact on their political attitudes and behaviour.
From late 2012 to mid-2013, we conducted a survey of 15,000 Hong Kong secondary school students. They were asked to evaluate their beliefs in relation to social justice issues and their appropriate activism and responses. Contrary to a long-standing view that young people are disengaged from public and political affairs, our findings revealed they actually aspired towards a very deep involvement in social and political matters. They were not only very forthcoming in articulating their views, but the survey also showed students were substantially involved in caring for the needy, participating in local elections, following political issues and engaging in political discussion and charitable activities.
Contextual factors played a role: students from higher-income families tended to be more involved in school rather than civic activities; those with more educated parents expressed the strongest support for social justice actions and were more likely to take part in activities promoting social equality than those from less-educated families.
Educated parents are more apt to be politically literate and keen to share their views on social justice and public issues with their children. Many middle-class parents have involved their children in pro-democracy activities, like the June 4 candlelight vigil.
Students are relatively quiet about their desires for a secure economic future, job opportunities and accessible housing. So handing out economic incentives without addressing the key issues, such as changing the social and political landscape, will only increase frustration and undermine social cohesion.
Today's young people are also tomorrow's parents, and their perception of the current state of social justice will have a significant impact on their children's civic engagement and political preferences. The implications for the future good governance of Hong Kong are obvious.
The key is how we can best embrace young people in our future policy development.
This article appeared in the South China Morning Post print edition as: Embrace youth