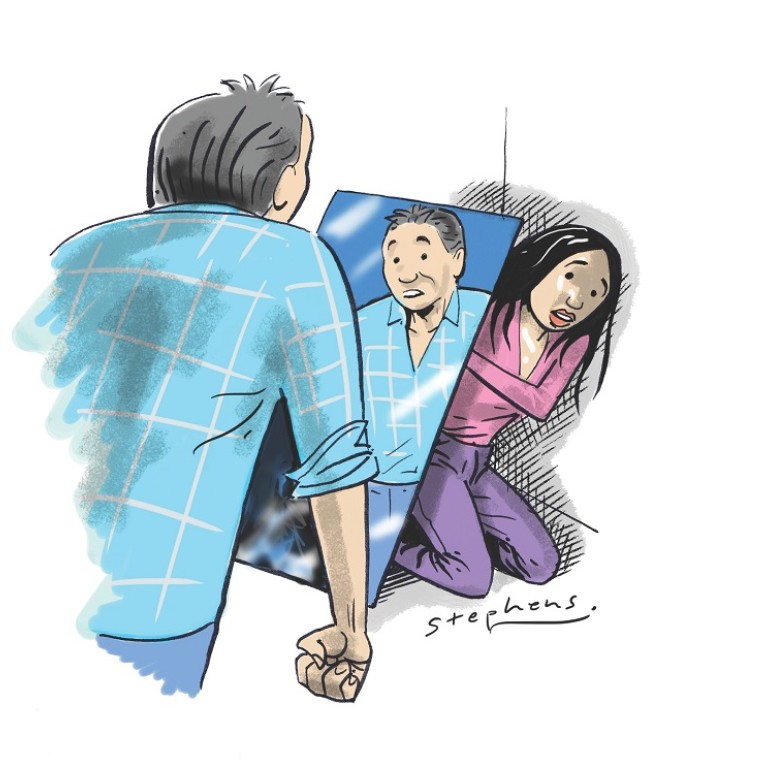 New domestic violence law won't change chauvinistic attitudes of China's men
Lijia Zhang welcomes the introduction of a nationwide domestic violence law in China, but says effective implementation will depend, in large part, on changing male attitudes
On a snowy Sunday in February last year, when Chaoyang District People's Court announced the final divorce verdict of Kim Lee, the American who bravely broke the silence on domestic violence, I was among a dozen or so supporters and activists who waited outside. We all cheered when the good news that she had won her case came out.
In a commentary published in these pages a few days later, I pointed my finger at a lack of a nationwide comprehensive law as part of the problem, which has frequently resulted in a vague application of local regulations. Now hope is on the horizon. China has just proposed such a draft law targeting domestic violence, the first of its kind. The State Council's Legislative Affairs Office has invited public comment until December 25.
"It was a big step forward," said Feng Yuan, founder of the Anti-Domestic Violence Network, a Beijing-based non-governmental organisation. This step has taken Chinese authorities over a decade: Feng's network first made the suggestion to the National People's Congress in 2003 of drafting an anti-domestic-violence law
The new bill, which still needs final approval of the congress, defines domestic violence, demands that the police step in when a report is filed, streamlines the process of issuing constraining orders, and offers suggestions for prevention through education and publicity, and as well as providing services for victims.
While acknowledging its significance, Feng also pointed out numerous blind spots in the draft. For example, it talks about domestic violence in both physical and spiritual terms, but it does not mention sexual violence, even though it is common and its effects are devastating. Also, it excludes unmarried couples and same-sex couples.
Some activists feel the draft has not gone far enough. Several are organising a petition, calling for cohabiting couples to be included. They hope to collect 10,000 signatures before the deadline.
I'm not an expert, but I am very glad to see China coming this far. The very fact that a definition of domestic violence will be included in law will make a big difference. In the past, many victims, usually wives, who turned to their neighbourhood committee or the local branch of the All-China Women's Federation for help, were instead kicked around like footballs and told this was a "private matter". Unless it was a very severe case, the victims were often unable to file a lawsuit, as the evidential standards, such as the extent of injury, were very high. Now those standards are set to be lowered.
I understand how important a strengthened law is in fighting against this endemic problem. Research conducted by the All-China Women's Federation showed that one in four women has experienced domestic violence. Feng's NGO estimates the number to be one in three.
The problem will not vanish overnight just because of a new law. There are, in fact, no shortage of laws in China. It is implementation that poses the greatest challenge. Once this law is enacted, it will undoubtedly be easier to file a lawsuit on the grounds of domestic violence. With no legal aid on offer, however, many poor victims may not be able to access the law to gain this protection.
The new bill demands that each county set up a shelter for domestic violence victims. In the past, hundreds of government-run shelters have been established, but few have served the correct purpose, partly because they required strict criteria, such as employer's certification. Even with a relaxed criteria, they still need a lot of resources to keep going. I am not sure local governments will be willing to devote the resources needed to support this.
Yet the biggest challenge of all, to my mind, is for the people in this populous country to truly understand that domestic violence is fundamentally wrong. For centuries, beating one's wife, whom many men regarded as their own property, has been tolerated. And the roots of the problem - a disparity of power and a male chauvinism ingrained in Chinese culture - will continue to exist.
Those who dare to speak out have frequently been criticised for "airing their dirty laundry in public", as in the case of Kim Lee. After posting disturbing pictures of her bruised face on the internet, she was verbally abused by many male chauvinists.
Such people will not change their views on wife-bashing simply because of the introduction of a new law. So it's imperative that, at the same time, there is a huge social change, too; people need to recognise that domestic violence is a crime that should be treated with zero tolerance, and be educated on how to effectively implement this law.
Activists and rights groups that have pushed for this draft law are gearing up to fight on. Feng now heads a new NGO called Equality, dedicated to the promotion of gender equality, including the elimination of domestic violence. To reach this goal, the whole of Chinese society, from neighbourhood committees to the All-China Women's Federation, from police to the courts, have to join in the fight.
This article appeared in the South China Morning Post print edition as: Still fighting