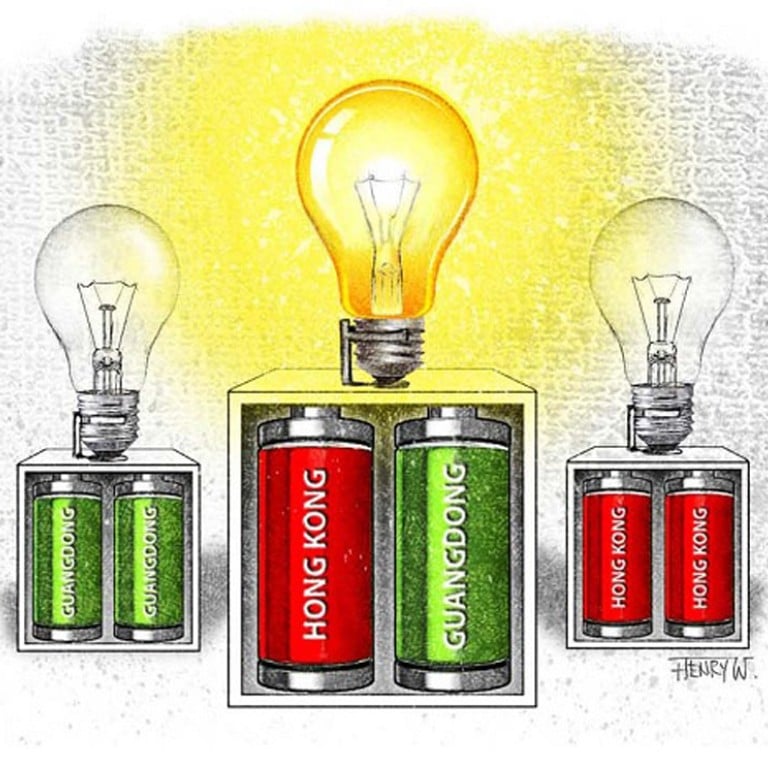 Guangdong looks inland for next growth spurt
Peter Wong says a new wave of cooperation between Guangdong and Hong Kong, with the SAR offering its financial know-how, will help China upgrade to a consumer-led growth model
Guangdong today, like many of China's manufacturing centres, finds itself squeezed between its underperforming rural hinterland and an industrial heartland struggling to cope with rising wages at home and increased competition from abroad.
China's manufacturing-heavy provinces suffered the sharpest growth slowdown in the first quarter, and Guangdong was no exception. Guangdong has started to lose its regional top rank in terms of gross domestic product, a position it has held for more than two decades.
Faced with these challenges, local government authorities have come up with a solution which employs Hong Kong's expertise that might light the way for the rest of China's industrial centres. The way through may be to harness Hong Kong's services and investment know-how to fully unleash the potential for a new flood of economic growth from Guangdong's rural regions.
These rural "backwaters" largely missed out on the province's Pearl River Delta boom but they still have great potential for development. In the first half of this year alone, Guangdong's rural regions surpassed the delta and the provincial average in industrial added value, fixed asset investment and commodity goods retail sales.
The provincial government has devised a plan and budgeted more than 672 billion yuan (HK$847 billion) to develop rural areas over the next five years. The planned investment-led growth aims to turn 12 of the province's economically declining cities into new engines of growth and development. This will reposition labour-intensive manufacturing to rural regions to allow the increasingly overcrowded Pearl River Delta to climb the value chain into advanced manufacturing, hi-tech industries and modern services.
Poor infrastructure has long been a major roadblock for the economic development of the province's northern, eastern and western regions. This new investment will mainly focus on new transport infrastructure. There will be a lot of road and high-speed rail construction to be completed by 2020, with a plan to link all regions and increase the number of the major highways leading to neighbouring provinces. Once roads and railways are in place, the companies in the delta will move to rural areas.
Money will also be spent on new industrial parks, with the aim of doubling each county's industrial output. Included in the plan are several cities with populations of more than one million, and more with populations ranging from 200,000 to 500,000 people.
Private capital will be the main source of support for the new town and industrial parks. Hong Kong is already playing a vital role in funding the economic success of the Pearl River Delta. Guangdong's 60 per cent foreign capital is from Hong Kong, but boosting financial cooperation with the SAR, and through it with the rest of the world to invest for the next round of growth, is a key policy objective of the province's new development plan.
We consider this intensifying cooperation between the Pearl River Delta and the rural areas will benefit both sides. The rich natural and vast land resources will be a big asset for development and will help attract investment and expertise. Hong Kong businesses have a strong financial incentive to participate.
In some ways Guangdong's development plan mirrors the broader China-wide trend of labour-intensive industries moving inland as wages rise in the heavily developed coastal areas. But Guangdong is bringing a new element to the mix: services.
Hong Kong is an integral part of the transformation, but its role is changing. Hong Kong was once the shop window for the manufactured goods flooding out of the Pearl River Delta, and it will continue to play a key part in the outbound supply chain, but the flow is starting to become a two-way street.
A new wave of cooperation between Guangdong and Hong Kong will focus on developing an integrated regional service industry - particularly financial services - and the traditional "front-end shop and back-end factory" cooperation model will reverse.
Guangdong will benefit from broader international networks and better access to financial markets. The province's future lies in reorienting its consumer industries towards China's large and growing domestic market and moving up the value chain.
We believe Hong Kong will retain its pre-eminence. The physical proximity and experience of working in the mainland market are advantages that can never be replaced. The Pearl River Delta's integration and Guangdong's focus on rural development will have to be advanced to further increase Hong Kong's competitiveness. The service industry in Hong Kong, which is already well established in line with international standards, can lead the opening up of the delta's services sector.
Guangdong is increasing its cooperation with Hong Kong and Macau to build a free trade zone. The SARs' participation and their proximity will offer Guangdong a unique advantage compared with other areas on the mainland. The free trade zone would not only encompass Shenzhen's Qianhai , Zhuhai's Hengqin and Guangzhou's Nansha , but would extend to link with Hong Kong and Macau themselves.
We think it is important to support the evolution of mainland financial services by creating a robust Guangdong-Hong Kong financial regional platform. Guangdong and Hong Kong can lead the way to high-quality growth, with benefits flowing to both. This will help the country create its aim of sustainable, consumption-driven growth.
Guangdong will continue its transformation in enhancing its core competitiveness. Constructing a new wave of Guangdong-Hong Kong integration will contribute significantly not only to upgrade Guangdong's service industry but lead the transformation of China's economy overall.
This article appeared in the South China Morning Post print edition as: Lighting the way