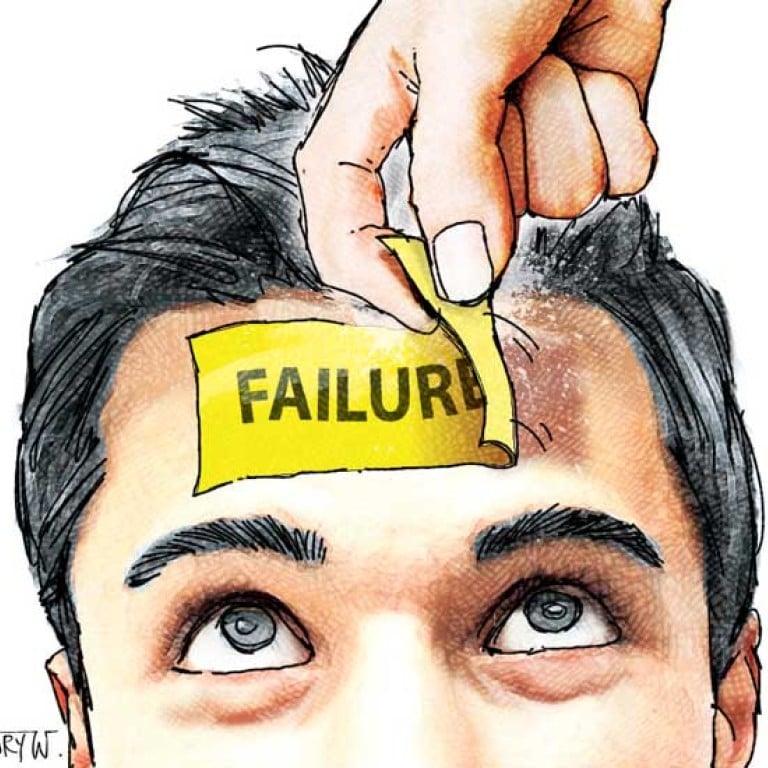 Fear of failure holds back entrepreneurs in Hong Kong
Douglas Young calls for a rethink of success that recognises the usefulness of failure. By accepting it, he says, Hong Kong may bolster its entrepreneurship with a new spirit of daring
The media was quick to hail the Heritage Foundation's naming of Hong Kong as the world's freest economy for the 21st year running. But it didn't take long for critics to begin to question the true significance of the honour.
To paraphrase George Orwell: the business environment may be free, but some businesses are more free than others.
With few constraints on monopolies, conglomerates are free to dominate the market, while an artificially limited supply of land means developers are free to manipulate supply and demand.
And, a lack of protection for small local businesses means multinationals are free to come in and squeeze out family set-ups.
It is not a new phenomenon that neighbourhoods once served by individual shops are being taken over by large local chains. With the world's attention on mainland Chinese consumers, what is more worrying is the arrival of international giants in Hong Kong to establish beachheads.
They are able to offer landlords higher rents than local operators can afford because they can balance short-term losses with a long-term goal to conquer the mainland market. Setting up in Hong Kong is seen as an investment in establishing brand prestige. The short-term losses here will pale in comparison to the real profits that are to be made on eventual mainland expansion.
It is said that Hong Kong is no place for amateurs; one needs to be a "pro" to succeed here because one cannot afford the cost of failure. For young entrepreneurs and upstarts, that is not a good environment to conduct business.
Contrast that with America, a place that is consistently producing the world's most innovative businesses. The fact that it is also a place where space is in ample supply does not make it unique; what gives America the edge is its spirit of encouraging failure. That which doesn't kill you makes you stronger. In America, those who fail do not die; the environment allows them to resurrect and become better.
Hong Kong's high barriers to entry are well known, primarily the cost of space. But a nuanced consideration would be a human need that can be loosely labelled "respect".
All humans need respect. It gives us dignity, without which we would not have the confidence to tackle daily hardships. In a business environment that considers failure as the ultimate taboo, the prospect of failure when starting a business becomes a significant barrier to entry.
The seemingly peculiar Chinese issue of "a loss of face", and hence "a loss of respect" when it comes to failure, may be significant, but the real issue is in the measurement of success and failure.
For businesses, it goes without saying that "success" is measured in profits. But for careers, should it be the only currency?
There are countries, such as France, where a leading artisan of a fine craft would be respected, not for making lots of money (or any money at all), but because works of exceptional quality are produced. These make an intangible contribution to society, which eventually feeds into the larger economy as a whole, say, through the building of a robust national image. Such respect is extended to a diverse range of activity from the arts and sciences to sports. These fields of achievement also involve a variety of businesses.
If we want to make Hong Kong a place for business success, we may need to change how we gauge "success" itself. We would need to find new ways of ascertaining how businesses contribute to the quality of our society and allocate our support accordingly. It is about appreciating "value" as opposed to obsessing about prices and numbers; long-term strategic thinking as opposed to immediate returns.
Naturally, the government has an important role in fostering this change in attitude. Future government projects can involve more small to medium-sized local businesses rather than just the big established players. On this point, the wholesale granting of the design of the West Kowloon Cultural District to a major international firm springs to mind. Subdividing large projects into small "chunks" that could be distributed to diverse participants involves a bigger (and hence less efficient) government in terms of management. It also involves higher risks as less-established (and, hence, less-experienced) players are involved. Without a dynamic leadership that is determined to effect this change, it is not going to happen soon.
To accelerate the process, we need to express to our leaders our desire to achieve this goal. We can apply non-confrontational "soft pressure", which would be the most effective. We could start by paying more respect to small businesses that silently persevere through the sheer determination and conviction of their proprietors. In our own way, all of us have the capacity to be their patrons. After all, if we don't support ourselves, who will?
With the death of every one of these small businesses, a part of us dies with them also.
This article appeared in the South China Morning Post print edition as: Real value