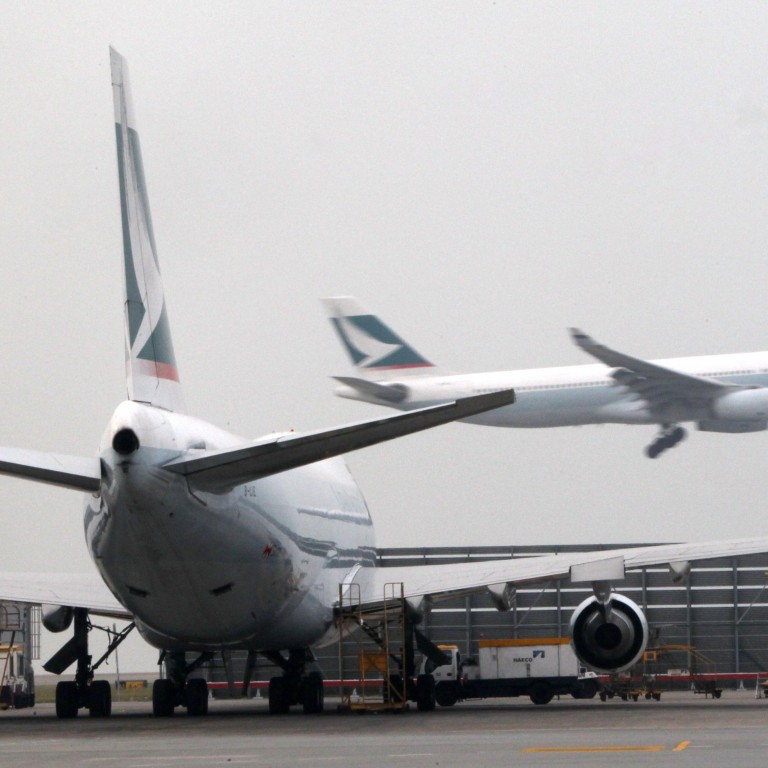 How can Hong Kong compete in regional airport battle?
Barry Wilson says regional hubs need to coordinate to maximise passenger potential
Shenzhen has recently said it will turn its airport into an "international hub". That means building a third runway with another new terminal, hot on the heels of having opened a second runway and a brand new eye-catching terminal just last year. Both Guangzhou and Hong Kong are "hub airports" that are granted state support but Shenzhen has limited international connections and doesn't want to miss out on South China's international air travel bonanza.
Guangzhou has just completed construction of a third runway and planning has commenced for a fourth, while the addition of a fifth is intended in the longer term. Hong Kong is now almost certain to add a third runway. Macau and Zhuhai airports add two more runways in the Pearl River Delta.
The five delta airports are growing at an astonishing rate. Their proximity and respective airspace arrangements create tremendous operational complexities. There are three different air navigation services providers in the region: Guangzhou, Zhuhai and Hong Kong. Macau airport traffic operates through Hong Kong-approach airspace. Aircraft flying near or across sector boundaries are frequently delayed as they have to be transferred from one controlling facility to another. The airspace in the region is thus not surprisingly one of the world's most congested. This is compounded by the fact that the Chinese military wields significant control over the allocation of all mainland airspace, limiting routes and imposing altitude stipulations for all entering and exiting air traffic.
In its "Master Plan 2030", the Hong Kong Airport Authority said that to fully realise the potential capacity gain of a third runway, the delta airspace would need to be completely redesigned. So while ground capacity is increased at a never-ending rate, where is the room for all those planes in the sky? It appears passenger ground capacity will increase by 25 per cent by 2020, but can the airspace cope or will it just mean 25 per cent more delayed flights? There don't seem to be any formal plans or solutions.
Surely, there must be some benefit from strategic airport planning for the region. However, the way air services are licensed, which in turn is governed by agreements between different jurisdictions, disentangling the strands of interwoven approvals appears more taxing than building a new airport. The independent airports just keep expanding, concerned they will lose share to the other delta cities. Shenzhen, last to the table by virtue of its recent miraculous birth, now wants to compete with Guangzhou and Hong Kong for all that international growth.
All this air capacity expansion comes despite the Chinese government's determination to continually expand the world's largest high-speed rail network, which is now a clear competitor for domestic air services. And it's not just the runways that need to be part of a joined-up plan. With airport expansion comes all the other necessary infrastructure, including controversial land reclamation, highway development and public transport connections. Shenzhen airport expansion is coupled with the planned Shenzhen-Zhongshan Bridge across the Pearl River, while Hong Kong is currently building the road-only Hong Kong-Zhuhai-Macau Bridge, at a ridiculous cost to the taxpayer. A rail rather than road bridge extension could have seamlessly connected both Zhuhai and Macau with Hong Kong International Airport rather than encouraged further road traffic.
Despite bludgeoning its way through the planning of a third runway, Hong Kong appears to be in danger of being completely left behind anyway. With the time it has taken to get through public consultations, an environmental impact assessment and finance arrangements, the mainland cities have conceived, planned, built and are already operating their new terminals and runways. Coupled with that, Hong Kong's past determination to develop the city by continually building unnecessary infrastructure, based on spurious transport and planning projections, has meant that the general public has now lost faith in the proposed mega projects. Development ideas have repeatedly been generated from behind the closed doors of vested interests; the public consulted but not heeded; and money poured on the grounds that Hong Kong must "keep up with the neighbours". An increasingly militant population is stressing immediate quality-of-life issues over future unmeasureable economic potential.
Contrast this with the British government decision in 2010 to block a third runway at London Heathrow and new runways at Gatwick and Stanstead. The alternative arguments to Heathrow expansion included a greater use of regional airports to create more capacity and a planned greater use of high-speed rail to reduce domestic flights and negate the need for more air capacity.
This article appeared in the South China Morning Post print edition as: Even with a third runway, it's just a game of catch-up for Hong Kong airport