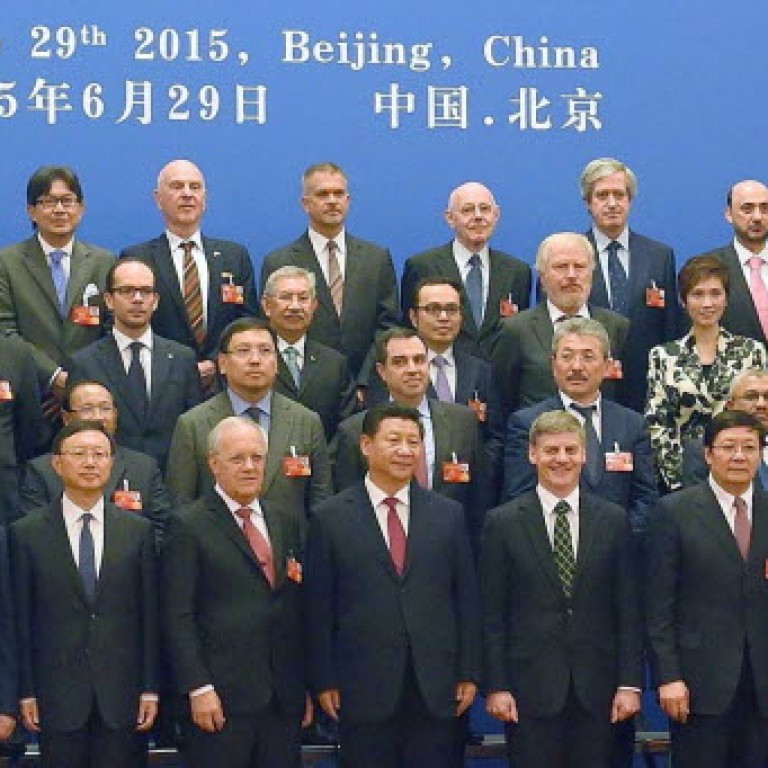 China can benefit if it treats its AIIB partners with fairness
Curtis Chin says some of China's neighbours are understandably sceptical about its leadership in the new bank, and their willingness to speak up provides a path to greater transparency
There's a new dynamic in Asia. From the turbulent Shanghai stock market and the Umbrella Movement in Hong Kong, to the Philippine challenge to China at a United Nations tribunal over disputed territory, it is not necessarily all going Beijing's way.
This, however, need not be bad news, for either China or the rest of the Asia-Pacific region, if it marks the evolution towards more respectful and mature relations between Beijing and its many neighbours and trading partners in the region. Indeed, it could well be to the long-term benefit of China's regional initiatives. The new Asian Infrastructure Investment Bank (AIIB) in particular is a case in point.
As plans move forward for this new Beijing-led institution, akin to the Washington-based World Bank, all has not gone according to plan when it comes to Southeast Asia. At a signing ceremony last month in Beijing, three major Southeast Asian economies were among seven nations that held off on committing to join.
Malaysia, Thailand and the Philippines each had its own reasons. China noted there might be domestic procedures still to complete.
But what is already clear - particularly in the case of the Philippines - is that China's assertiveness in the South China Sea has carried over into suspicions in the region about Beijing's true goals. Whether unfortunate or understandable, this pause by potential AIIB founding members is a message and an opportunity for added transparency by the new institution and by China. It should be welcomed and acted upon.
Two questions are paramount as this institution gets up and running to help finance Asia's unmet infrastructural needs. First, how will China shape the AIIB into the "lean, clean and green" international financial institution that Beijing has promised? Clear metrics, good governance and strong safeguards for the environment and for the livelihoods of affected people, as well as a strategy for implementation, are essential.
Key areas to watch will include the percentage of AIIB staff and leadership that will go to Chinese citizens, and the share of future procurement on AIIB-financed projects won by state-owned enterprises. The goal is to prevent corruption and ensure accountability for quality and impact of results.
Second, how will China pursue its national interests while also respecting all AIIB shareholders? This includes not just Southeast Asian nations locked in territorial disputes with China, but also India among potential AIIB borrowers.
China's past actions underscore reasons for some concern. In one case at the Manila-based Asian Development Bank, efforts to provide assistance in one of the poorest parts of India, known as Arunachal Pradesh but claimed in part by the Chinese, were stymied by China. In another case, China refused to grant permission to ADB staff to visit Fuzhou to investigate an alleged case of non-compliance with the bank's safeguard policies.
Ultimately, the AIIB could also force other multilateral organisations to be more efficient and effective. That should be encouraged.
All major international financial institutions are ultimately political creations of their lead proponents. That dynamic has not changed and will remain true for the AIIB. But what is changing is that some Asian nations are emerging from China's shadow and speaking up. If China is willing to listen, the result will be a more balanced and continued economic dynamism in the region.
This article appeared in the South China Morning Post print edition as: Dealing fairly with its AIIB partners is to China's benefit