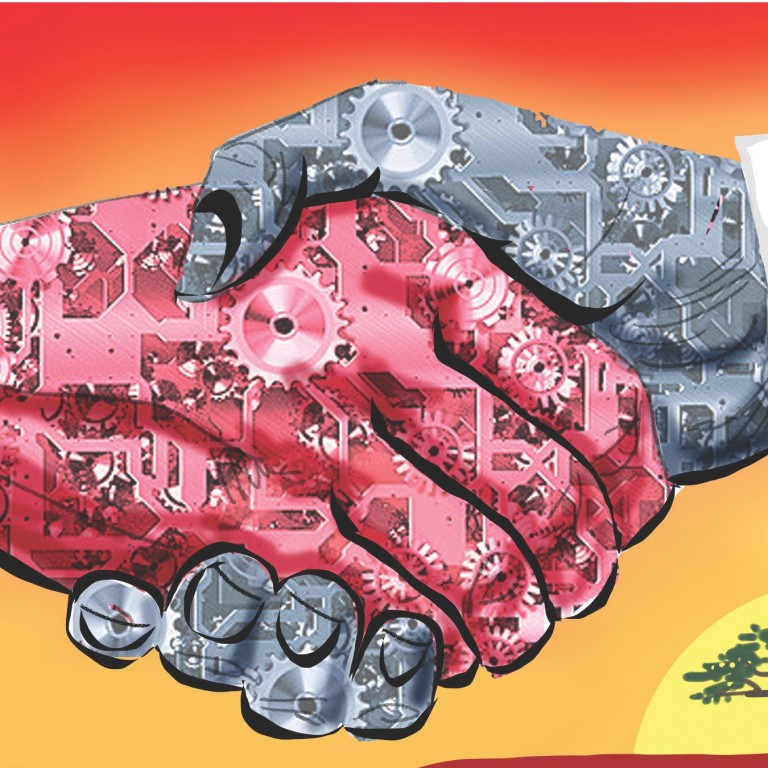 Sino-African partnership must come to a new balance based on more sustainable mutual growth
José Filomeno dos Santos says new opportunities will build on, and reshape, Sino-African trade relations
At first glance, the crash of China's financial markets augurs distress for Africa's recent economic advancement. Since last month, the Chinese authorities have progressively devalued the renminbi and, amid fears of a sudden economic slowdown in investment, the stock market has lost 43 per cent of its value since June.
Concurrently, resource-led economies in Africa are in distress due to the decline of commodity prices, a stronger US currency and domestic fiscal imbalances. Some analysts suggest this is the ultimate time of reckoning for overheated emerging economies. But, most likely, we are merely crossing turbulent waters to begin a new chapter of more sustainable growth in China and Africa.
In 2009, China overtook the US as Africa's largest single trading partner. Nevertheless, the trade profile between China and individual African nations varies. Regional analysts estimate China imported over half of the exports of Sierra Leone, Gambia, Mauritania and the Republic of the Congo, and at least nine African nations sourced more than a fifth of their inward trade from China.
Meanwhile, the largest African economies have been gathering impetus as a result of the growing commodity demand in China. South Africa gained momentum due to the China-led surge in gold, copper and platinum prices, whereas Nigeria and Angola have both experienced record growth rates, derived primarily from higher crude oil prices.
In the case of my homeland, Angola, the trade partnership with China enabled a positive foundation for social harmony. Before entering a partnership with Chinese state banks in 2004, Angola was a war-torn nation keen to recover from a 27-year civil conflict that had displaced millions and eroded its infrastructure.
Since then, Angola has recovered ports, airports, hundreds of kilometres of roads and railways, and expanded its education and health network. In exchange, it became the largest supplier of crude oil to China. The capital stock derived from our trade with China will not vanish at the downturn of a global business cycle, unlike the billions of dollars eviscerated overnight from the international stock markets in recent months.
However, a new balance in the African-Chinese partnership model must be found soon, because the devaluation of the renminbi against a stronger US dollar may seriously hinder our continent's exporters and domestic suppliers. The continued weakening of the Chinese currency increases the current account and fiscal imbalances that have already been affected by the recent reduction in the prices of crude oil and other hard commodities.
The growth in sub-Saharan African countries is projected to decline to 4.2 per cent this year, and the compression of exports could further dampen growth in commodity-exporting countries linked to China, such as Angola, Nigeria, South Africa and Zambia. Unless the African states commit to devaluing domestic currencies, our consumers will be enticed by cheaper Chinese exports, which may hinder domestic entrepreneurship, innovation and growth in our homelands.
Notably, China's "belt and road" development strategy and framework - aimed at promoting the country's integration into a cohesive economic area by building infrastructure, cultural exchanges and trade relations with emerging nations via road and sea - includes Africa. This indicates that the value of the renminbi will be set at a rate that supports Chinese foreign direct investment in the region.
Today, 52 African cities hold over 1 million inhabitants, and by 2020 the number of households with discretionary income is expected to rise by 50 per cent, to reach a combined consumer spending of US$1.4 trillion. In tandem with the demographic rise of the Asian continent, this provides the sizeable market required to nurture China's growth.
Promoting enterprise in Africa is at the core of our investment approach at the Angolan sovereign wealth fund, the FSDEA. This year, the fund launched five new open-end investment funds that target projects in Angola and the wider sub-Saharan region. With a total investment capital of US$1.4 billion over the next three to five years, these commercial vehicles will allocate funds to agriculture, timber, health care, mining and structured investment opportunities. After experiencing double-digit year-on-year growth, many African countries are now set for a more sustainable outlook.
Last year, our economy grew by 4.2 per cent, well above the euro-zone's average of 0.9 per cent and almost double the 2.4 per cent realised in the US. Similarly, countries such as the United Arab Emirates, in the Middle East, are comfortably growing at 3-5 per cent per year. At this level of growth, businesses can equip themselves for longer-term planning and avoid speculative approaches to their allocation of capital to the emerging world.
Thus, instead of promoting the senseless purchase of cheap Chinese consumption goods, the new chapter of the African-Chinese partnership model will focus on the acquisition of capital goods from China. Building long-term infrastructure for the industrial development of African nations is key to providing a durable trade partner for Chinese companies.
For African nations, such smart partnership models would boost the local manufacturing industry, thereby encouraging domestic production, regional demand for locally produced products and more households with discretionary income. China's continued growth is essential for the world, and Africa is a market that promises to offer substantial returns over the long run.
This article appeared in the South China Morning Post print edition as: A new balance