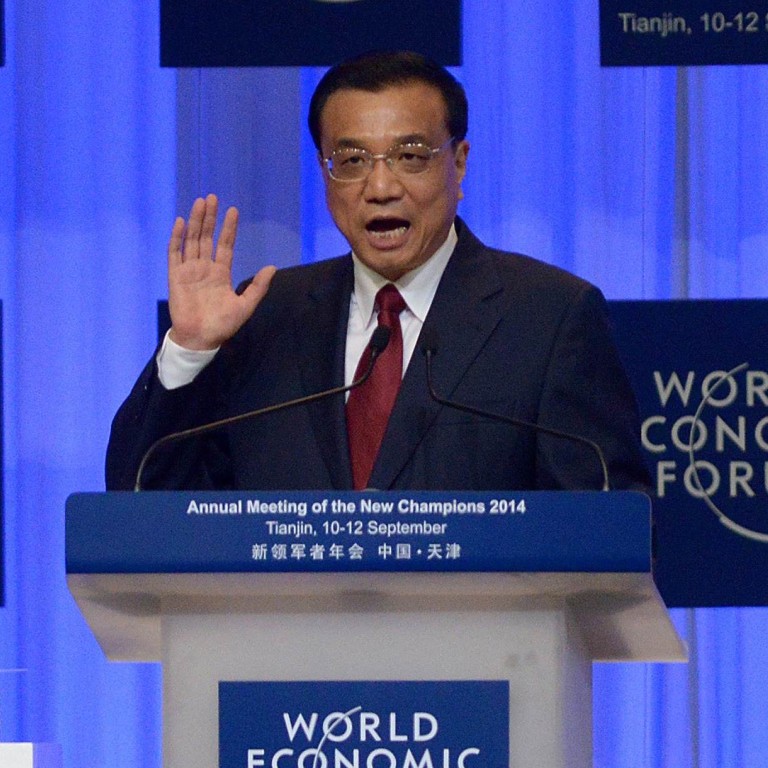 Opinion
Mr. Shangkong
by George Chen
Mr. Shangkong
by George Chen
What to expect from China's premier Li Keqiang as he seeks to reassure the global economy at 'Summer Davos'
Global investors and government leaders will have their eyes on the northern Chinese port city of Dalian for the next few days as premier Li Keqiang is expected to speak at the "Summer Davos" to an audience of over 1,700 including many who are increasingly concerned about the development of the world's second-largest economy.
Li is no stranger to the "Annual Meeting of the New Champions" of the World Economic Forum (WEF).
"Summer Davos" was in fact an initiative launched by Li's predecessor, Wen Jiabao, about nine years ago. Traditionally, Chinese leaders have used the event to promote – or sometimes to defend – the outlook of the Chinese economy.
Li is expected to meet select foreign and Chinese entrepreneurs late on Wednesday and to give a more formal speech on Thursday. The Chinese premier will have to convince foreign guests that Beijing can maintain its high-speed economic growth, and avoid a possible economic hard landing by all means.
Li's speech comes at a time when global investors are getting increasingly concerned about whether the Communist Party can stabilise China's stock market, which began to crash and had no clear sign of recovery since late June due to various factors including concerns about valuation bubbles, increasing market speculation and massive capital outflow.
The international community has also expressed concern about the credibility of Chinese economic growth as Beijing has repeatedly insisted it can reach an annual growth target of 7 per cent.
"While we have seen growing downward pressure on the economy, more jobs have been created thanks to reforms that have been taken," he said.
According to the organiser, this year the key topics of "Summer Davos" include China's "new normal", which generally means how China will deal with its slower economic growth, and how Beijing can reassure the global economy about a potential slowdown, and that might be an even more challenging task than to keep its annual economic growth at 7 or 6 per cent for the next few years.
Other China-related topics to be discussed at the summer event also include China's foreign exchange reform at a time when Beijing just surprised the whole world in August by allowing the yuan to devalue. Li has already told some visiting foreign leaders recently in Beijing that the Chinese currency would not depreciate further and Chinese central bank chief Zhou Xiaochuan also defended the valuation of the yuan by reaffirming there would be no basis for the yuan to fall further.
Except for those widely repeated messages by Li and other senior Chinese officials, what else can the premier say to convince global investors more than ever? That will be a key question that many participants at the "Summer Davos" can't wait to hear.
As Li's predecessor, former premier Wen once famously said, "sometimes confidence is more important than gold in the market." Now it's Li's turn to fight to regain global market confidence over the valuation of the yuan as well as the stability of domestic stock markets.
Li has so far largely remained silent on the ongoing stock market crisis, the worst in more than a decade for the Communist regime. Ordinary retail investors, who drive over 80 per cent of daily trade in domestic stock markets, have grown more impatient. Some are getting frustrated over the securities regulator's slow responses and policy missteps when dealing with the market crisis. Social unrest will be for sure the last thing that Li and his boss, president Xi Jinping, want to see, particularly at a time when Xi is keen to promote his "Chinese Dream" vision for the country's 1.3 billion people.
Other topics that Li is widely expected to discuss include technology and innovation as one of Li's key policy initiatives is the so-called "Internet Plus" strategy.
"Internet Plus" is more than just the internet but more about how China can take advantage of new technology to transform its economic structure to rely less on exports and labor intensive sectors, which only mean small profit margins, and shift to more technology and knowledge-driven economic development, which is what many of the new generation of powerful American corporates such as Google and Tesla have been leading.
As Li encourages the public, including many fresh graduates or university dropouts to start up their own businesses, global investors and business leaders have also been increasingly concerned about whether such high-level government endorsements would translate into industry bubbles in the near future. Globally, most start-up companies can't even survive for three years and when they go bankrupt, many of them will become bad assets for banks or venture capital funds who once backed them.
Li, often dubbed by Chinese media as the country's "top salesman", thanks to his strong push for Chinese business to go abroad, certainly has one of the world's most difficult jobs to keep the country's economy in good shape.
Perhaps as an economist, Li, who received his doctorate degree in economics from the prestigious Peking University, can speak more freely. But as premier, he may have to be constrained by a lot of non-economic factors in his decision-making process as well as when he speaks publicly.
The stage is on and the world is listening. One thing for sure is that what the world needs now is more than just capital but confidence, particularly the sense of confidence coming from China, and this week from the "Summer Davos" in Dalian.