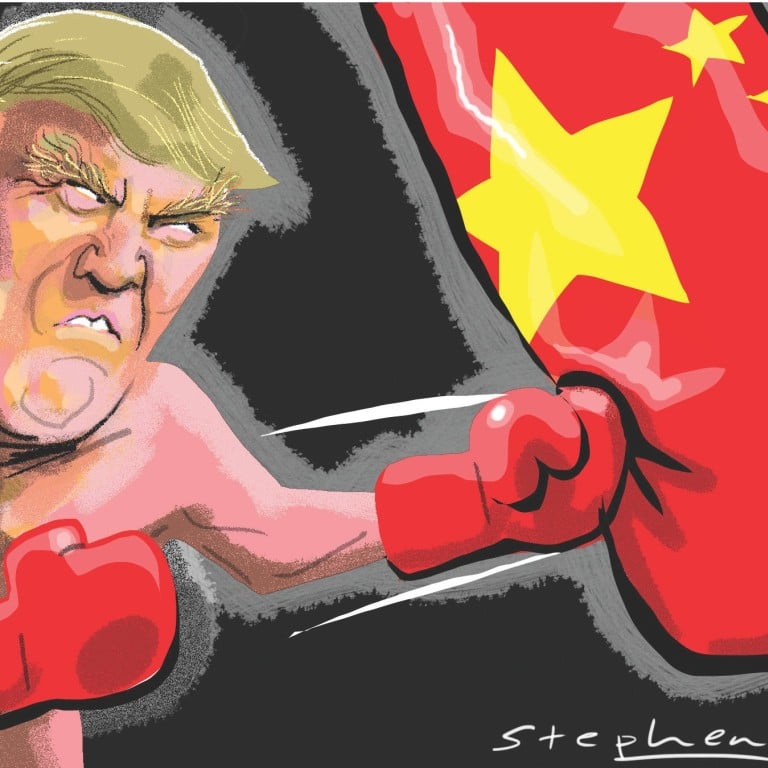 America's China-bashing Republican presidential hopefuls are full of hot air
Paul Letters says Republican contenders are spouting a China policy that bears no relation to the on-the-ground realities
History tells us that the next US president should be a Republican. At the end of every two-term presidency since 1954, the electorate has changed to the party in opposition on all occasions bar one.
Mao Zedong privately told Richard Nixon he preferred Republicans: "I am comparatively happy when these people on the right come into power." In reply, Nixon boasted that "the important thing to note is that in America … those on the right can do what those on the left talk about." However, in the race to be a 2016 presidential nominee, it's the right who are talking loudly - but they can't deliver.
Republican candidates are cheered to the rafters on each occasion that they reaffirm their overinflated sense of American narcissism, most readily through China-bashing. Nobody does it with more gusto than the GOP's current front runner, Donald "Make America Great Again" Trump.
Trump declared that "China has rebuilt itself with the money … and the jobs that it's sucked out of the United States." Vote for Trump and he vows to return Chinese jobs to the US by imposing tariffs on American companies that manufacture overseas. And to combat the price advantages a devalued renminbi brings China, Trump would increase protectionist taxes on Chinese imports.
It's beyond the imagination of the rational that Trump will win the nomination, but the deeper concern is the other candidates who are clamouring to out-Trump each other on economic policy and foreign affairs.
Ahead of President Xi Jinping's visit to Washington later this month, Florida Senator Marco Rubio promises to expand the defence budget and end the growing threat posed by China's military.
Wisconsin Governor and Republican candidate Scott Walker attracted a good deal of attention for these comments: "Given China's massive cyberattacks against America, its militarisation of the South China Sea, continued state interference with its economy, and persistent persecution of Christians and human rights activists, President Obama needs to cancel the state visit."
As with Rubio, this was a bid by Walker to get noticed as Trump tramples over the other candidates in the polls. Walker photobombed a campaign that was becoming one long Trump selfie.
Caught in the populist spotlight, Walker went on to blame America's woes on China's slowdown and economic manipulation. He challenged US President Barack Obama to hold China accountable. But when Walker was asked how he would hold China accountable if he were president, he declined to give specifics. If you have ideas - any ideas - about engaging China, then it appears you're not a tenable Republican candidate.
All of these Republican candidates fail to show any recognition of reality: the US and China don't need to weaken cooperation but to strengthen it, most readily on economic policies. Furthermore, Obama is not likely to ignore the elephants in the room: the White House has stated that Chinese currency manipulation and cyber-espionage will be discussed during Xi's visit.
Yet those who believe the main issues that concern Americans are cybersecurity, disputes in the China seas or Beijing's human rights record are missing the dartboard. The way it's shaping up, this is not a foreign policy election. This is a big reason why retired neurosurgeon Ben Carson is now rising in the polls: he fixates on domestic issues.
The most important issue for Republican voters is economic security. The Republican Party base is working class and very white. So Trump's anti-immigrant stance and his concern for American jobs is what people want to hear. (Whereas Jeb Bush's cash-rich campaign is lagging behind expectations because his message is greeted as too inclusive.)
Xenophobic sound bites shout their way through the media. The front-running candidate favours building a "Great Wall of Trump" along the border with Mexico and Walker thinks that mounting a border wall with Canada "is a legitimate issue for us to look at".
In the case of Walker, it transpires that he has already met Xi. In 2013, in Beijing, he reportedly praised the US-China relationship and informed Xi's of Wisconsin's strategies to promote trade with China.
Unsurprisingly, the "What Happened to Scott Walker?" headlines have already been written. It will take more than a photobomb to sustain his run on the presidency.
It's not just Walker who is open to ridicule for spouting hot air. A "President Trump" would never follow through on his rhetoric for fear of the retaliatory damage a broken relationship with China would cause the American economy.
The Republican Party is hardening its base of blue-collar, anti-immigration whites - but across the country, that demographic is shrinking. To hold any hope of winning the presidency, the Republican candidate must do better than Mitt Romney did in 2012 in winning the votes of non-whites - a burgeoning demographic.
The 2012 presidential election clarified the boilerplate constituent parts of the diminishing Republican electorate: white, male and ageing. The Republican Party has to widen its base, not narrow it through chauvinistic rhetoric. The Grand Old Party must wake up to the modern world - and to modern America - to offer relevant leadership.
For any Republican who makes it to the White House, their actual policies vis-à-vis China would be unrecognisable from the current rhetoric of disdain.
This article appeared in the South China Morning Post print edition as: A stinging right