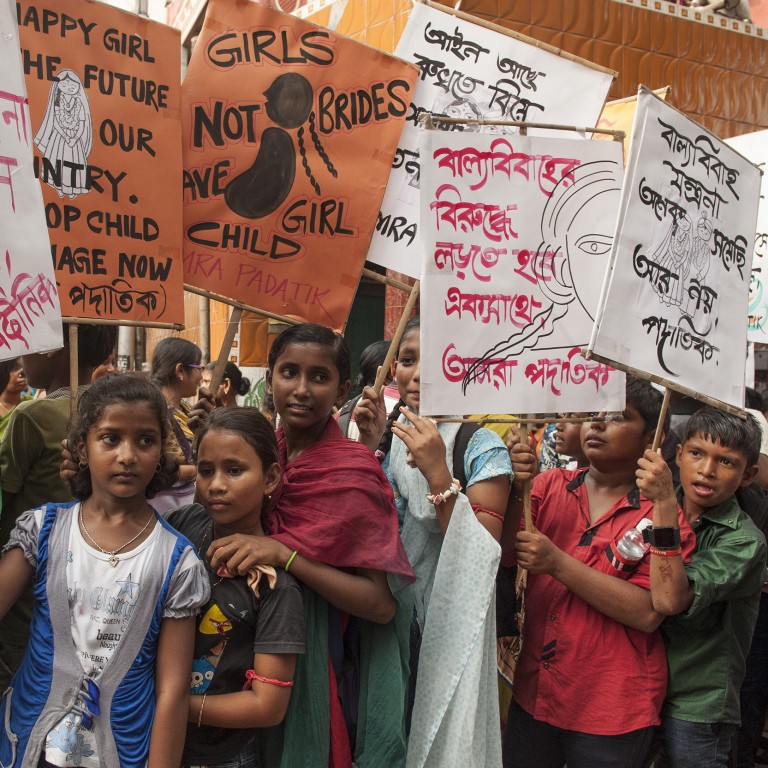 Educating girls can help break the cycle of child marriage
Kanie Siu says breaking the cycle would allow more girls to receive an education, empowering them, their families and even their countries
In December 2011, the United Nations declared October 11 the International Day of the Girl Child to recognise girls' rights. This year's theme is "The Power of the Adolescent Girl: Vision for 2030" to recognise the importance of investing in adolescent girls' empowerment. Indeed, this is fundamental to breaking the intergenerational transmission of poverty, violence and child marriage, and to achieving equitable and sustainable development outcomes.
Every year, at least 15 million girls under 18 get married - one every two seconds - and lose their right to education due to poverty, gender inequality, a lack of protection of children's rights or other factors. In fact, statistics show that if girls are safe, educated and healthy, they have the potential to change their life, their families and even their countries. An increase of only 1 per cent in girls' secondary education attendance adds 0.3 per cent to a country's GDP; an extra year of secondary school education increases a girl's potential lifetime income by 15 to 25 per cent; an extra year of education for girls can reduce infant mortality by 5 to 10 per cent.
Earlier this year, I visited Indonesia and witnessed how education helps a girl break the cycle of child marriage. I met Nurul, an ambassador for the "Because I am a Girl" campaign. In her village, girls who do not get married before 15 are perceived as "miserable expired virgins". Because Nurul got the chance of an education, she understands the detrimental effects of child marriage as well as her rights to education. As a result, she has been promoting anti-child marriage messages in her community.
Ending child marriage is not impossible. Progress has been most significant among girls under 15, especially in South Asia, where the marriage of young girls under 15 has declined from 32 per cent to 17 per cent. However, marriage for girls under 18 is still widespread. The rates of child marriage in South Asia and sub-Saharan Africa remain very high; in Niger, it is 76 per cent and in Bangladesh, 65 per cent.
Earlier this year, we commissioned a survey of 500 Hong Kong residents aged 16 or above to understand their opinions about girls who do not attend school. Nearly 65 per cent know that more girls than boys are in this situation. Almost all believe girls should have an equal opportunity for education. Yet only 20 per cent have been involved in activities fighting for girls' rights in the past year.
To many of us, child marriage may seem like a distant issue. As global citizens, we can learn more about child marriage and offer support for girls to receive an education. By investing in girls, we are giving them the potential to change the world.
This article appeared in the South China Morning Post print edition as: An end to child marriage