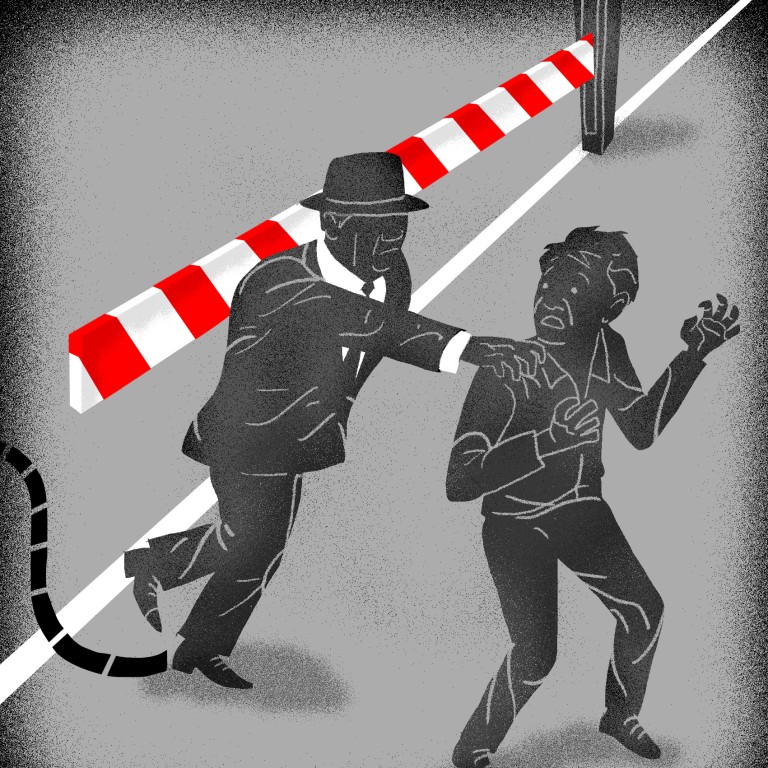 Lee Bo's case highlights grey areas in Hong Kong's Basic Law on cross-border criminal investigations
Simon Young says the possible abduction of five Hong Kong booksellers shows Hong Kong needs a new legal framework to ensure transparency and protection of rights in cases involving mainland officials
Many feel "one country, two systems" has suffered a serious blow from the mysterious circumstances of Lee Bo's case, but it is too soon to conclude that the Basic Law has been violated.
If Lee crossed the border voluntarily and on his own, there would be no Basic Law issue. If private individuals unconnected to the mainland government were involved in forcing or persuading Lee to cross the border then, again, it is difficult to see this as a constitutional crisis, even though such individuals may have committed ordinary crimes.
There are a number of indications, however, that mainland officials were implicated in Lee's entry. First there are Lee's statements that he is "assisting an investigation" on the mainland. The nature of the books sold by Lee's bookstore, coupled with the disappearances of his four associates, suggest a criminal investigation into offences of spreading rumours or slander to subvert state power or other national security offences.
Then there was the entry itself without the usual immigration clearances, suggesting official intervention. Finally, there is the unexplained need for Lee and his associates to remain on the mainland indefinitely if the "investigation" relates only to their associate Gui Minhai's alleged case of vehicle homicide.
Even if mainland officials were involved, this does not necessarily mean the Basic Law was breached because there are grey areas when it comes to cross-border criminal investigations.
Certainly an abduction and forced rendition by mainland officials would constitute a serious infringement of the "one country, two systems" principle, but there are multiple ways to cause someone to cross the border. A chat in a cha chaan teng, a phone call or a text message may be all that is needed to incite a person to make the trip.
There is no consensus among countries as to whether "luring" a suspect to enter the territory of the arresting state is a violation of international law. United States courts have sanctioned the practice, but other countries have objected to it.
In Hong Kong, the issue must be considered under the framework of the Basic Law. According to the chief executive's January 4 statement, "only legal enforcement agencies in Hong Kong have the legal authority to enforce laws in Hong Kong".
But the position is more nuanced as reflected in the secretary for justice's qualified remarks at the opening of the legal year: "Except properly permitted under our laws, neither unauthorised criminal investigation nor unlawful arrest within the jurisdiction by anyone or any authority shall be tolerated".
The key word is "unauthorised". Under the Basic Law, specific mainland offices are authorised to carry out official duties in Hong Kong. The three main offices are the liaison office, the ministry of foreign affairs and the People's Liberation Army.
Where the grey area lies is whether it can be said that the monitoring of national security matters is part of their official duties in Hong Kong.
The liaison office has an open-ended function to undertake "other tasks" assigned by the central government. China's National Security Law, passed in July 2015, provided that Hong Kong had responsibilities to preserve national security.
So long as such officials comply with local law, it is arguable that monitoring for national security is a function incidental to their respective liaison, foreign affairs and defence roles.
These arguments serve only to highlight the absence of a clear legal regime governing what mainland officials can and cannot do in Hong Kong to investigate mainland crime. Take the example of surveillance. The Interception of Communications and Surveillance Ordinance only applies to Hong Kong public officers. A mainland official who enters as a visitor to conduct a criminal investigation in Hong Kong would probably run afoul of his or her immigration permission.
The position is less clear for those already stationed here. Can they conduct as much surveillance as any private resident under the law? Does the surveillance have to be within the scope of their authorised official duties? Does that extend beyond national security, defence and foreign affairs?
Another murky area is the use of Hong Kong residents by mainland entities to conduct surveillance for mainland investigations. Should such individuals be subject to greater duties under the law, given constitutional rights to privacy?
A proper legal regime in this area would need to start with the position that no mainland official, whether stationed or not, shall conduct any criminal investigation in Hong Kong unless the Hong Kong government has provided informed consent to the investigation.
The scope would need to be broad enough to capture contracted or otherwise enlisted private people.
In deciding whether to give consent, the government would need to consider a number of matters including the ability of Hong Kong authorities themselves to investigate and share the information, whether it concerns central or local affairs, likely respect for Hong Kong laws and individual rights, and the seriousness of the matter.
Such a regime would hopefully contribute to more public awareness of the work and activities of mainland officials in Hong Kong. An annual report to the legislature could be standardised.
In their article on political policing in Hong Kong, Hualing Fu and Richard Cullen noted that the "use of subtle, ideally even undetectable, political surveillance and harassment techniques has proven more effective in silencing dissenting voices than full-blown political prosecutions".
Assurances of adhering to the Basic Law given by central government officials will provide little comfort if the Basic Law itself does not provide clear guidance.
If mainland offices have now become our present-day police "Special Branch", we need a new legal framework to promote transparency, protection of rights, and mutual legal assistance in cross-border cases, especially those involving political expression.
Professor Simon Young Ngai-man is associate dean (research) in the Faculty of Law at the University of Hong Kong