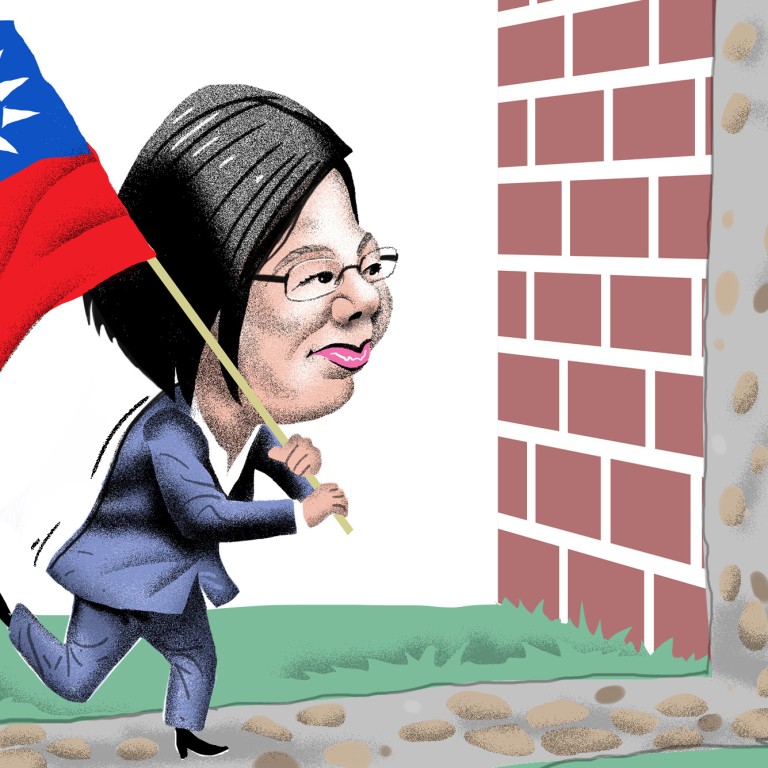 Sooner or later, Tsai must face up to Taiwan's political and economic realities
Zheng Yongnian says the president-elect will have to adjust her pro-independence stance after taking office, given that China is strong enough to stop any moves in that direction
The impact of Tsai Ing-wen's election as Taiwan's president will, of course, be profound. Tsai was actually in charge of cross-strait affairs in both the Lee Teng-hui and Chen Shui-bian administrations. She was the creator of the "one country on each side" concept when Lee was leader of Taiwan. Ideologically, Tsai is even more inclined towards independence than Chen; her ideology is probably closer to Lee's. However, she will need to adjust her pro-independence stance after coming to power, even though she might be reluctant to do so.
Tsai has been trying every possible way to dishonour the "1992 consensus" [an understanding that there is only "one China", but each side can have its own interpretation], saying that it is only one option. In fact, Taiwan has no options. Mainland China has already grown very strong; strong enough to stop Taiwan gaining independence. When Ma Ying-jeou and Xi Jinping (習近平) met in Singapore recently, they both took the "1992 consensus" as the bottom line, which mainland China considers to be the line that Taiwan cannot cross.
So the path ahead for Tsai as the island's president will be very rough; she is pro-independence, ideologically but this will not be an option, practically. The only way forward is to find a direction that is most beneficial for Taiwan as it moves towards unification. Seeking independence would only lead to a dead end. So let's see how Tsai adjusts her path.
Economically, Taiwan relies heavily on mainland China. Where Taiwan's development is concerned, it should be realised that capitalism has its own logic which conflicts with political ideology. Tsai has to be realistic about this.
Tsai may well make some risky moves during her early time in office and will not admit wholly to the 1992 consensus. She will only adjust her course after experiencing twists and turns – if not major difficulties – in Taiwan's relations with the US, Japan and mainland China. This is political logic – especially given that she is a leader inclined towards the ideology of independence.
On the cross-strait issue, we need to remember that the US – as well as Taiwan – would benefit most if Tsai could attain peaceful independence during her term. But, of course, there is no way China would allow that to happen. On the premise that Taiwan will not gain independence, maintaining the status quo will be in the best interests of the US. This is the bottom line for both Washington and Beijing.
The problem is that Sino-US relations have been far from sound of late, following Washington's strategic misjudgment in which it considers China to be challenging its hegemony. This has led the US to seek to constrain China by any means. Against this backdrop, Taiwan becomes an ace in the pack for the US. But the reality is different: How willing is the US to have an open showdown with China over Taiwan?
It is not, in fact, China's intention to challenge the US, notwithstanding some standoffs – not open conflict – in bilateral relations from time to time. As long as no major crisis arises between the two, Washington will handle the Taiwan issue rationally and refrain from publicly supporting any radical attempt towards independence on the island.
If a conflict between the two major powers did break out, the US would have to consider to what extent it would take a stance on the Taiwan issue. Taiwan has been defined as a "core national interest" on which China will not yield.
Whoever is in power in Taiwan, be it the Kuomintang or the Democratic Progressive Party, it is important to consider that the victim in any cross-strait conflict would be Taiwan, not the US.
As to the handling of internal affairs, there should be little difference under Tsai, compared to Ma's presidency in democratic Taiwan.
Democracy in Taiwan has become very odd – as in many other democratic countries.
On the one hand, democratic societies are now considered the most conservative, with no one able to achieve any results. Ruling parties form the same kind of weak governments.
On the other hand, democracy is the most radical political system. But what can radical movements actually achieve, or change? Tsai used the sunflower student movement to reap political gains in terms of votes. But is she aware of the goals that radical movements can achieve?
Few believe Tsai is capable of resolving Taiwan's economic and income-distribution problems. Radical youth movements will continue to take place as long as there are no substantial change to the economic conditions. Will Tsai still support radical movements after she assumes office? A shift from a radical to a conservative stance would be difficult.
Certainly, she needs to handle cross-strait relations well, or Taiwan's economy will decline even faster.
For example, the Economic Cooperation Framework Agreement was meant to boost business ties between the mainland and Taiwan, and later with South Korea. But most of the business opportunities have been seized by Koreans as a result of the sunflower movement. Without economic competitiveness, tax revenue and social welfare may well be affected.
Tsai has not only seized the presidency, but also all the problems faced by Ma.
Professor Zheng Yongnian is director of the East Asian Institute, National University of Singapore, and chairman of the Academic Committee of the Institute of Public Policy at South China University of Technology, Guangzhou. This article was translated from Chinese and compiled from an exclusive interview by the institute of public policy