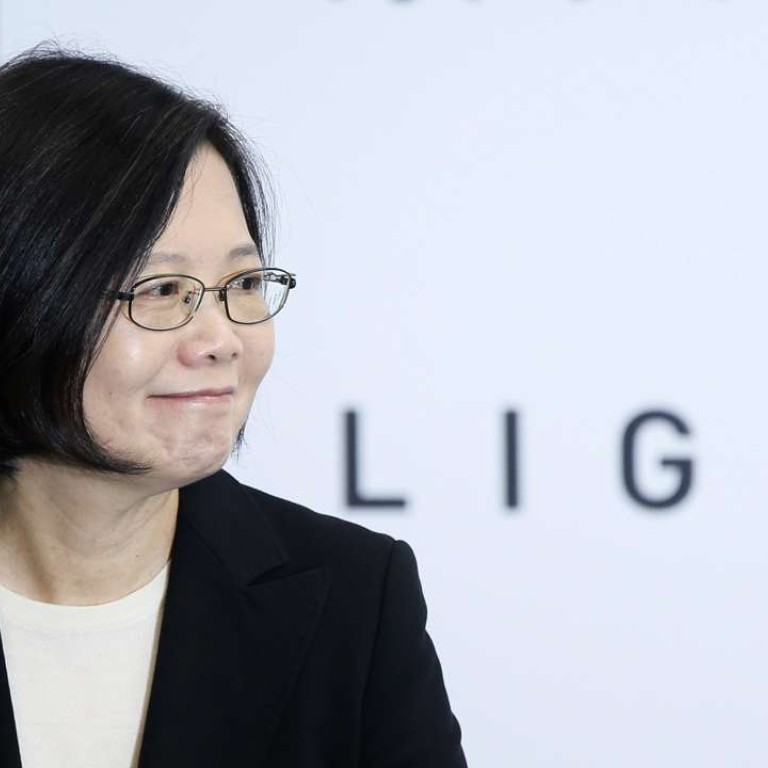 Why Beijing has no desire to turn the screw on Tsai Ing-wen and threaten stability across the Taiwan Strait
J. Michael Cole says warnings by the international media and marginal players do not reflect the reality among top leaders
If we believed many of the article headlines that have appeared in international media since the January 16 election of Tsai Ing-wen of Taiwan's Democratic Progressive Party, we would think the roof was about to come crashing down on the Taiwan Strait. Time and again, articles and editorials have warned that if Tsai refuses to recognise "one China" or the 1992 consensus, Beijing could – or should – punish Taiwan by, among other things, severing all official and unofficial contact. Such alarmism, however, doesn't pass the reality check.
While ascertaining the future behaviour of any authoritarian regime will always be a challenge, so far, the Chinese leadership has reacted to Tsai's landslide victory in a predictable fashion, with every indication that it wants a stable relationship across the strait. Therefore, while senior officials have reiterated the predictable lines on, say, Taiwan independence, their language in no way suggests plans for retributive action against Taiwan or escalatory policies that would threaten stability. There are several reasons why.
For one, Tsai's victory didn't come as a surprise, and Beijing has had several months to prepare for it. Besides being known for her pragmatism, the president-elect also is a known commodity to Chinese officials who have every reason to expect that both sides will arrive at some sort of modus vivendi for the foreseeable future. At the same time, Beijing is also aware that Tsai has been given a strong mandate, with control of both the legislative and executive branches of government, an electoral outcome that stems in part from a desire by the Taiwanese people for engagement, but careful engagement, with China.
Consequently, rushing the matter would risk pushing over the carefully balanced architecture of cross-strait relations, while punitive measures against the Taiwanese for the democratic choices they make would result in the very opposite of what Beijing has sought to accomplish over the years – to win the hearts and minds of Taiwanese by convincing them that a future with China is in their best interest. And, with much more pressing matters to deal with, such as unrest in Hong Kong, tensions in the South China Sea, signs of a slowing economy, and instability, Beijing has every incentive to avoid opening another front.
It is therefore important to pay attention to the language used by Chinese officials who are in a position to influence policy, as well as to determine who their intended audience is: the Taiwanese, the DPP, or the Chinese? When President Xi Jinping (
習近平

)
or Foreign Minister Wang Yi (
王毅
) speak about Taiwan, what they say (and don't say), who they say it to and where, are probably a much better indication of their future plans than remarks by junior officials, nationalistic military commentators, or academics.
Absent anything truly dramatic by the people who matter in Zhongnanhai, a number of media outlets have turned elsewhere for potential trouble. And there is plenty to be found. We need only to turn to Li Yihu, dean of Peking University's Taiwan Studies Institute, who recently warned that Tsai's failure to recognise "one China" and to be clear on the "1992 consensus" in her inaugural speech would have "a great impact on the cross-strait relationship". Li also said Beijing should "punish two-faced Taiwan entrepreneurs" who profit from business in China while supporting independence.
Reuters, meanwhile, headlined that China had warned Tsai to prove she does not back independence, in an article based on remarks by Wang Yifu, who heads the China-appointed "Taiwanese" delegation at the National People's Congress as well as the All-China Federation of Taiwan Compatriots.
In these instances, and others, the individuals quoted have little, if any, influence on actual policy in Beijing, and certainly cannot speak on its behalf. A focus on individuals who are but marginal players in this complex relationship misrepresents reality. Let's wait for clear signals by the players who matter before we run for cover.
J. Michael Cole is a Taipei-based editor-in-chief of www.thinking-taiwan.com, a senior non-resident fellow with the China Policy Institute at University of Nottingham, and an associate researcher with the French Centre for Research on Contemporary China