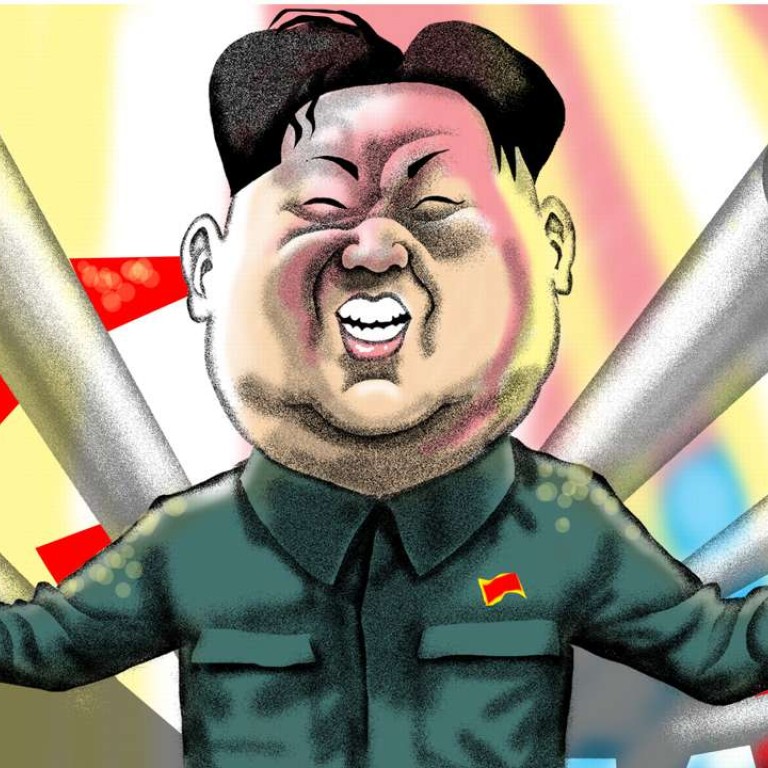 Ordinary North Koreans are the true audience for Pyongyang's nuclear weapons tests
Elizabeth Shim says each nuclear test announced by Kim Jong-un is in fact a spectacle designed to cement the regime's authority at home
Among the many snippets of advice North Korean leader Kim Jong-il gave to his people was to wrap themselves in mystery, so their enemies could never quite figure them out. By enemies, Kim meant all foreigners, who continue to be baffled by a regime that has since passed over to hereditary successor Kim Jong-un.
In 2016, as North Korea steps up provocations with a nuclear test, a rocket launch and threats to turn the South Korean capital into "powder", Kim's philosophy of mystique explains Pyongyang's more bewildering policies. The former leader, after all, was the chief agent responsible for restarting Pyongyang's nuclear weapons programme, and with good reason: missiles provide a spectacle for and a means to control the masses. Televised and staged images of missile launches also provide excellent material for the state's greatest weapon – its propaganda apparatus.
That may sound self-evident, but what's less obvious is the regime's motive for violating nearly all the UN Security Council's sanctions resolutions: to win back North Korean hearts and minds with displays of military power, and to create an atmosphere of heightened tensions to step up control, as more people in the not-so-isolated country come into contact with foreign and South Korean media circulating in the country's grey markets.
The North Korean regime is escalating its belligerent stance because it has lost unprecedented control of the country.
Millions of people, including those in the North Korean upper class, are now familiar with South Korean media, and North Korean defectors I've spoken to say watching South Korean soap operas motivated them to leave in hope of a better life. For ordinary North Koreans, the availability of capitalist media not only proves the government is telling lies, but also appeals amid the demands of daily life in the new, every-man-for-himself society that emerged after the famine. Individuals are being left to fend for themselves, but they also have more freedom. For authorities, the loss of control over the population represents a brewing crisis that has only grown with increasing corruption and bribery, the rise of grey markets and the circulation of illegal foreign and South Korean films.
The North Korean leadership has been painfully aware of competing forces for quite some time. As early as 2000, the state arrested more than a hundred people for illicit business dealings in the border city of Hyesan, but punishment was mitigated when Kim Jong-il discovered party officials were too heavily involved. With the emergence of hundreds of unofficial markets, ordinary people are buying into images of South Korea and that trend is irreversible. There's not much the state can do at this point.
It's this clandestine "Korean wave" that provides a compelling explanation for the North's policy to repair an eroding state with a difficult choice, made a decade ago under Kim Jong-il: to turn away from denuclearisation despite an unprecedented security guarantee from the United States – signed in 2005 – with a first-announced nuclear test in 2006. By going public with its nuclear weapons development, North Korea laid the foundation for staging fiery spectacles of national strength through state television and other forms of propaganda. The reason: to produce simulated images that can compete with illegal media, to remind the population of the nation's anti-imperial legacy and liberationist ideology, and to deliver the message with a show of force that has some grounding in reality. That reality, we have come to accept, is commonly known as North Korea's nuclear weapons programme, but of its actual status we can never be really sure.
The first nuclear test announcement in 2006 bewildered many. If the United States had affirmed that it had no intention to attack or invade, what need, then, for a provocative nuclear test? In the absence of an external threat and a valid reason to mistrust US intentions, the decision can only be attributed to the state's need to impress upon its people the notion the country is all-powerful, just as it was losing much of its power. This is a strategy that has continued to the present day under Kim Jong-un. Expect the policy to go on as long as the state seeks legitimacy and fights an uphill battle against outside influences.
This is a different North Korea from previous decades. When state sovereignty was perceived to be strong under first-generation ruler Kim Il-sung, North Korea did not conduct the tests that now bring worldwide condemnation. Public announcements of nuclear proliferation, then, prove the sheer loss of control that has taken place in the last few decades, and the need for the state to turn to more extreme measures to prove to its people the myth of its uncontested sovereignty, although serious armed conflict has been postponed for decades and a war on the peninsula could spell the end for Pyongyang.
To be sure, nuclear tests and rocket launches are serious business, and intelligence gatherers in Seoul, Tokyo and Washington have reminded the public that North Korea poses an existential threat. But others, like American analyst David Albright of the Institute for Science and International Security, say that Pyongyang has been strategically exaggerating its nuclear arms capabilities; that the tactic itself provides a deterrent against its foes. In other words, it's time to step back and ask what exactly we are looking at when North Korea announces a test. Are they developing weapons, or are they simulating their development with clever videos? Do they really want to turn Seoul into powder, or do they just want the world to know who's in charge?
That North Korea is using weapons as spectacle conforms to expectations because at this point, its greatest fear is not a hostile invasion by US and South Korean troops stationed south of the demilitarised zone, despite claims stating otherwise – it is the more realistic prospect of increasingly disengaged North Koreans rising to challenge the authority of the current regime, or at least requesting drastic reform.
It remains to be seen, then, whether Kim Jong-il's Pyongyang mystique, currently in the form of televised projections of ballistic missiles and other weapons, will continue to pose a more postmodern hazard: the continued distortion of public perception through the simulation of a power that may never come to pass – while redirecting the trajectory of millions of people who, for now, are weighing two alternatives for their future.
Elizabeth Shim is a journalist and a member of the US-Korea NextGen Scholars Programme, an initiative of the Centre for Strategic and International Studies Korea Chair in Washington and the University of Southern California's Korean Studies Institute