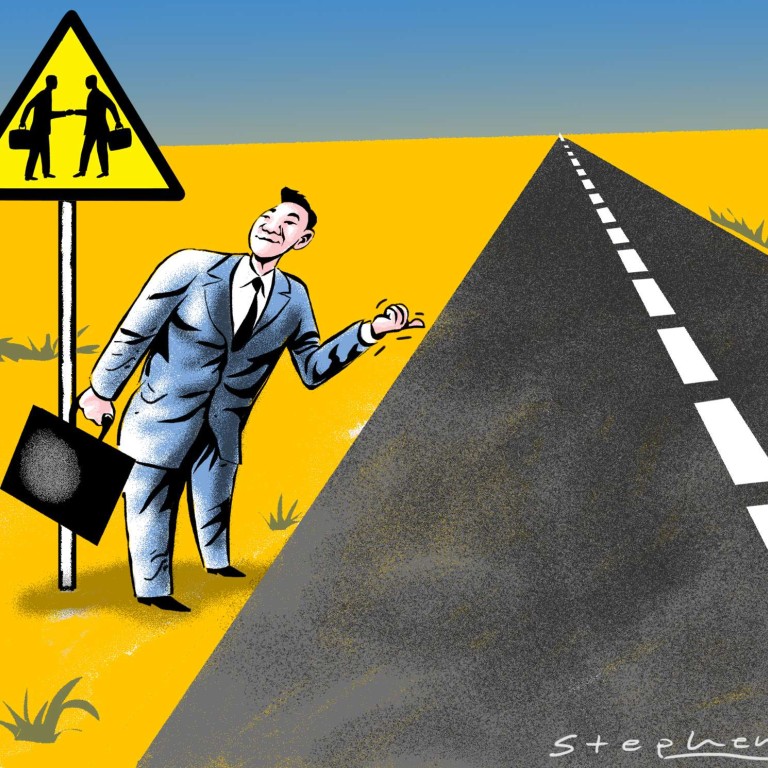 Huge potential gains of China's 'One Belt, One Road' are worth the risks
Andrew Leung says despite the hazards and uncertainties, the project not only has substantial financial backing, but also offers its partners plenty of opportunities for mutual gain
To many, China's "One Belt, One Road" initiative seems little more than a buzz word. Scepticism abounds. Does China mainly want to export excess capacity? Is it up to the task of traversing territories fraught with political and geopolitical uncertainties? Governments aside, where is the attraction for the private sector? Would corporate governance and environmental standards be compromised? What role, if any, can Hong Kong's small and medium-sized businesses and professionals play?
The maritime silk road connects China's east coast to ports including Colombo in Sri Lanka, Gwadar in Pakistan, across the Indian Ocean, through the Red Sea to Greece's Piraeus, ending in Venice. The overland economic belt connects Venice to Duisburg in Germany, across to Moscow, through Central Asia and western China to end in Xian ( 西安 ), the ancient capital where the historic Silk Road began.
According to a business report, the initiative will create six transnational China-centric economic corridors: a new Eurasian land bridge of freight trains connecting the port of Lianyungang in Jiangsu ( 江蘇 ) province to Rotterdam; a Mongolia-Russia corridor; a Central Asia-West Asia corridor; an Indochina peninsula corridor; a Pakistan corridor; and a Bangladesh-China-India-Myanmar corridor.
"One Belt, One Road" is also invoked for China's infrastructural investments in other parts of Southeast Asia, North Africa, as well as various countries in Central and Western Europe. While "One Belt, One Road" investments follow predetermined routes, other associated investments are being tagged on as a code word for China's outbound global strategy.
The rationale is global connectivity, which defines the 21st century. It is part and parcel of what the World Economic Forum calls the Fourth Industrial Revolution. China is a central hub for the world's production, supply, logistics and value chain. "One Belt, One Road" will deepen China's infrastructural, economic, institutional and cultural connectivity with key parts of the globe. Not only will this enhance China's global rapport and influence, it will also help counter exposure to geopolitical risks inherent in America's "Asia rebalancing", and China's own energy security challenge and other imponderables in the South China Sea.
"One Belt, One Road" doesn't translate into offloading surplus capacity in commodities such as steel and coal; it involves exporting excess capital to invest in productive infrastructure across the globe.
Projected investments are estimated to benefit 4.4 billion people in 65 countries. The total size, according to some estimates, could be more than 12 times America's Marshall Plan to aid post-second-world-war Western Europe, in comparable money-of-the-day terms.
Shortfalls in infrastructure investment in G20 countries are expected to total at least US$20 trillion over the next 15 years, including US$1 trillion in Asia alone. With public-private partnerships, 38 per cent of large pension funds are showing an appetite for increased exposure to infrastructure as an asset class, according to one survey.
"One Belt, One Road" is supported by China's Silk Road infrastructure fund of US$40 billion, the
Asian Infrastructure Investment Bank
(AIIB), with its registered capital of US$100 billion, and the New Development Bank of the BRICS countries, with an initial capital of US$50 billion, which is set to increase to US$100 billion.
Worries remain as to whether the China-led AIIB is likely to erode corporate governance standards set by the World Bank, the Asian Development Bank and the International Monetary Fund. The AIIB chairman has stressed that there is vast room for cooperation with the World Bank.
A cooperation agreement between the two has been signed
, whereby the latter will prepare and supervise joint projects "in accordance with its policies and procedures in areas like procurement, environment and social safeguards".
Besides infrastructural investments in ports, high-speed rail, power generation and other utilities, there are ancillary private-sector investment opportunities in real estate, telecoms, e-commerce, financial, tourism, education, creative industries and green technologies. "One Belt, One Road" is not a one-way street of China's outbound investments. There is also huge export potential for Western products, technologies and services to enter China.
China's 13th five-year plan aims to double 2010 income levels by 2020, as the country works towards an economic transformation, from exports to services and domestic consumption, from labour and energy-intensive manufacturing towards innovative, higher-technology and higher value-added production, and from quantity to quality and ecological sustainability.
Based on interviews with 10,000 consumers in 44 cities, a Mckinsey report found that, despite the current economic downturn, Chinese consumers remain mainly confident inside and outside China. There are distinctive shifts in consumer preferences from products to services, from mass products to premium brands, from consumer goods to lifestyle and well-being, from online to O2O (online-to-offline), from in-store shopping to ancillary on-site leisure experiences in restaurants and cinemas, and from individual shopping to joint family activities. China is already the world's largest e-tailing marketplace. According to Nielsen, a global market research company, there is massive untapped potential for global businesses.
All these opportunities come at a time of rapid internationalisation of the renminbi, including currency swaps, trade-financing deals and offshore bond issuance. The currency has been included in the IMF's basket of reserve currencies. Many banks and financial institutions across the globe are salivating for a greater slice of the action.
With a privileged relationship with mainland China under "one country, two systems", including a globally respected legal system and independent judiciary, Hong Kong, as a leading international financial centre and a regional business hub, is well endowed to capitalise on the initiative. Opportunities include the provision of financial, management, legal, arbitration and other professional services.
There is a wealth of ideas in the chief executive's 2016 policy address.
Naturally, "One Belt, One Road" is not paved with gold. There is no lack of risks, pitfalls and uncertainties, as in any new business realm. But in an era of upheavals and shrinking economic growth, it offers enticing opportunities for Hong Kong entrepreneurs, professionals and a multitude of businesses. It can also answer to the spirit of adventure of our younger generation in experiencing the challenges and opportunities of a rising China.
Andrew K. P. Leung is an independent China strategist. [email protected]