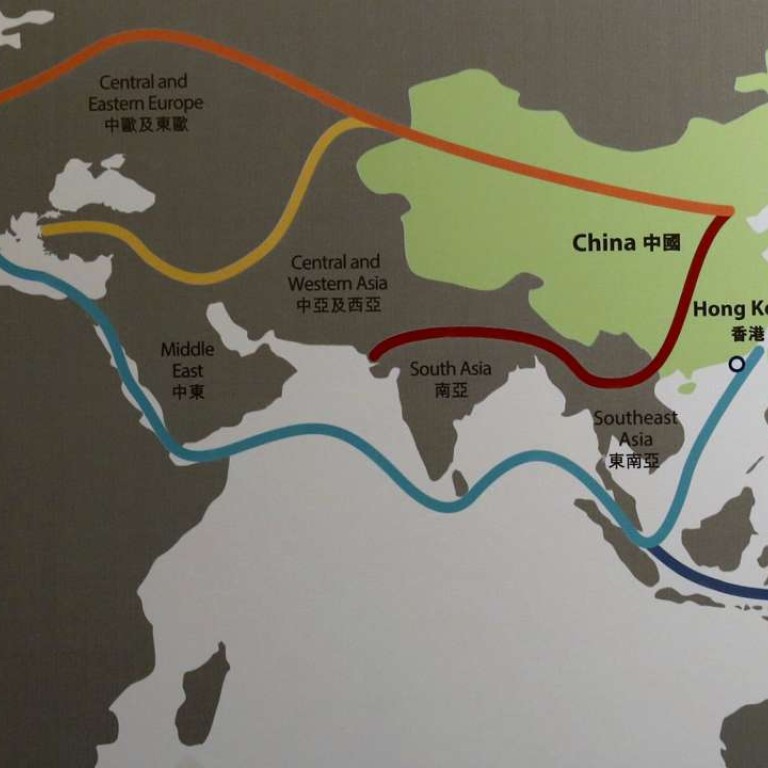 How Hong Kong's professional services sector can provide the glue for Belt and Road projects
Joseph Ferrigno says China's 'One Belt, One Road' will have major economic, social and political benefits, as long as the schemes are well managed, and that offers many opportunities for Hong Kong's private sector
China's Belt and Road initiative that we hear so much about these days is an inspiring vision for greater cooperation, inclusiveness and higher growth among several countries. It was proposed in October 2013 and includes strategies for the development of connecting infrastructure on land and sea. It is estimated to require expenditure of US$1 trillion this decade.
"One Belt, One Road" has become highly attractive to governments and the private sector because of its significant potential economic, social and political benefits, if the projects are successfully implemented. And that is a "big if".
It is not just capital that is needed. Other, much more scarce resources are also required. Advanced project development, management and risk absorption capabilities that are necessary to successfully implement Belt-and-Road-inspired projects far exceed what governments can provide. That is why public/private partnerships ("PPPs"), which are relatively new to Asia, are essential. They contribute innovative ideas, project management and risk control as well as capital. The private sector, working closely with the public sector, can play leading roles in Belt and Road projects. Public/private partnerships can result in projects which have the most appropriate and innovative designs, the most cost-efficient and timely construction and the most efficient operation.
Public-sector partners, national and local governments, as well as national and international infrastructure development banks, are key participants. Development banks must play major roles in the larger, more complex public/private partnerships. They can take higher risks than the private-sector lenders and investors, and are staffed with experts who have many years of experience in project procurement and financing in developing countries and can assess which projects are feasible and which are not. They also know how to get the best from the private-sector participants.
The implementation of PPP infrastructure projects, which typically involve multiple parties of different nationalities, is complex and requires special expertise and experience. The "packaging" for such projects, getting them ready for the start of construction, is quite difficult and requires dealing with many challenges which must be solved during long project development periods. As public/private partnerships are relatively new to developing Asia, packaging them is currently more of an art than a science.
Hong Kong's project services sectors for infrastructure development, risk control and financing are unique in Asia in terms of their international business orientation, depth and breadth of services, expertise and high level of professionalism. Hong Kong has long functioned as the principal locus of the advanced professional capabilities which have served Hong Kong, mainland China and the region well.
Hong Kong also acts as a kind of "super-connector", putting together parties interested in Belt-and-Road-inspired projects, and facilitates their potential collaboration. The Hong Kong Trade Development Council is highly effective in this role.
Finally, high confidence in project contracts and agreements is essential. The perceived high reliability of the enforcement of contracts to protect the interests of governments, contractors, service providers, suppliers, lenders and investors is a must. The independence of the Hong Kong judiciary and adherence to the rule of law are required by many domestic and international businesses, investors and creditors involved with long-term infrastructure projects. It is telling that Hong Kong law is often used for projects located in the region outside Hong Kong.
All in all, the unique characteristics of Hong Kong can help conquer the "big if".
Joseph Ferrigno headed the Lehman Brothers International Project Advisory Group, is a pioneer in Asia with infrastructure public/private partnerships and led the development and financing of the US$600 million Eastern Harbour Crossing, the first PPP infrastructure project in Asia, and the US$1.1 billion Bangkok Second Stage Expressway, which was completed on a PPP basis