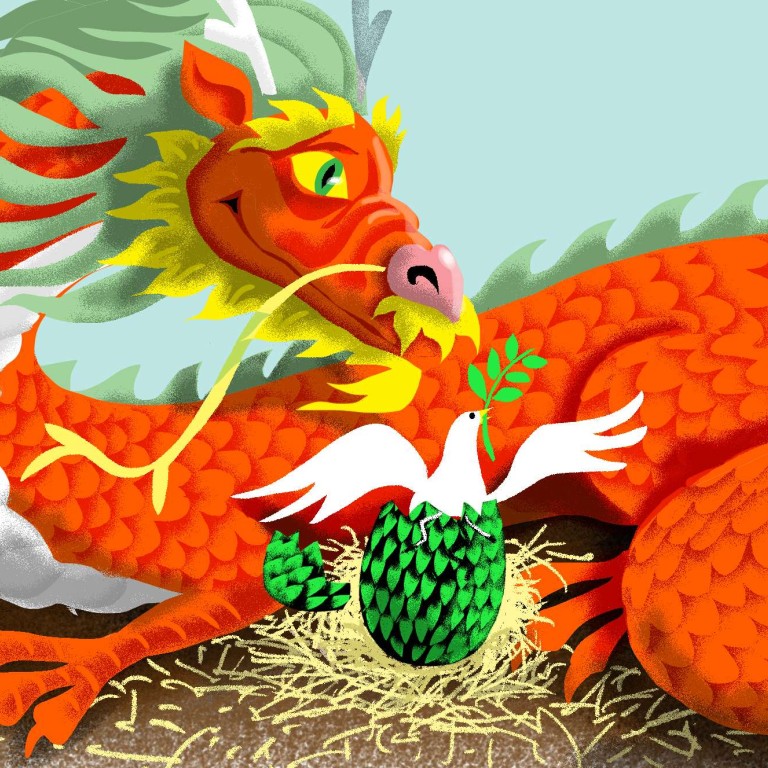 Peacekeeping missions are the perfect showcase for a stronger, more responsible China
Zhou Bo says China's growing contributions to UN peacekeeping is the best possible way for it to assure others of its peaceful rise
The 2015 Leaders' Summit on UN peacekeeping was historic: countries combined to commit more than 40,000 troops and police to UN peacekeeping. In addition, more than 50 countries pledged more than 40 helicopters, 15 engineering companies and 10 field hospitals.
However overwhelming this might be, it is still far from enough to meet the world's dire needs. According to UN Secretary General Ban Ki-moon, the number of major violent conflicts has almost tripled since 2008. UN peacekeeping operations now deploy more than 128,000 people in 39 missions, more than at any time in history but, still, the proliferation of conflict is outpacing the efforts. Peacekeeping is becoming more dangerous, too. More than 90 per cent of personnel in political missions and two-thirds of all peacekeepers are deployed in regions of ongoing conflict. Attacks against UN peacekeepers are on the rise. A
Chinese peacekeeper died
and seven were wounded in a recent terrorist attack against a UN camp in Mali.
This is where China can assist. At the leaders' summit, no offers could match what President Xi Jinping ( 習近平 ) announced: that China would take the lead to set up a permanent peacekeeping police squad; build a peacekeeping standby force of 8,000 troops and train 2,000 foreign peacekeepers in the next five years. China will also provide a total of US$100 million of free military aid for the African Union to support the establishment of the African Standby Force and the African Capacity for Immediate Response to Crisis.
This is a sea change in Beijing's attitude towards peacekeeping. An 8,000-strong standby force plus about 3,000 peacekeepers currently deployed overseas would allow China to overtake Pakistan, Indian and Bangladesh to become the largest contributor to the peacekeeping force. Over two decades, Beijing has taken an incremental but cautious approach towards peacekeeping. The troops selected, such as medical, engineering and transport units, only provide logistical support and are therefore considered less "sensitive". It was not until 2013 that Beijing decided to send armed infantry soldiers to Mali, 23 years after the first military observers were sent to the Middle East.
Beijing has good reason to beef up its peacekeeping efforts. First, China's peacekeeping contributes to its image of a peaceful rise. There is no better way for China to convince the world of its peaceful intent than by helping with global governance as a responsible power. Given China's growing influence, it is important that it finds ways to help the world. As one of the permanent members of the Security Council and the second-largest economy in the world, China can contribute more, even at the cost of necessary sacrifice (11 servicemen have died so far).
Secondly, the Chinese military's overseas missions such as peacekeeping, anti-piracy, humanitarian aid and disaster relief justify why China needs to maintain the largest armed forces in the world. The Chinese military can help preserve an international order from which China has already benefited tremendously. In its 2015 defence white paper, Beijing underwrites safeguarding regional and world peace as one of its eight "strategic tasks".
Thirdly, impartiality and the non-use of force except in self-defence, two fundamental principles in peacekeeping, touch a chord with China's foreign policy and military ethos. The former is closest to China's tradition of non-interference. The latter is a perfect reminder of Chinese strategist Sun Tzu's advice in the art of war: subduing the enemy without using force.
China could lead in peacekeeping, not only because it is already the largest force contributor among the five permanent members of the Security Council and the second-largest financial contributor, but also because the only superpower – the US – is lukewarm towards peacekeeping.
Though it is the largest financial contributor, America's involvement is limited in scope and scale. Its military culture emphasises the aggressive image of soldiers that is not normally compatible with peacekeeping. Its troops are reluctant to accept foreigner commanders. It prefers to train foreign peacekeepers rather than send US peacekeepers. According to the UN website, the US had only 82 people deployed on UN peacekeeping missions by September 2015.
China has all that Ban wants in peacekeeping, from disciplined soldiers and qualified staff officers to specialised units such as medical, engineering and transport troops. It has the required skills of UN troops, such as rapid deployment and force protection capability. It has promised to deploy the best needed "enabler", such as a helicopter unit in Darfur. To echo the UN's strong encouragement of female participation in peacekeeping, the Chinese Ministry of National Defence helped to run a military course for women officers in June. The obvious shortcoming of Chinese peacekeepers is the language barrier; some 70 per cent have to be deployed in francophone countries where speaking some French is necessary.
If the UN is synonymous with peacekeeping, then peacekeeping looks almost tailor-made for China. Peacekeeping has been described as the best single thing the UN has invented. For many, it underpins the best hope for the UN in a volatile world. China can do more.
Zhou Bo is an honorary fellow with the Centre of China-American Defence Relations at the PLA's Academy of Military Science
This article appeared in the South China Morning Post print edition as: Peaceful rise