Brexit
Get more with myNEWS
A personalised news feed of stories that matter to you
Learn more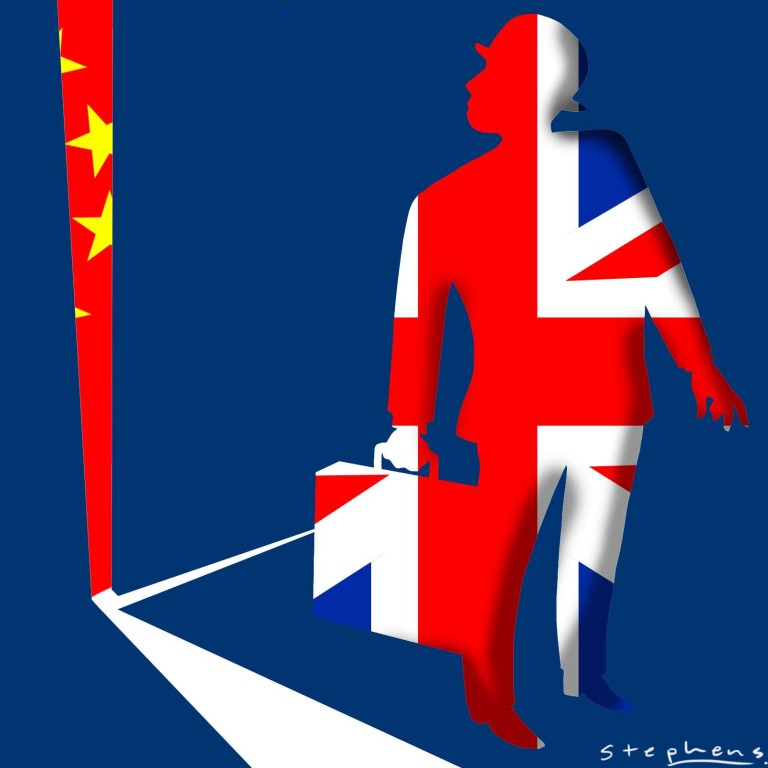 How China can help Britain reinvent itself
Tomas Casas says as it prepares to leave the EU, the UK will be hard-pressed to find a more strategic partner in trade and investment than China
Brexit is forcing Britain towards an offensive to reposition itself, one that will only succeed with the help of new strategic foreign partners. The national business model underwritten by EU institutions is gone. Britons might have to save more, consume less and export more. Will creditors now be willing to finance Britain's huge current account deficits at 5 per cent of gross domestic product?
Recent indicators show just how fast Britain must reinvent itself. Barely a month after the vote, the IHS Markit report points to an economy deteriorating, with both manufacturing and services contracting fast. The one bright spot is new export business. A pound down by 10 per cent hints at Britain's new position. Compared to the referendum and the Brexit negotiations with the European Union, the pivot will be a painstaking process – and China's role could be critical.
The slowdown in global trade is most worrisome; the World Trade Organisation forecasts a sluggish 2.8 per cent growth for this year, the same as in 2015. Existing multilateral arrangements have run their course and ambitious new initiatives are all but dead. Jean-Pierre Lehmann's post mortem examination of the Tran-Pacific Partnership and the Transatlantic Trade and Investment Partnership, recently in the Post, pointed to their original flaw: leaving out the world's second-largest economy as the US did not want China to join the rule-making.
China's response to America's initiatives is "One Belt, One Road", an incipient development strategy and vision to integrate Eurasia. Today it is an assorted collection of arrangements between China and dozens of countries. Pakistan is being engaged in infrastructure and energy projects to the tune of US$50 billion; a new "World Bank" for Asia, truly multilateral, has been set up as the Asian Infrastructure Investment Bank; there is also the Bangladesh-China-India-Myanmar economic corridor.
In time, "One Belt, One Road" can evolve into a mega-regional initiative and thereafter even become a global institution. An attractive set of business rules and principles ought to articulate a Eurasian space, linking Russia, India all the way up to Rotterdam. Or up to London and beyond – here, Britain holds a key.
While for years it outsourced trade negotiations to the EU, Britain is a master in the business of rule-based frameworks and the design of governance structures. It is no surprise that Liam Fox, the UK's Secretary of State for International Trade, is already claiming informal expressions of interest for trade deals by 10 powers, including Canada, India and Japan. Chancellor of the Exchequer Philip Hammond is contributing to the cause, wowing Chinese business ahead of the G20 meeting in Chengdu ( 成都 ).
Britain needs to move beyond the case-by-case approach. In short, on the one hand, the global economy is desperately in need of novel ideas to reignite inclusive trade. On the other, once-mighty Britain is now without a clear job in the world and thus highly motivated to reach out. Most importantly, China, uninvited by the dominant power to build the world's trade and investment institutions for the 21st century, is willing to contribute to global order.
Both China and Britain have tended towards bilateral and regional approaches; could a Sino-British match be one made in heaven, and can it have multilateral repercussions?
Brexit puts Britain on a par with polities like Hong Kong or Switzerland that have carved successful global niches. The latter is also a rich European country that thrives on international arrangements. The Sino-Swiss "innovative strategic partnership" includes a free trade agreement, a first in continental Europe.
The biggest challenge for Britain is philosophical – what lies ahead runs counter to its deepest instincts. In the wonderful satirical sitcom Yes Minister, permanent secretary Sir Humphrey Appleby had to remind his boss: "Minister, Britain has had the same foreign policy objective for at least the last 500 years: to create a disunited Europe." The weltanschauung captured there is due full pivot. Britain must bring the world together rather than apart. More precisely, as the Swiss ambassador to China, Jean-Jacques de Dardel, elegantly noted, England's strengths come from a very different tradition than Switzerland's.
There are more complementarities between Britain and China than between the EU and China. Britain is more innovative than any EU country or, for that matter, any other country – the sole exception being Switzerland. Last year, the two led more than 140 countries in the Global Innovation Index of the World Intellectual Property Organisation. British excellence is not the sole prerogative of the City of London, either; the largest ever deal for a semiconductor designer – a whooping US$32 billion – was for ARM, hailing from Cambridge.
Bold international moves tend to stall at domestic politics. Yet, opening further to China will not take away jobs in Britain. The government has the choice to open to China or to close up, as the review of the Hinkley Point nuclear power plant proposal with Beijing's £6 billion (HK$61.7 billion) investment might signal.
For China, a free trade agreement with Britain could be just another spring forward in a reform agenda that includes financial sector liberalisation and more competition. China's amazing success over the past three decades has, after all, been of lean start-up quality.
If China and Britain manage to craft a far-reaching understanding that extends to the belt and road vision, the positive spillover effects might be significant. These will include a much-needed stimulus to the moribund global trade agenda.
This will require superb statecraft. What has been demonstrated by the British government's postponement on approving the Hinkley Point project is not. Beyond the nuclear project's legitimate technology and cost issues, one just does not disavow for political reasons a deal with China's top leader. Fortunately, Britain is not getting China's silence, which would constitute the worst of all responses. Instead, the cabinet is being given a rare chance to reconsider – by being gently told that reneging on the deal will endanger £100 billion worth of Chinese investments.
Brexit was fuelled by the EU's mediocre leadership. Ironically, the same factor could see China and the others abandoning Britain to its own devices. At this historical juncture, much depends on how brilliant and ambitious new Prime Minister Theresa May dares to be in conceiving a new niche for Britain, and nothing holds greater promise than starting fast and furious with China.
Professor Tomas Casas is director of the China Competence Centre at the University of St Gallen, Switzerland
This article appeared in the South China Morning Post print edition as: Reinventing Britain