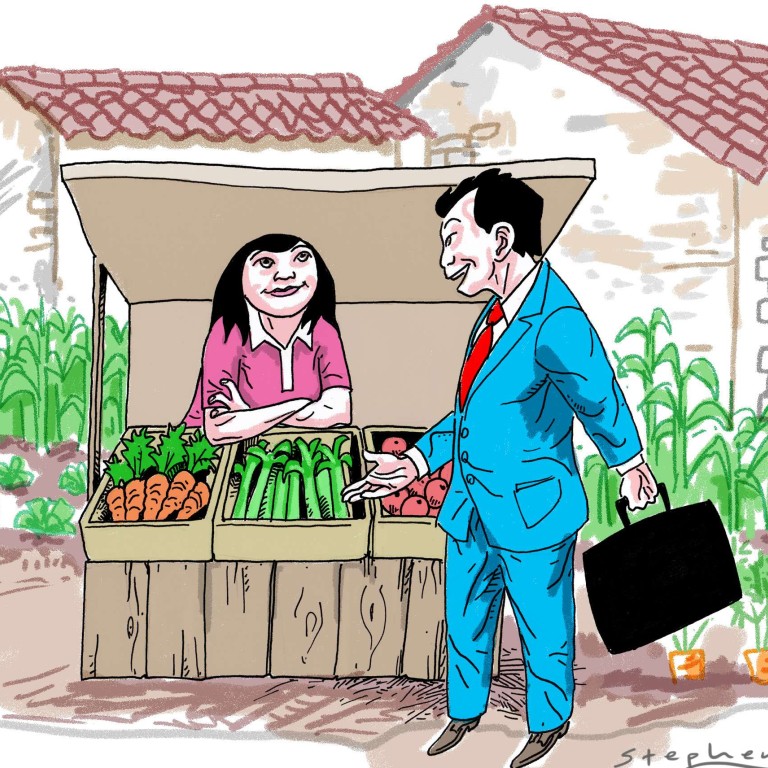 How one Hong Kong village has adapted a rural lifestyle for the 21st century
Karim Rushdy and Nicholas Gordon say the improbable revitalisation of a village in northeastern Hong Kong should serve as a role model to preserve our rural culture – by making village life economically viable
It may be hard to talk about anywhere in Hong Kong being in the "middle of nowhere", but Lai Chi Wo village would probably come pretty close. Nestled within Plover Cove Country Park, and next to the Yan Chau Tong Marine Park, it is over an hour's walking distance from the nearest major road.
And yet the village is lively. Farmers are seeding the surrounding fields with rice. Villagers are hawking handicrafts and snacks. And, finally, there are bemused and interested people from the city, exploring Lai Chi Wo's heritage and even, perhaps, helping to farm the fields. The village has even been featured in the most recent Lonely Planet guide for Hong Kong. Given its relative remoteness, Lai Chi Wo's success is heartening.
But the village's success is the exception, rather than the norm. Hong Kong's villages are fading – and unless the city acts quickly, an integral part of our heritage could be lost forever. The villages were here long before Hong Kong exploded as an international port and financial centre, and are a link back to the region's rural heritage.
Villages help Hong Kong in numerous ways, and so should be preserved. First, villages remind city-dwellers of the systems and structures that provide their food – and the privileges that come from living in urban areas where utilities and services are easy to come by.
Second, a viable agricultural sector will improve Hong Kong's ability to feed itself. There is value to having even a small part of our shelves stocked with produce sold under a "Hong Kong" label, in case economic conditions change.
Third, Hong Kong is one of the most crowded and congested cities in the world, and our overall quality of life depends on our ability to get away to the countryside.
Hong Kong villages currently lack an economic model to keep them operating and playing a useful role. Without a functioning local economy, villagers will choose to live and/or work closer to the city. Many villagers are surrounded by protected country parks, and villagers have complained that land-use restrictions prevent their communities from being economically viable.
However, environmental and conservation officers in the government are probably worried that liberalising land rights on country park land surrounding enclaves is a slippery slope to destroying the country parks altogether. The consensus is that property development (both high-end and public housing), infrastructure, transport and sewage systems would all harm the parks.
The government also has legitimate concerns that villagers would abuse the privileges granted to them for financial gain: a not altogether unfounded fear, as shown by enclaves that have been sold to property developers to be turned into luxury developments like Parkview, located in Tai Tam.
What complicates matters further is the fact that there is no central authority in charge of village revitalisation, with responsibility split between the Environment Bureau, the Agriculture, Fisheries and Conservation Department, the Land Registry, and other government bureaus.
Villages in country park enclaves are different from villages that sit on the edge of the city. Villages in the green belt, like those in Fanling North, are threatened by urban expansion and the need for more housing; in contrast, villages within country parks are threatened by desertion and decay. However, these threats are founded upon the same scepticism that villages can survive in Hong Kong and be part of its future.
As long as key stakeholders do not believe villages can succeed (and succeed sustainably), environmentalists will not allow more activity in country parks, and housing planners will not choose alternate spots for housing development.
So, we have an impasse which ultimately benefits no one. The government will probably not allow development in country parks without some proof that, first, villages can actually survive in the long term, and, second, they can become economically viable without damaging the environment. However, villagers cannot provide this proof when they are surrounded by land they can never work on. Some villages have been given over to nature; others have been sold to property developers to build luxury apartments nestled in undeveloped, protected land. In either case, the chance for a sustainable revitalised village that can work with, rather than against, conservation goals is lost.
Luckily, Hong Kong does have a model for revitalising villages: Lai Chi Wo. Ecotourism and sustainable agriculture have invested the village proper with new life. The village has achieved something few would have thought possible: urban residents leaving the city and moving to the countryside.
The Lai Chi Wo initiative involved collaboration among numerous stakeholders, most importantly the villagers themselves, but they did not work alone: both the University of Hong Kong's Policy for Sustainability Lab (formerly known as the Kadoorie Institute) and the Hong Kong Countryside Foundation are working together to help the village develop a sustainable economic model, supported with financial backing from the Hongkong Bank Foundation. The question now is how to improve the existing model, replicate Lai Chi Wo's success with other villages in Hong Kong and explore what policies can help to revive the culture and economies of these rural enclaves.
Villages can and must continue to be a vital part of Hong Kong, but in a way that preserves their rural heritage and potential for sustainable economic models. Hong Kong's countryside will mean much more to its inhabitants and visitors if it can support a real and sustainable rural livelihood.
Karim Rushdy is head of programmes, and Nicholas Gordon is a researcher, at the Hong Kong-based think tank, Global Institute For Tomorrow
This article appeared in the South China Morning Post print edition as: village lifeblood