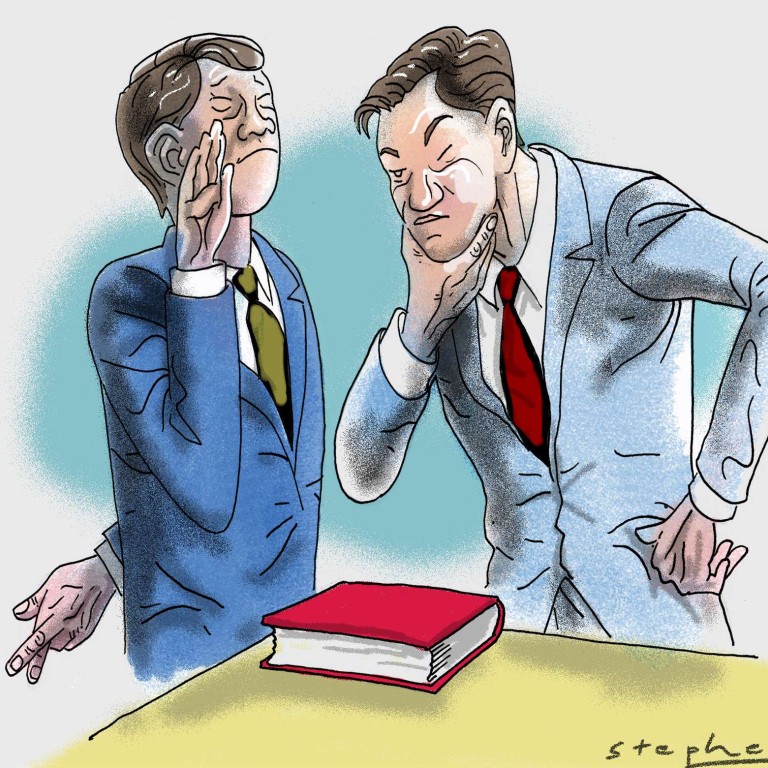 Hong Kong electoral officials acted within their scope in disqualifying candidates
Gu Minkang says the Basic Law makes clear that no amendments can result in Hong Kong independence, and aspiring legislators who do not abide by this are rightfully rejected
Hong Kong electoral officials have recently disqualified several pro-independence candidates from participating in next month's Legislative Council election. And while some people are unhappy about the returning officer's decision, it is necessary to ensure that the general public is not misled.
The first issue concerns whether Hong Kong independence violates Article 1 of the Basic Law. Former chairman of the Hong Kong Bar Association Edward Chan King-sang, for one, does not believe it does, saying the law can be amended and a person is able to uphold the law while wanting to change it. Under such an argument, a lawmaker could pursue independence through discussions with the Hong Kong and central governments on amending the law.
Under normal circumstances, such views are perfectly logical, as many laws can indeed be amended. However, this logic cannot be applied in the case of the Basic Law because any amendment would be subject to the limitations of Article 159(4), which states that "no amendment to this law shall contravene the established basic policies of the People's Republic of China regarding Hong Kong". In other words, any provision that reflects established policies cannot be changed.
Article 1 states that the Hong Kong SAR "is an inalienable part of the People's Republic of China". This is a substantial part of the "established basic policies" and cannot be changed for at least 50 years. Therefore, it is clear that amendments to Article 1 cannot be used as a means to achieve independence. Such a move would violate Article 1. This is a matter of law, not opinion, and that is why the Hong Kong government acted immediately to issue a statement clarifying the position. This also shows that it is meaningful to include Article 159(4) in the confirmation form that aspiring candidates have been asked to sign.
I hope, therefore, that more Basic Law education programmes can be organised so the general public better understands this part of the Basic Law.
Could Article 1 be amended after 50 years? In my view, it would be possible to change some of the wording. Assuming that, after 50 years, "one country, two systems" was no longer in operation and Hong Kong was no longer considered a special administrative region, then it would be possible for "Hong Kong special administrative region" to be changed to "Hong Kong province" or "Hong Kong city". However, it is important that the "established basic policies", such as the fact Hong Kong is an inalienable part of China, remain.
Hong Kong was returned to China after decades of being under British colonial rule, as history attests. The fact that Hong Kong will always remain part of China is determined not only by the Chinese cultural tradition of unity, but also by the feelings of Chinese people in the past 200 years. There is no room for Hong Kong independence.
The second issue concerns the relationship between administrative and judicial power. Some have claimed that the electoral officials' decision implied that the disqualified candidates were making false pledges, and the legal system should decide whether candidates were guilty of this serious accusation.
It is true that someone allegedly making a false pledge could be subject to criminal prosecution and any decision on this should be made by the judiciary rather than an administrative officer. However, some people may have misunderstood the function and power of returning officers. The judiciary has the power to determine whether a person's conduct constitutes a crime. If a person is suspected of making a false pledge, he or she could be arrested by the police and prosecuted by the Department of Justice, and a court would decide on that person's guilt.
However, when a returning officer decides whether a candidate's nomination is valid, he or she is not performing judicial work. The officer is making a judgment on whether he honestly believes a candidate is fully qualified, according to legal requirements, based on the information supplied by the candidate or collected by the officer. The decision includes a judgment on whether the candidate will genuinely uphold the Basic Law, and not a judgment on whether a candidate has made a false pledge. Legally speaking, the officer is exercising an administrative power and discretion.
Administrative decisions are different from criminal trials, the latter requiring proof of guilt beyond reasonable doubt. Because Hong Kong does not have an independent administrative law, the administrative power exercised by the returning officer may have a civil law nature and the standard of proof is lower than in criminal law. This is why a judicial review – normally deemed administrative litigation in continental law jurisdictions – could be regarded as civil litigation here in Hong Kong.
In other words, the returning officer needs only to decide, based on the relevant information, whether a potential candidate would truly uphold the Basic Law. Even if the officer decides they would not, this does not mean the candidate is guilty of making a false pledge. These are two separate things, governed by different laws.
The third issue concerns how the government exercises its power and function. Once the relevant laws authorise the administration to exercise its power, it can do so without consulting the judiciary in advance. The court will only intervene if a party feels his or her legal interest has been adversely affected by an administrative decision and decides to bring a case before the court. This is a basic principle of governing modern states. The judiciary exercises its power to supervise the government, but it is an ex post action.
If a candidate believes a returning officer has erred in his decision, he can follow the legal procedures and lodge an election petition after the decision has been made and the election completed. Recently, the High Court rejected an urgent request to process a judicial review of the new election procedure, reasoning that it was not appropriate to interfere with ongoing elections.
There is a clear distinction between the exercising of administrative power and judicial power. Therefore, although the Electoral Affairs Commission may come across as judgmental of a candidate's qualifications, it is solely playing an administrative role in ensuring all requirements for candidates and elections are met.
Gu Minkang is a professor in the School of Law at City University of Hong Kong