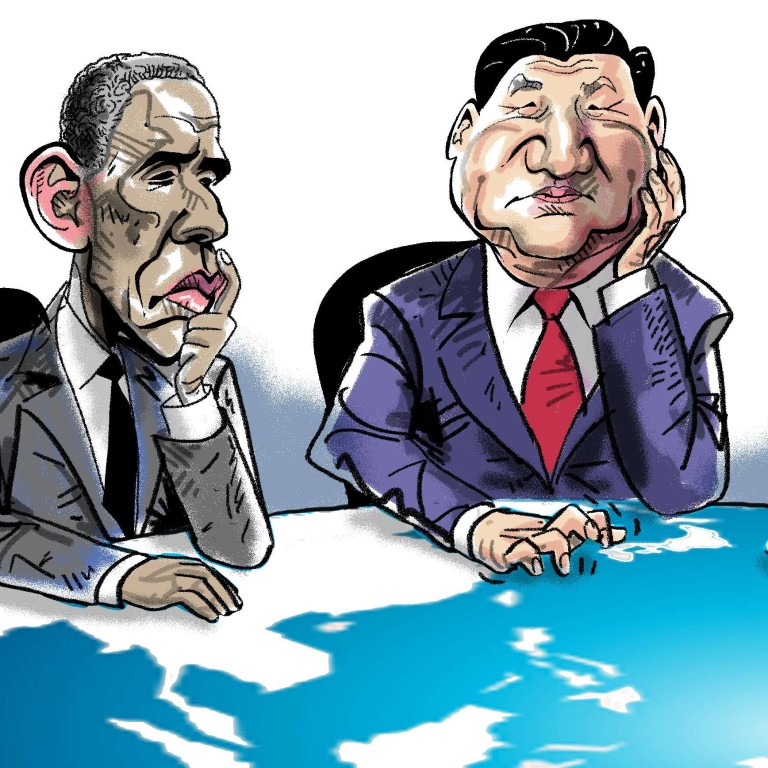 Can Xi keep geopolitics off the table at the G20?
Jonathan D. Pollack says the Chinese president will be hard-pressed to maintain an economic focus, especially on the summit sidelines, amid growing political rivalry in the region and a sharp paradox in Sino-US relations
This weekend in Hangzhou (
杭州
), in advance of the G20 annual forum, Xi Jinping (
習近平
) and Barack Obama will have their ninth face-to-face meeting. (One final exchange seems likely to occur in November at the Asia-Pacific Economic Cooperation annual meeting in Lima, Peru.)
The political calendars of the two presidents have diverged in important ways. Xi is deeply involved in leadership selection ahead of next autumn's 19th party congress, whereas Obama's much more compressed agenda, in his final 4½ months in power, is to ensure Hillary Clinton's election as his successor.
Both presidents have significant expectations in Hangzhou, though Xi's are arguably greater. He is very deeply invested in the outcomes at the G20. He plans to present an ambitious set of initiatives that will elevate China's international stature, designed both to stimulate growth in the global economy and to put forward what various official spokesmen describe as new rules for global economic governance. These initiatives, the result of elaborate planning for months in the run-up to Hangzhou, have a "made in China" quality. As host and organiser of the forum, Xi has ample latitude in agenda-setting, and China's economic resources (even as its economic growth has slowed appreciably) provide Beijing with ample comparative advantage, assuming that it can be employed skillfully.
Xi seeks a positive response to his initiatives in reforming the international economic architecture, but he also hopes to keep geopolitics off the table in Hangzhou. It is doubtful that he can succeed, at least not fully. This has been a time of major setbacks and unforced errors in Chinese foreign policy. China's forceful articulation and pursuit of its national security objectives – in the South China Sea, the East China Sea and in relation to South Korea – have alienated nearly all neighbouring states. As a consequence, the United States and its military are increasingly welcome around the region, with particular attention to the maritime domain.
Xi nonetheless calculates that a policy agenda geared towards economic cooperation and peaceful development will help mollify the growing wariness among neighbouring states about how China might employ its military power in future years. The "One Belt, One Road" initiative, which Chinese officials believe can transform the geo-economic map of Asia and the Pacific in subsequent decades and tie much of Asia to China, is closely intertwined with the globalisation agenda that Xi will unveil in Hangzhou. It is a self-conscious attempt to present China as the good global citizen, likely believing that regional states will be much more invested in economic advancement than in becoming overly enveloped in strategic competition between the US and China.
Though China might be able to largely deflect geopolitical issues from a very crowded G20 agenda, they will feature centrally in sideline meetings, most prominently with Obama but very much extending to other bilateral exchanges to which China might agree, including with the leaders of Japan and South Korea.
Japan's Prime Minister Shinzo Abe very much hopes to arrange a trilateral summit in Tokyo later this year with Beijing and Seoul, but at this time it is still not certain whether Xi will consent to a face-to-face meeting with Abe in Hangzhou.
It appears more certain that Xi will meet South Korean President Park Geun-hye. China's sharp objections to Seoul's agreement to deploy a Terminal High Altitude Air Defence (THAAD) missile defence system in Korea have caused undoubted damage to Seoul's relationship with Beijing. China claims it is the true target of such a system, minimising the threats that Pyongyang poses to South Korean security.
Ironically, in recent years, China had achieved larger breakthroughs with South Korea than with any other US ally. Xi must decide whether to limit additional damage to China's relations with an important political and economic partner that seeks to counter the growing missile and nuclear threats posed by a deeply antagonistic North Korea. The advances in China's relations with Seoul have occurred while Xi voices clear contempt for the dangerous and possibly endangered North Korean regime. A meeting with Park in Hangzhou could reveal whether Xi proves capable of policy adjustments that have thus far eluded him, to the pronounced detriment of Chinese interests.
But the largest questions pertain to the US-China future, and the policy legacy that Obama bequeaths to his successor.
There is a sharp paradox in Sino-American relations at present. There have been steady and important advances in a global agenda that Obama has very much sought throughout his presidency, which will include the signing of the Paris climate change agreement in Hangzhou. But the evidence of geopolitical rivalry in the region continues to grow, with China believing that the US threatens its vital security interests while the US affirms and enhances its security obligations to the states that are in the shadow of Chinese power.
Obama has also sought (through the rebalancing strategy) to shift the centre of strategic and economic gravity in US foreign policy to Asia and the Pacific. But the problematic prospects for approval of the Trans-Pacific Partnership trade deal leave the strategy much diminished by the absence of a sturdy economic leg. This could well play out to the distinct advantage of China, whose economic capacities and aspirations for a much larger voice and vote in global economics will be on full display in Hangzhou.
Amid the pomp and grandeur of the deliberations in Hangzhou, both leaders will help shape the agenda that will be passed to Xi in his next leadership term and to Obama's successor.
Jonathan D. Pollack is the Interim SK-Korea Foundation chair in Korea Studies in the Centre for East Asia Policy Studies and senior fellow in the John L. Thornton China Centre of the Brookings Institution
This article appeared in the South China Morning Post print edition as: off the table