Taiwan
Get more with myNEWS
A personalised news feed of stories that matter to you
Learn more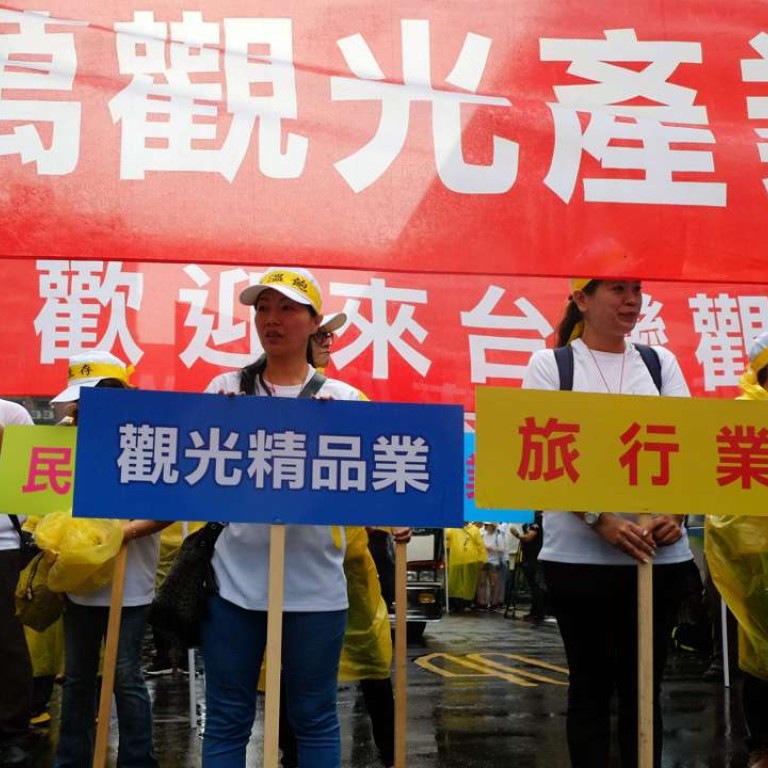 KMT will face grim prospects as an agent of Beijing's interests
Michal Thim says China's apparent 'divide and rule' policy would only further turn off Taiwanese voters
Beijing's approach to post-election Taiwan looks utterly unimaginative. It has reverted from quasi-governmental contacts to party-to-party communication, in essence the state of affairs between 2005 and 2008. Take last weekend's visit of eight representatives of Taiwanese municipalities, led by the Kuomintang, to Beijing, where they met Taiwan Affairs Office director Zhang Zhijun (張志軍).
In recent months, Beijing has allegedly cut the number of tourists visiting Taiwan and put a hold on high-level negotiations. Both measures are ostensibly intended to "punish" the ruling Democratic Progressive Party (DPP) for its refusal to accept the "1992 consensus", which in Beijing's parlance means that Taiwan is part of "One China".
Not surprisingly, tourism was one of the benefits promised to the visiting delegation. Sending a signal that only areas with a "friendly attitude" would benefit from future exchanges is making Beijing no new friends. It also goes against the line pushed by proponents of cross-strait tourism since its inception eight years ago: the grand idea that tourism was to bring people on the two sides of the Taiwan Strait closer together.
Ian Rowen, a scholar specialising in cross-strait tourism, recently observed that "the idea that tourism was ever a mode of reconciliation was spurious from the beginning". Rather, it was in part a form of gestural politics meant to "simulate reconciliation, bolster the China-friendly Ma administration, and increase Taiwan and China's economic interdependence". Now, its apparent cut-off seems meant to pressure the new Taiwanese administration.
The "1992 consensus" club in Taiwan might well expand beyond the eight areas represented in Beijing, after the next Taiwanese elections in 2018. However, it is just as likely to be reduced to sparsely populated Miaoli county, the offshore counties of Kinmen and Matsu, and a handful of municipalities scattered across Taiwan, few of which are interesting for Beijing either as tourist sites or areas with investment potential. Previously solidly pro-KMT areas with tourism potential, such as Nantou (Sun Moon Lake) and Hualien (Taroko Gorge), are up for grabs. In the grand scheme of electoral politics, the KMT no longer has safe regions where its hold on power would remain unchallenged.
Bypassing Taipei is not a new approach. Even during the heydey of the Ma administration, Communist Party emissaries were roaming pro-DPP areas in the south, promising investments and preferential treatment for local farmers, if only they would fall in line. Beijing tried, and it failed.
But catering to preferences of the electorate has never been the central focus of the Communist Party's cross-strait efforts. Eight years of enhanced negotiations culminating with the
meeting between Ma Ying-jeou and Xi Jinping
(
習近平
) last November sought to create irreversible interdependencies that would either solidify the KMT's hold on power or lock future DPP-led governments into conditions favourable to Beijing. It is clear that this strategy failed, and now the goal might be to turn the KMT from a partner with similar preferences to an agent representing Beijing's interests.
This is a catch-22 situation for the KMT. Its former enemy's assistance may be more tempting now that the party fears losing its sizeable resources under
a new law on returning ill-gotten assets
. Moreover, current KMT chairwoman Hung Hsiu-chu appears more than willing to adopt Beijing's version of the "1992 consensus". By doing so, the KMT would be abandoning any attempt to regain middle-ground voters from the DPP.
Turning the KMT from partner to party agent appears on the surface to be a good proposition for Beijing. But is it for the KMT? Taiwanese voters have repeatedly rejected politicians and parties they deem too close to the colossus across the strait. Once again, another of Beijing's moves for influence over Taiwan looks short-sighted in the long term.
Michal Thim is a Taiwan analyst at the Prague-based think tank, Association for International Affairs, and a member of the Centre for International Maritime Security
This article appeared in the South China Morning Post print edition as: KMT will face grim prospects as Beijing's agent