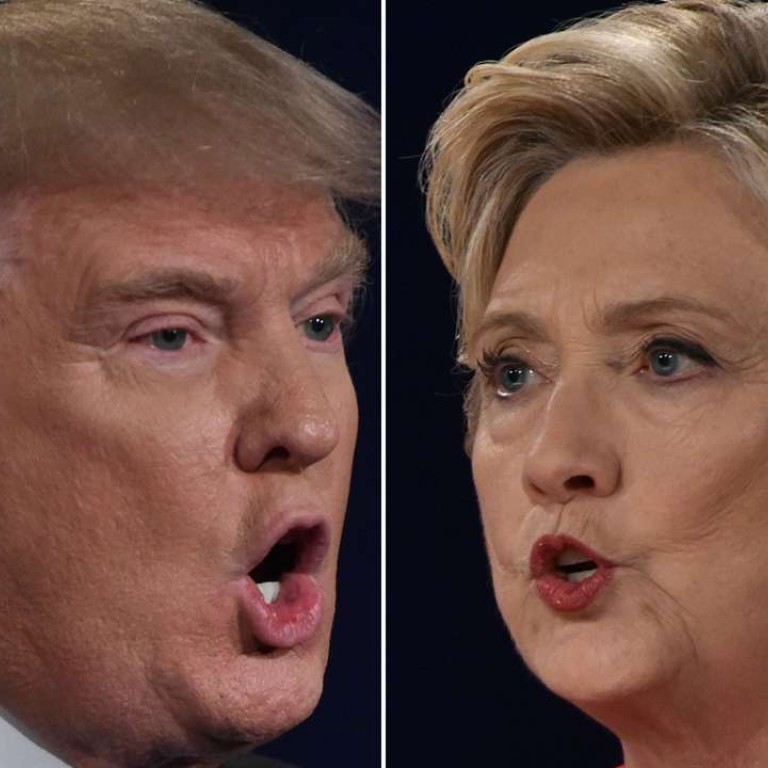 As Trump, Duterte and Putin prove, respectful leaders are in short supply today
Paul Letters says the animosity seen in the current US presidential race is reflected in the lack of civil leadership styles elsewhere
Last week, a heartfelt hug between Michelle Obama, wife of the current US Democratic president, and former Republican president George W. Bush demonstrated the warmth between the two first couples and went viral. Meanwhile, millions of viewers in the US – and more online around the world – tuned in to the first presidential debate of 2016, anticipating animosity between the two candidates, Donald Trump and Hillary Clinton. Nobody expected a show of unmitigated civility, and, in that respect, nobody was disappointed.
Trump's "manterrupting" of Clinton – he interrupted her three times as much as she him – and comments questioning her stamina (following her brief bout of pneumonia), wanders from discourtesy into sexism: the "weaker" sex, from Trump's perspective, lacks stamina.
This US election year has seen an unprecedented cross-current of accusations of lying hurled across debate stages, including both to and from Clinton herself.
It has not always been so. We may think of late US president Richard Nixon as the foul-mouthed liar the Watergate tapes exposed him to be in the 1970s. However, before that scandal upturned American public perceptions and expectations of civility in their elected leaders, decorum and courtesy were more the norm – outwardly at least. In the first US presidential debate, televised live in 1960, both rising star John F. Kennedy and his opponent, then vice-president Nixon, showed a determined respect to each other.
Even in the 21st century, disrespect shown by one candidate to another can potentially cost them the election. When Al Gore demonstrably sighed in derision at one of George W. Bush's comments in a 2000 presidential debate, it was Gore's disrespect that would be derided by TV anchors and viewers replaying the clip ad infinitum. When the presidency eventually came down to 537 votes in Florida, that sigh counted at the ballot box.
Is the degeneration of civility in American politics indicative of the wider world? Here in Hong Kong, our memories of debates in the Legislative Council in Donald Tsang Yam-kuen's era seem quaint and civil – like the former chief executive's characteristic bow-tie – compared to the growing bluster and filibuster of our post-bow-tie times.
But does civility make for successful leadership? It's not just Trump who puts little emphasis on civility; so do many effective global leaders. Russian President Vladimir Putin's sometimes brutal, always brusque leadership style appeals to Trump and his acolytes. And you can see how Putin's leadership can readily be defined as successful, at least in terms of foreign policy (from a Russian nationalist perspective) and apparent popular domestic support.
Those who live amid seemingly unending lawlessness often take a different view from those who take for granted human security, the freedom from violence and the fear of violence, something that much of the world does not enjoy.
In the Philippines, many heralded the election of strongman Rodrigo Duterte to the presidency for the same utilitarian reason that many Filipinos in the 1980s feared the fall of Ferdinand Marcos: demagogues tend to bring greater security for the majority.
The trampling of the rights and lives of a minority on the fringes of society is, for many, a price worth paying – compared to the alternative. (There lies the case in favour of Saddam Hussein, Muammar Gaddafi and Bashar al-Assad.) When you are living in poverty, threatened and exploited by local thugs, a civilised leader is not primarily what you are looking for. Indeed, as we have seen in the Philippines, civility can be an attribute people vote against rather than for.
The flip side of the coin is that Putin and Duterte have elevated violence over justice, at least in terms of the rule of law and the right to a fair trial. That China's leadership is on friendly terms with both of these demagogues – not to mention North Korea's Kim Jong-un, a despot said to execute government officials using anti-aircraft guns – says something about Chinese Communist Party leaders' stance on civility.
It's convenient to blame history. Nations such as China, not to mention the Philippines, carry hefty baggage. Amid the chaos of the decline of the Manchu dynasty, the lawlessness of the warlords and the carnage of the Sino-Soviet war, supposedly "civilised" Western powers snipped out self-declared "international settlements" in cities up and down China, supplementing their Asian empires which they ruled with racist callousness – for example, the French in Saigon, the Dutch in Jakarta and the British all over the place, including our own City of Victoria. Hardly a lesson in civility.
But it comes down to individuals as much as the march of history. In the US, an era of relative civility is crumbling before President Barack Obama and his family have left the White House. In the history of polling, Clinton is the single most unpopular presidential candidate – except for Trump. While remembering that politicians per se are trusted less today than they were in the pre-Watergate era, to have the two most disrespected candidates in history thrown to the top in the same election is a recipe for incivility.
So, in the interests of civility, perhaps candidates whose behaviour is found to be unpalatable should be pre-emptively screened and forbidden to run for office. Oh, wait – in Hong Kong, that's exactly what happens, and look how happy we all are with our leadership.
Paul Letters is a novelist, journalist and historian. See paulletters.com
This article appeared in the South China Morning Post print edition as: Trump and Duterte prove civil leaders are in short supply